OSW Update! July 30
---
Hey yo! Here's what's going on with OSW (Updated 6th August)
• I'm currently editing Episode 52, Simulcast RAW, I've been spending my days off on it but it'll take 3 more big sessions, I don't like confirming dates until the finish line is in sight! But in about 10 days. I'll keep you updated.
• WHAT BARRRRR tees! The brown/bar combo is already out of stock! We'll have a couple more brown tee/bars available after this Sunday's Comic Con (i.e. Monday night). If you ordered one but it wasn't in your preferred size, or want international tracked shipping, have a look-see here! Classic Black What Bar tees are available here for the UK and here for the US!
• Our Dublin Comic Con panel is this Sunday! (4pm, 9th August!). It's gonna be super awesome. I got banners with special artwork for the event! I will try to record the show. Hope to see you there!
• Episode 53 will be SummerSlam 2015 with Maffew! That'd be out roughly the Friday or Saturday after the PPV.
• And closing the X7 story arc, Episode 54 will be WrestleMania X7! I've been get a ton of people asking me already about it, please be patient and don't poke me about it, this ep is going to be an absolutely massive show! Got some really special stuff lined up for it, which tentatively puts it around the end of September.
• The next film/tv written review is Scream 2 which'll drop tomorrow. I'll also cover Scream 3 & 4. I've been trying to watch the TV show as well but it's a real rough watch!
---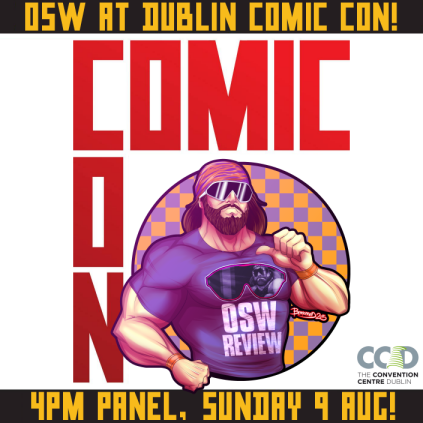 Latest media:
This week's Tough Enough/Tough Talk without Hogan: OSWreview.com/tough-enough-week-7
Super OSW 64 Level 3 (Jay's videogame music show): OSWreview.com/review.com/super-osw-64-level-3
My thoughts on Hogan's racist comments: OSWreview.com/hogan-racist-comments
Latest video: Samurai Cop review: OSWreview.com/media/movie-samurai-cop
Latest written film/TV/game review: Scream 1 (1996) OSWreview.com/media/movie-scream-1
Alright, back to editing! See you in the funny pages!
Jay