OSW & the Ric Flair Tour!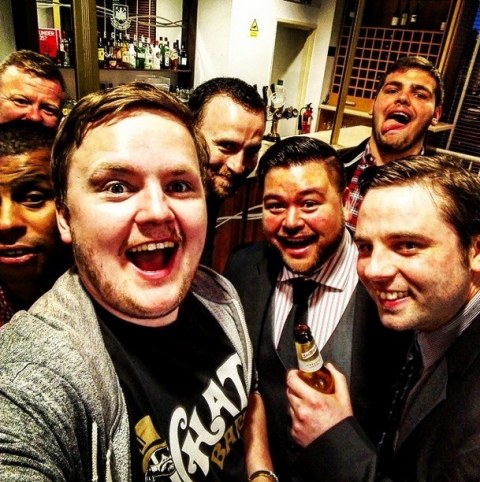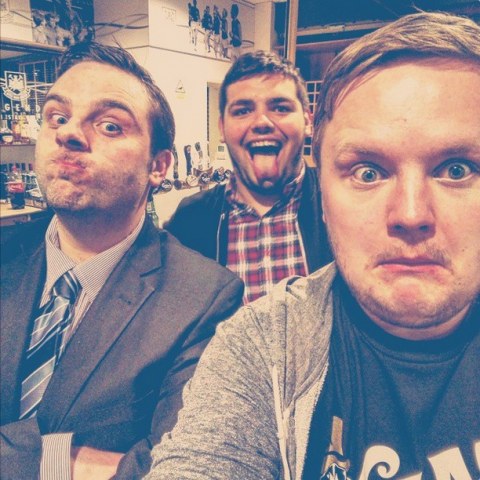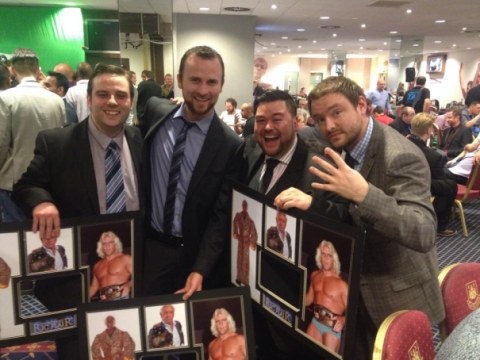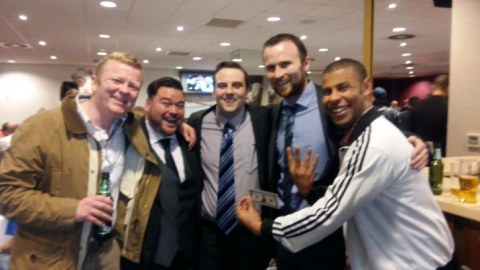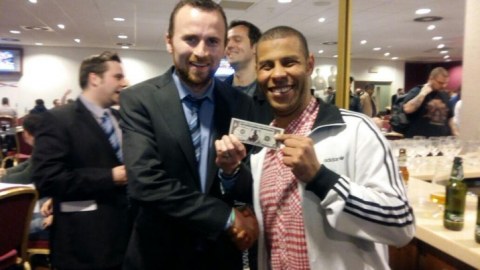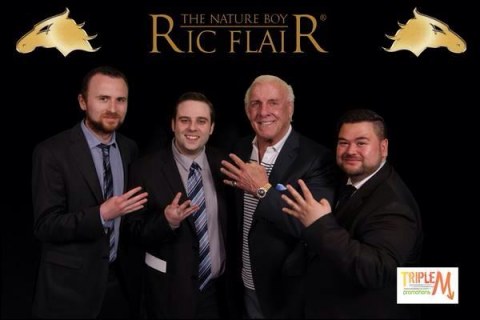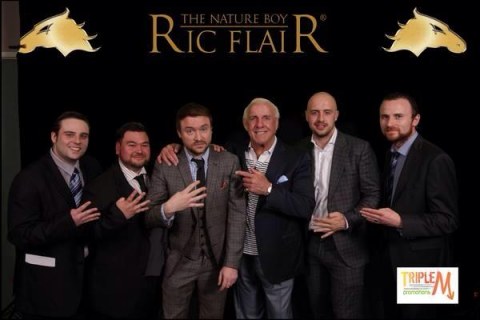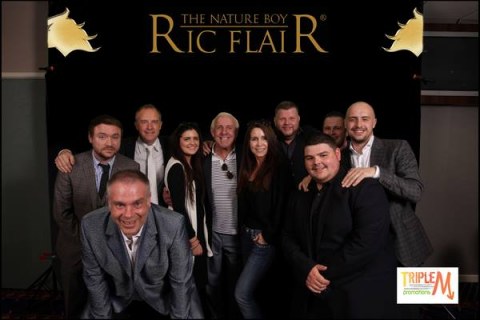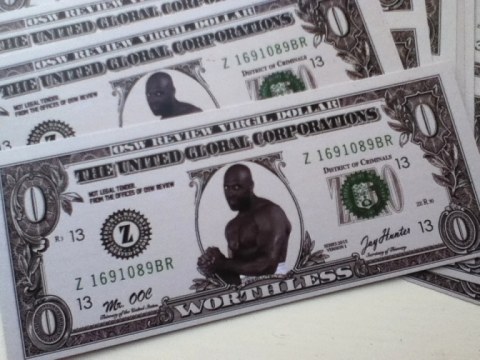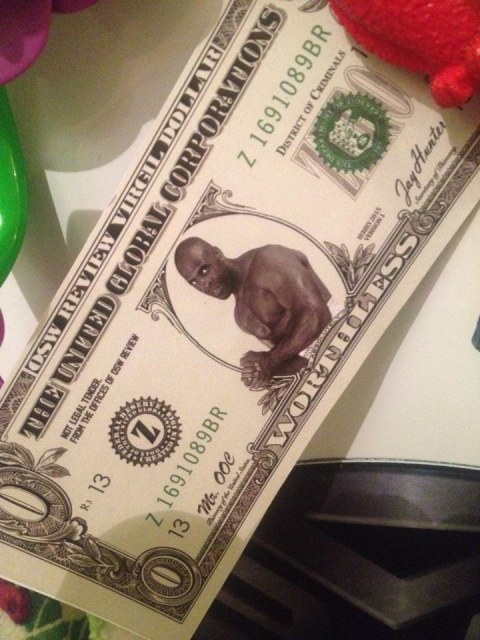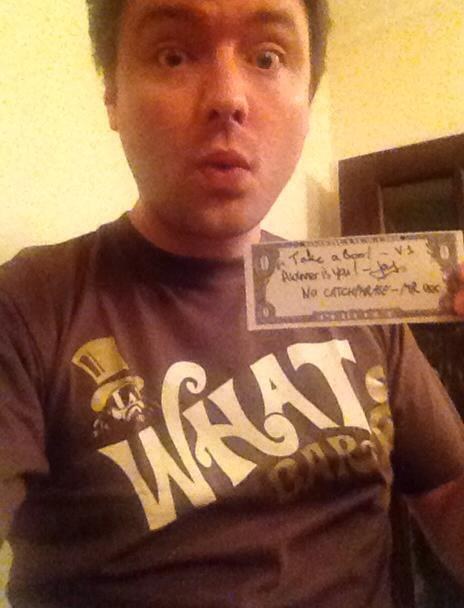 ---
Hey yo!
We had a blast at the Ric Flair tour Saturday night! Forgot how big London is; we didn't wait for trains after getting to Gatwick Airport but it took about 90 minutes to actually get to Upton Park! (Ireland is the size of a postage stamp: get from Dublin to Cork -opposite bottom corner of Ireland- in 3.5 hours!). Stayed in the Stadium's hotel, which was lovely: the sliding patio-doors opens out onto the exec seats overlooking the football pitch. I'll get the lads to send me the photos we took there. Those doors were supposed to be locked but a few seconds in the room, OOC (through no fault of his own) broke it open and we got into those seats for a bit. Poor woman in the room beside us had to shut her curtains.
Promoters Michael, Matt and Matt did an amazing job, the setup was like a wedding reception, with a celebrity guest – 8 seats to a table, lots of tables nicely spaced out (capped the attendance at 300); fanning around a main area where Ric would be asked questions and chat about his career, a bar beside the signing/photo area and an open buffet at another end. We arrived about quarter past 6 (4 hours before Knox O'Clock) and were treated like VIP talent by Michael and his crew, it was all a little embarrassing! 3 knobs coming in from Dublin! We were given some amazing swag; Naitch photos, t-shirts and these really impressive multiple-photo frames. Sarge shot gorgeous photos in front of a green screen which then had Flair graphics added in the background, printed out immediately, which fans could get signed by Naitch, great touch.
We weren't sure what we'd get to do with Naitch but we dressed in suits just in case anything went down. Flair was game for some photo ops with ourselves, then altogether with us and the promoters. Ric was pretty chill, day 7 of a 7-day straight tour. He was wearing a dinner jacket and polo top, slacks, and loafters with no socks. Considered bringing up the sockless thing but didn't want a fight. Or at least a "you think your better than me?"  lol. With him was Fifi the maid (remember her from Flair for the Gold?) who's still gorgeous. Real Dixie Carter pretty vibe. She came up to me after the show which was v. nice of her. Honestly we didn't spend much time with Ric; myself, V1 and OOC just hung out beside the bar where fans said hellooooo! It's a surreal experience, as people at the event would either know who you are or absolutely don't! Before Ric was on stage, we were brought up to talk about OSW for a couple of minutes, which was slightly terrifying. We were asked about our favourite Flair moments (Rumble 92 V1, Funeral Parlour 91 Jay, Final Nitro OOC). It was amazing having a pocket of fans cheering whenever we dropped a reference (I started off with our HELLOOOO intro and "a winner is you" :D) Afterwards we had more people come up to us asking about the show. I was asking Rob about doing 7 days straight interviewing Flair, he said he'd always hit on the big topics (eg retirement, Rumble 92) but has a different theme every night (eg NWA, death of WCW, Evolution etc). Lovely lad and was impressed at how much he'd put in to make each interview unique.
As Irish stereotypes we hung out by the bar, drinking and having a laugh. And fans got to smoke outside with V1 and OOC, how about that. A super nice dude called Mark (hey mate!) waited until after the show to say hello. Mortified thinking if there were a couple of people there that didn't say hi! Everyone was super nice to us, even guys coming to see us and not Flair! BTW the Virgil dollars were over! Would love to somehow get one to every brah. I know we've a couple fans but it's something we never really consider, so it's very cool to actually meet peeps who dig the show! We just spent the night drinking and chatting with anyone nice enough to talk to us. It was fucking boss, absolutely lovely lads. I kept trying to turn them by asking who was their favourite host (btw they all said either V1 or OOC! ) 😀 It finished up around 10:30, we loitered around until we were hooshed out. Difficult finding a club in West Ham (the open one had pat-downs by bouncers) and the lads were wearing trainers. OOC suggesting taking your black socks off and putting them over your sneakers. It's genius, who would do such a thing? No takers for that one.
I'm a bit waah about naming names as I'm definitely going to leave out many but thank you to Chris, David, Noel, Jordan, Ryan, Mark, Tom, Sam, Tim, Tony arrgh I'm missing a ton of people but please leave a comment! Also tweet me or post us a photo on Facebook you took during the night so I can put 'em all together! Massive thanks to everyone involved in the Ric Flair tour, promoters Michael Sleigh, Matt Mcgibbon aka Moonhead & Matthew Ward, Johny Bryan on merch, Rob Maltman the interviewer, Sarge on photos and Matt Taylor on security. That picture at the bottom is Michael, with a Virgil Dollar. It says "Take a Boo – V1, A winner is you! – Jay, No Catchphrase – OOC" 😀
Any questions on it we'll answer below, just ask! Hopefully we'll get to do it again sometime!