Tough Enough Week 10 – FINALE!
---
Tough Enough
• Back at the Barracks, Amanda continues her 'ring rat' miiiiiiiind games and Sarah Lee doesn't deny it (or that part was cut – makes her look guilty, and Amanda huge bitch)
• With the judges, they go through ideas for their live match on the finale, names for each one eg Sara (as "Hope"), theme songs – Sarah says she wants a rock song, Jericho plays some Fozzy and she stops smiling. Hilarious.
• Their match partners will be the Swiss Superman Cesaro and Alicia Fox (well she is 1/2 of the greatest match of all time, with Melina!)
• Amanda vs Fox first: Introduced as "Amanda as Mandy Rose", she shimmies for the judges (very good) and cuts a grateful face then decent Bella promo. A "what did you expect?" match – hairpulling, hairpulling again; very sloppy, dodgy selling (she gets up first after being hit, that kind of thing) The crowd are SO KIND cheering for her. Fox isn't the best person to be in with (why not Nattie?). However she pulls off a nice tilt-a-whirl hurricanrana, and turnbuckle bulldog almost perfectly, well done. It ends with Fox doing a scissors kick but hitting her crotch on her head for the three. The judges are SO KIND to all the performers; Bryan's the most honest but still sugarcoats it with compliments and motivation, e.g. her intensity makes up for the sloppiness.
• Sara (they've dropped the 'h' and 'Lee') as " Hope" vs Alicia Fox: a large step down from Amanda. You can tell is intimidated (she 'runs' past her entrance) and doesn't say much on the mic. Her kicks SMASH kayfabe with their shittiness. She looks very awkward and clumsy, and the match just ends when she walks into place and is hit with an even worse scissors kick to her kidney. The judges congratulate her on doing a very good job. I'm pulling for her but damn, Amanda deserves this more.
• Jericho trolls the ladies them opening the phone lines but not revealing who won. Ha!
• ZZ as "The King of the Bayou" vs Cesaro: He has a large gator head/skin which is very cool, although he didn't show much charisma here or in his promo. Was expecting Skinner attire but he's topless (why?!) with camo and lime green shorts. He does a slightly delayed vertical jump, grand enough but fails to get down quick enough for the run over, and Cesaro has to cover, dropping for a headlock. Cesaro has none of the Gator Grip and crossface for the instant tap. Better than Sarah Lee but in the ballpark. Miz gives out about his cardio.
• Josh as "the Yeti" vs Cesaro: He wears a some wolf scrapes and grey briefs by the look of it. His promo has street lingo which makes no sense! He starts pushing "Yeti Nation" which is really lame, but the crowd get behind him as he fires up, which saves it. Cesaro stiffs him with an uppercut and Booker & Billy cackle and hug. Josh looks SO much better in ring in every way, much smoother and confident, he looks & is built like a wrestler. His big move is a running powerslam which is decent. Oddly, the judges are much more critical calling him choppy. It's a bit sneaky that they show Josh's young daughter in the crowd.
• To make sure to tip the scales, they show Josh's young daughter in the crowd, and show before and after pics – ZZ looks the same, whilst Josh got ripped.
• Aitch comes out! He's got 'contracts' in envelopes. Who's getting that fuck money??? Sarah Lee! with 64% and Josh! Murdered ZZ with 70%.
• They congratulate the winners and save whatever for Tough Talk.
Overall: Flew by, always fun to see a finale, and even though hyper-edited, going through elements of a wrestler (music, outfits etc) is always fun. So WWE got one proper winner and we got one. Higher hopes for Josh; Sarah will make a fine backstage reporter like JoJo.
---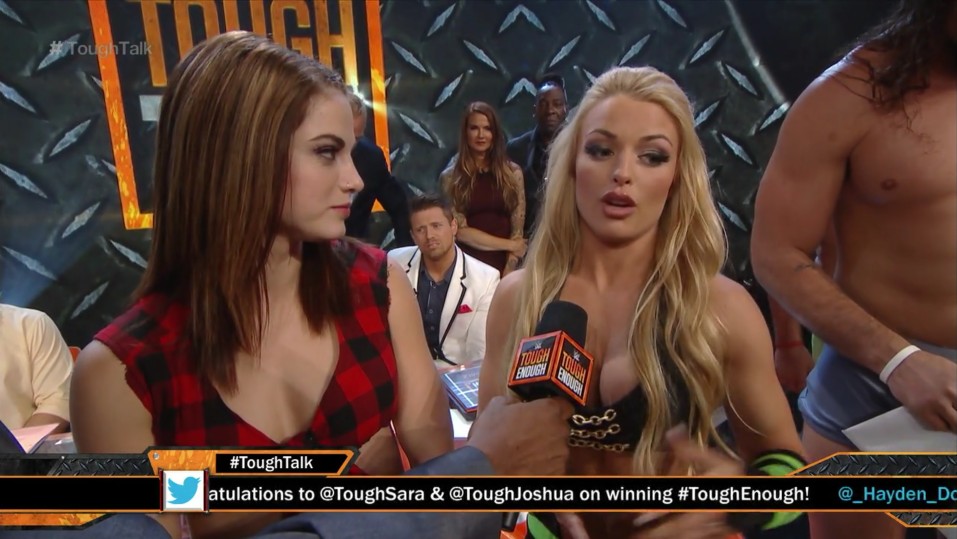 ---
Tough Talk
• Sarah can't speak she's so happy. Paige asks her if she can hang with the NXT women and Sara's reluctant to even pretend. If she was on the ball she could've said she'll Takeover NXT! She hopes to be in WWE in a year which the judges and trainers -without hesitation or remorse- all laugh out loud at, Billy more than the rest – saying she will not be out of NXT in a year. Later we hear Billy's "Billy-ism" that Sarah has "skittery feet" i.e. uncomfortable in the ring, and indirectly says she has no personality. A lovely on-screen burial of WWE's newest talent.
• Amanda says sour grapes but resolves that she's come this far and keep going. You should see Miz's disgusted/quizzical face listening to the women, LOL!
• Jericho brings up Josh's ghetto voice, which he can't explain. Jericho mentions twice having the "correct final 4" rather than the correct winners, which will be expounded. This whole show is asking different people who should've won (Amanda and Josh). It got tiresome as everyone had the same opinion with various degrees of niceness – Amanda should've won because she's the better wrestler & athlete, what does Sarah Lee have, and ZZ has no cardio and no drive. Aitch interjects saying charisma is intangible and his daughters bragged to him about meeting Sarah Lee. Aitch insults ZZ saying he missed Burger King and didn't have the heart. The overall message is fuck 'im, you didn't want it so you got what you deserved; the positives & motivation comes packaged with disappointment.
• Lita mentions that Sara Lee & ZZ (the non-athletes) don't like getting hit, as opposed to Amanda and Josh, which fuels them/fires them up, but that would come in time.
• The judges just harp on and on about ZZ's lack of hard work and cardio. Booker describes ZZ being on top with the voting for weeks as pulling the wool over everyone's eyes. Fuck you!
• Horrible job by Byron asking the same questions and prodding the wrong way. And on that sour note, we bid you adieu!
Overall, Tough Talk felt very long and wasn't that entertaining, like this season! But sure, maybe we'll get to see Vince slap them on RAW and send them packing never to be seen again, like Angry Andy Levine! Worth watching the Finale just for funsies and see what you haven't been missing out on. So see you next year!
Check out Sarah Lee's match: