Tough Enough Week 6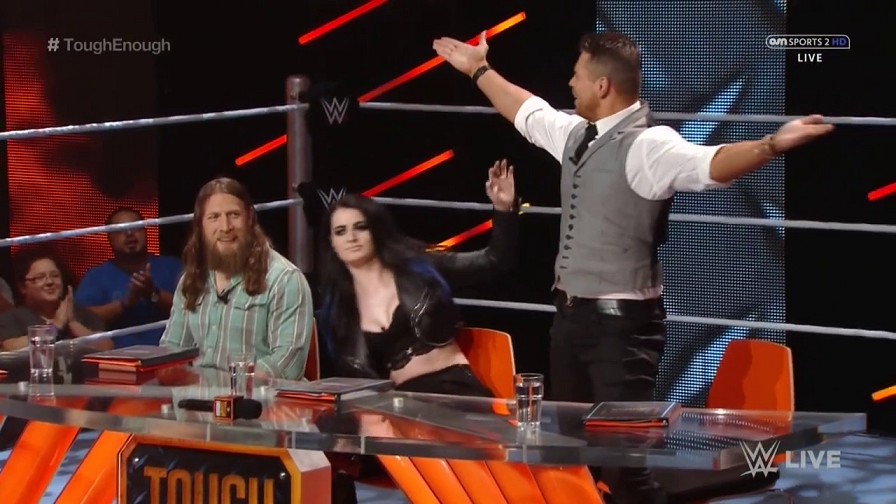 ---
• WWE fired Hogan just before the transcript of his 2006 racist rant was leaked. Bret was the only name rumoured to talk Hulk's place, and Tough Enough could use a veteran's voice. They could use Scott Steiner's voice. Imagine him cutting live promos on the men and hitting on the women!
• So in Hogan's place is The Miz. This is a step down as now he's not hosting Tough Talk (Bryon Saxton is). The first thing out of his mouth is talked over by the boorish Paige, who is worse than ever this week. She chastises the fans over eliminating Patrick, later on she butts in whilst Miz gives advice to ZZ, and again while he justifies his bottom 3 pick.
It's sad that the Miz doesn't have any type of respect despite his qualities. She wouldn't fucking dare talk over Hulk Hogan.
• It's like Game of Thones post-death where everyone mopes about Patrick being gone, the first significant elimination. It even kicks off with a recap of him getting the boot, a first for TE. ZZ resolves to make "his best friend" Patrick proud, by working out. (They oddly show clips of Patrick insulting him though)
• 1st Challenge: A tree-to-tree Zip-line obstacle course. Cesaro makes an appearance and says this is about focus: Complete the course but remember a number, whilst Billy Gunn tries to mess you up. Sara Lee smashes the course in 4 mins (she doesn't get ANY credit for this) but can't remember the code, like most, GG wins it for the females (sandbagging Billy with silence) and Tanner whoops ass as the overall winner. The prize is Jericho's 3rd book. A prize of £11! What a shit prize! Later on, Tanner admits to only reading one chapter.
• Chelsea and Tanner are in the hot tub, and in an awkward/flirty/help-you-out way, she asks him to cut a promo on her bikini. He stutters and fails. They edit this in a way that makes him look really pathetic. Later on Byron asks him to try again, and he exasperates "Jesus Christ" twice before stumbling through a little better 2nd time around.
• 2nd Challenge: Also to test focus. Do a 3-part sequence (shoulder tackle, run-over and take a slam). Most look decent, except for ZZ, who is stymied after the first move and is throwing Mada off his game (he's worried about himself, as he was 2nd last in the first challenge) and Amanda and Sara Lee bomb, badly. Booker chooses Josh and Chelsea as the winners.
• Amanda and GG start drama and GG cries in a woe is me it's so hard phone call. She is never picked up on this bullshit forced TV drama. I know it's all TV bullshit but wow, it's bad.
• Live challenge at Full Sail, the women take a slam and splash from Tamina Snuka. Amanda Marty Jannetty's it, massive smile on her face throughout. Oddly Chelsea takes the worst slam and Tamina goes a little harder on her and GG (ie the trained wrestlers). Is it odd that Sasha, the black NXT call-up joined the black/samoan team? Seeing The New Day (3 black guys form a faction), not really. At least Alicia Fox is with the Bellas so it's not completely white vs non-white.
• Bottom 3: Amanda (Bryan via poor performance; Miz contends that she's hot and Paige asks about his wife Maryse. Ha!) Mada (Miz, because he played the blame game with ZZ) and ZZ again (Paige, thinks he's lazy and doesn't think he can win). Mada gives the best speech out of the 3, citing his passion, body and mind, and rightly gets a round of applause afterwards. So he's not going — You're fucked, Amanda! Oh shit! Miz saves Amanda (Paige loudly disagrees, obviously) and we find out the rules of the save – someone's still going home – as the 2nd lowest votes, Mada gets eliminated instead. Ah, bullshit. Crowd is taken aback and they cover the silence with the awful theme song, and we're out!
Pretty average episode. Patrick never did much on the week-to-week show so wasnt missed. Bloom is off the rose with ZZ, he's not being funny, he's both sulking and sucking at the challenges. They haven't quite thrown ZZ under the bus but they are strongly highlighting his negatives, and although he never says anything bad, they're letting him hang himself. Still the most popular though, 4 more episodes left, he might be able to push through.
---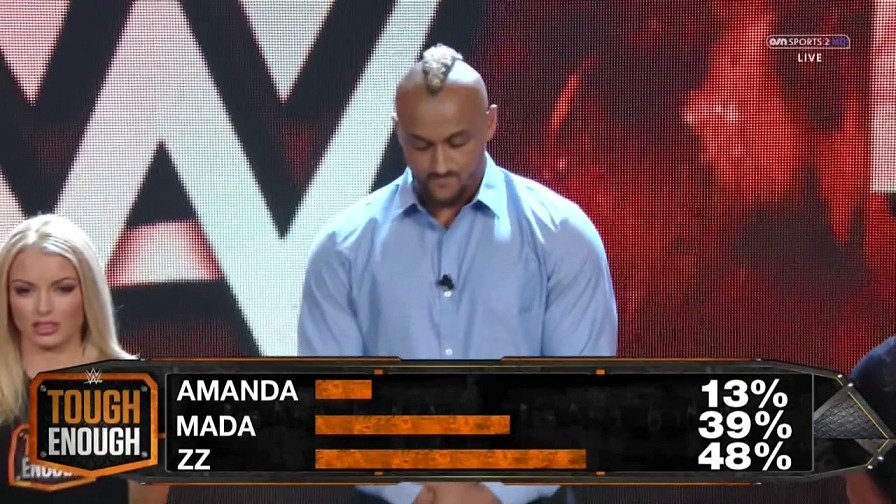 ---
TOUGH TALK
• Bryon Saxton has taken the Miz's place. Boo. He's fine, like a halfway point between Michael Cole & The Miz. A step down from The Miz, who was perfect in the role.
• Mada cuts an impassioned promo on ZZ on how he works harder and wants this much more than him. He kinda destroys ZZ, and hilariously says ZZ destroyed 2 chipotle burritos. ZZ doesn't have much to come back with, but he does get one laugh, explaining the shots of milk (toasting to Patrick) was because he's 19 (not over 21) and shots are for decision-enhancing.
• Paige is in overdrive with the obnoxious Simon Cowell heel gimmick. She does however back up Mada, saying ZZ or Amanda should've gone. Miz and Paige continue arguing over Amanda staying, Miz saying she constantly gets a reaction (dropping the words heels and babyfaces), Paige contends she can't do anything in the ring; to which Miz bellows "none of them can!" which is a great sound byte.
• Seeing Amanda chastised for only being pretty….it's a good time to bring up that Eva Marie has resurfaced on NXT; a woman with no athleticism who was hired because she's pretty. She's been on a wrestling crash-course, training with Bryan Kendrick. She has improved but she's obviously still poor. I wonder who hired her, as it directly contrasts to hiring Becky, Sasha, Charlotte etc.
• Bryan's closing advice for everyone is to get their fundamentals right – the basic sequences down pat (lockup, powerslam etc)
• Paige gets Byron to do his Carlton dance (which is funny, but he dances like a white guy if that makes sense) and we're done. Couldn't find a .gif of it!
Overall: Don't bother this week! Here's Mada's closing speech that should've kept him in the game:
---