Tough Enough Week 7
During the week the buzz (if you can call any Tough Enough news ``buzz``) was that Vince & Aitch want ZZ gone. Let the sneaky editing and burial commence!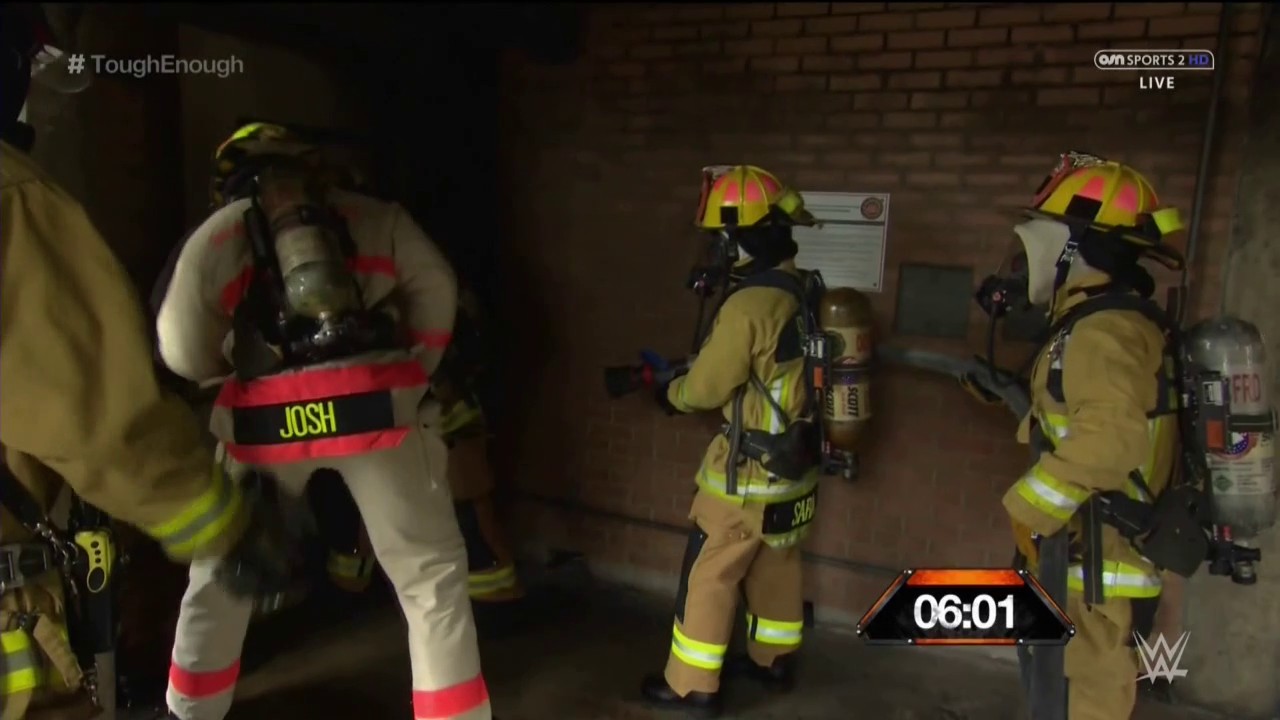 ---
• Kick off! The judges take turns quickly giving each participant a piece of advice. Great little add-in. However they've re-added the long bouts of clapping before and after the break, and the awful generic pop soundtrack is more pervasive than ever.
• Amanda is happy to have her looks help her get to the top, and ZZ is shown sulking about nobody wanting him here. He looks like he's lost weight (later he says 8 pounds). This week's challenges centre around pairing up and teamwork.
• Challenge 1: Work together for a quick in-ring sequence. Billy reads ZZ the riot act for gassing out in 2 minutes. A big hoopla is made over Sara Lee botching a powerslam (Daniel Bryan rightly points out it didn't look that bad, as is disappointed in Gigi for playing it up), whilst Josh & Tanner kill it, winning the challenge. Josh gets the shine – He's the guy WWE want, as the tallest/biggest guy. He's put over as super-focused and capable. I get this is a reality show so they need to show "interesting" activities to grab ratings, but how is this a decent evaluation of in-ring talent? How is any of this useful?! 😀
• Miz oddly heels out on the fans, calls ZZ a lazy underachiever 'which the fans can relate to'. Everyone reacts mildly surprised.
• Josh offers Tanner to hit on him to up his game (e.g. pretend I'm a woman) real reality TV fodder. They play it up on Tough Talk, boo.
• Challenge 2: Fireman (not the carry) rescue exercise – attach a hose to a fire hydrant, put out a fire, find a dummy survivor and get out. featuring the Prime Time Players! They show up with their tag belts. This sequence is INTENSELY edited (even for a reality show) so it's just a mess. ZZ (who has experience as a volunteer fire fighter) and Tanner do the best, giving ZZ some much-needed props. Josh is shown as doing almost everything himself, but this doesn't bite him in the ass.
• Calmer hen clucking as Chelsea admits to intentionally not working together with Amanda, wanting to stand out regardless of instructions. She's gonna get put in the bottom 3 for that remark.
• BOTTOM 3: Amanda (Miz, a segment early, says him saving her went straight to her head) Gigi (Bryan, for over-reacting about the powerslam) and Sara Lee (Paige, for not apologising after botching the powerslam). So…none of those are really teamwork reasons, which the challenges centred around. Hang on! AMAZING swerve by Miz, he changes his nomination to Chelsea, for awful teamwork. What a troll.
• Final 30s Plea: Sara-Lee ("I'm here to learn" – meh), Gigi ("I need to be here" – very good), Chelsea (heelish "I deserve to be here" – good, but you won't win sympathy with it). Weird to see an all-female bottom 3, first time that's happened. Paige saves Gigi (which gets a big pop – she would've gone home), meaning Chelsea's fucked. As the 2nd lowest with 25%, Chelsea's gone. She puts over Gigi to win it, and we're done
Overall: Oh man, it's difficult to find things to praise about this week's show. Em…my 5 minute review will save you watching 90 minutes?
---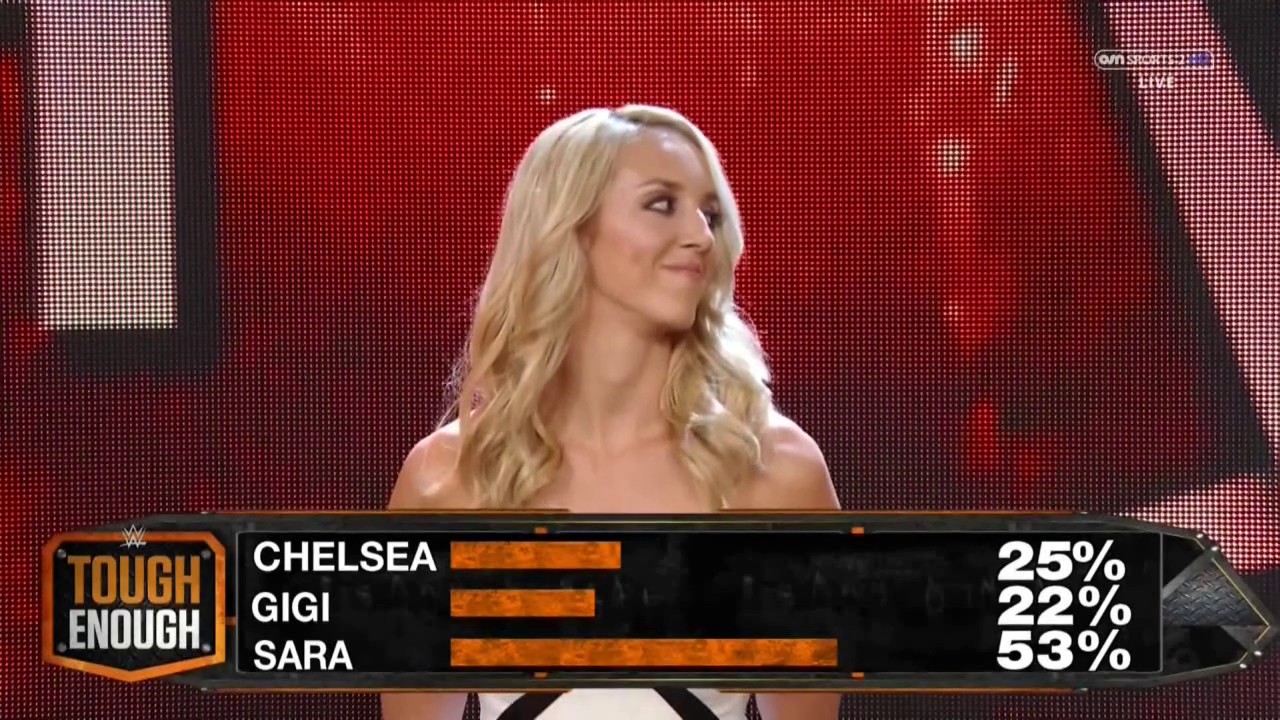 ---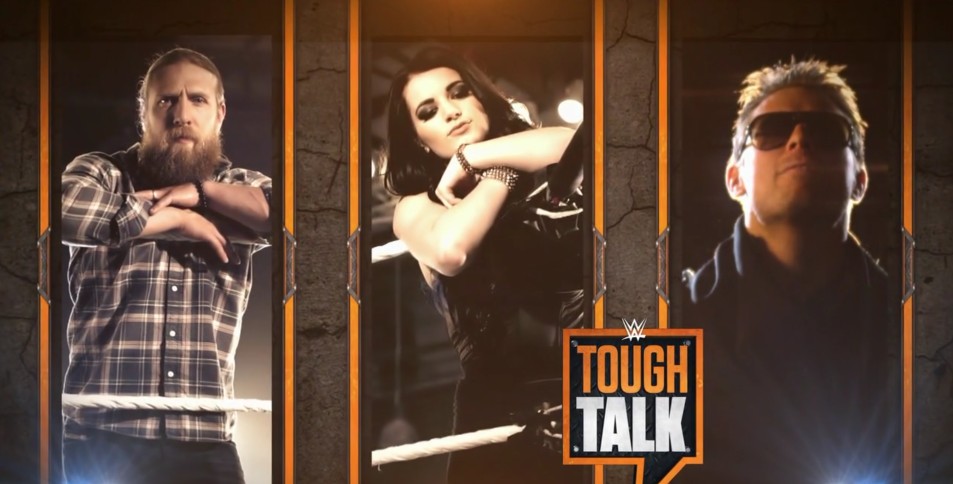 ---
TOUGH TALK
• Hilarious new graphic. I didn't see the ring ropes for DB and Paige, thought they were posing like rappers. B Dazzle is back! He has to be prodded so say anything – his head was somewhere else this week. He just keeps grinding the same point about Chelsea playing up whining about a somewhat dangerous powerslam.
• Amanda: Paige says she would've nominated her for elimination, but didn't as Miz said he would. They make Amanda out to look really bad, very shallow, and is put in a tight position and ends up slagging Chelsea's looks. She should've referenced that she came to Chelsea nicely about their poor performance in the challenge, who responded by saying she's basically going into business for herself.
• Gigi: Frustrated that she's was in the bottom 3, as she's been performing in challenges. Paige has really toned it down this week – great! – she gives out that TE is a popularity contest, indirectly jabbing Sara Lee. 52% of the votes! Take that WWE! This "Sara's a liability" conversation lasts an ice age. She butts in to defend herself, giving us a perfect visual of Tough Enough and the fans' (and my) voting preferences.
• The next 10 minutes is spent burying ZZ: Miz likens him to Daniel Puder (the fan favourite who was gone a year later). Kurt must not be anywhere close to coming back to WWE, but I appreciated the Tough Enough Season 4 reference. (Angle was embarassed by MMA-background Puder in a quickie shoot-fight on Smackdown – the most notable thing to come out of ANY tough enough season). Bryan HOUNDS ZZ about basically lying about wanting to get in shape. Smartly (and very tellingly) Miz asks about ZZ being a three-time Reality show star (the implication being ZZ's not interested in being a wrestler). FYI, ZZ was on "Trading Spouses" when his mother traded places with a vegan mom when he was 8, and again was "Swamp People" when he was 16.
• Force that Josh/Tanner bromance deal again and we're done.
Overall: Sadly it's another forgettable week, Byron Saxton did a poor job keeping Tough Talk moving along, and it's not enjoyable seeing WWE bury ZZ or making Amanda look bad. It doesn't work well to have your top babyface as boring heel with no-one to take his place. But hey, Tough Enough is about people wanting to become wrestlers, and so it's always interesting to me. It feels like Lance Storm's students (Chelsea & Gigi) are the only actually decent hires out of the bunch (I can't see Josh, Tanner or ZZ becoming anything/sticking around long term). Nevermind though, there's only 3 weeks left! And Cena'll show up next time.
---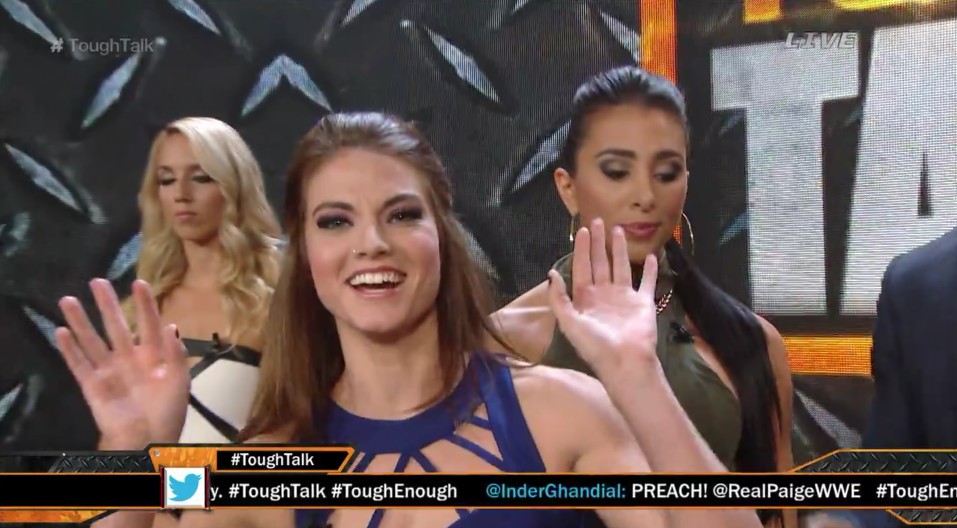 My boy Raff from the Wrestling is Wrestling Podcast did a Tough Enough review video!
---