Tough Enough Week 8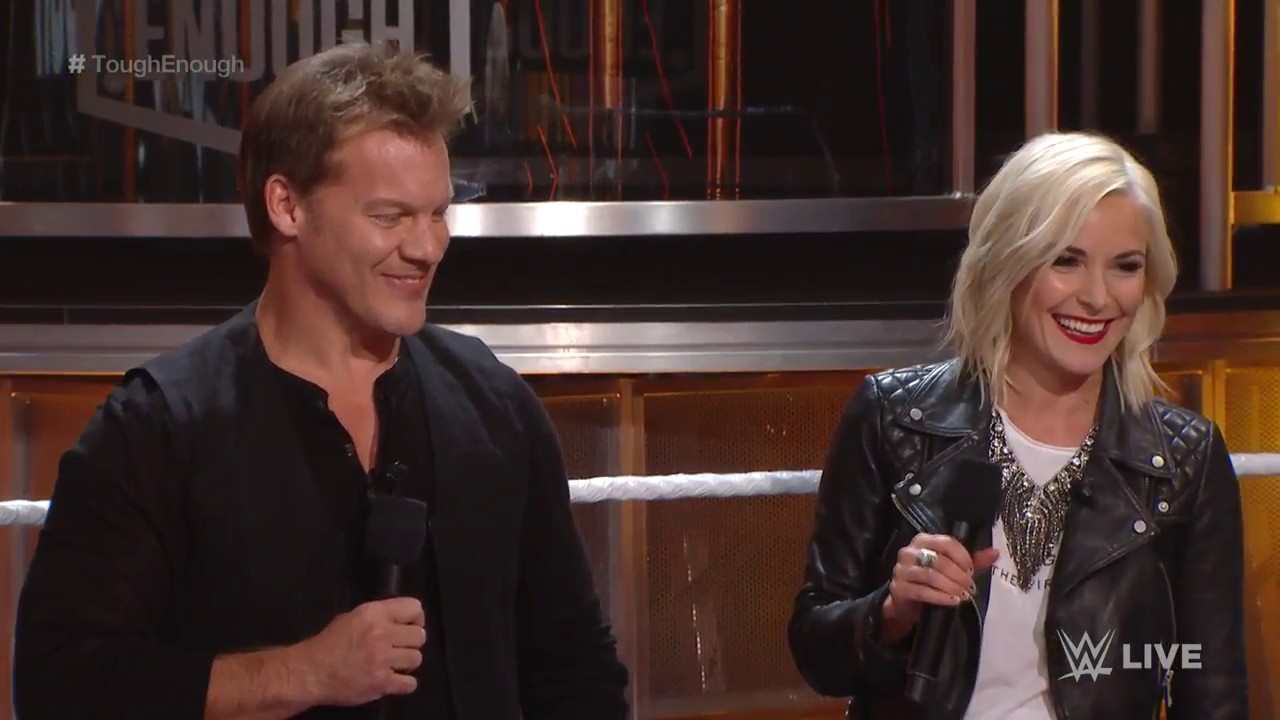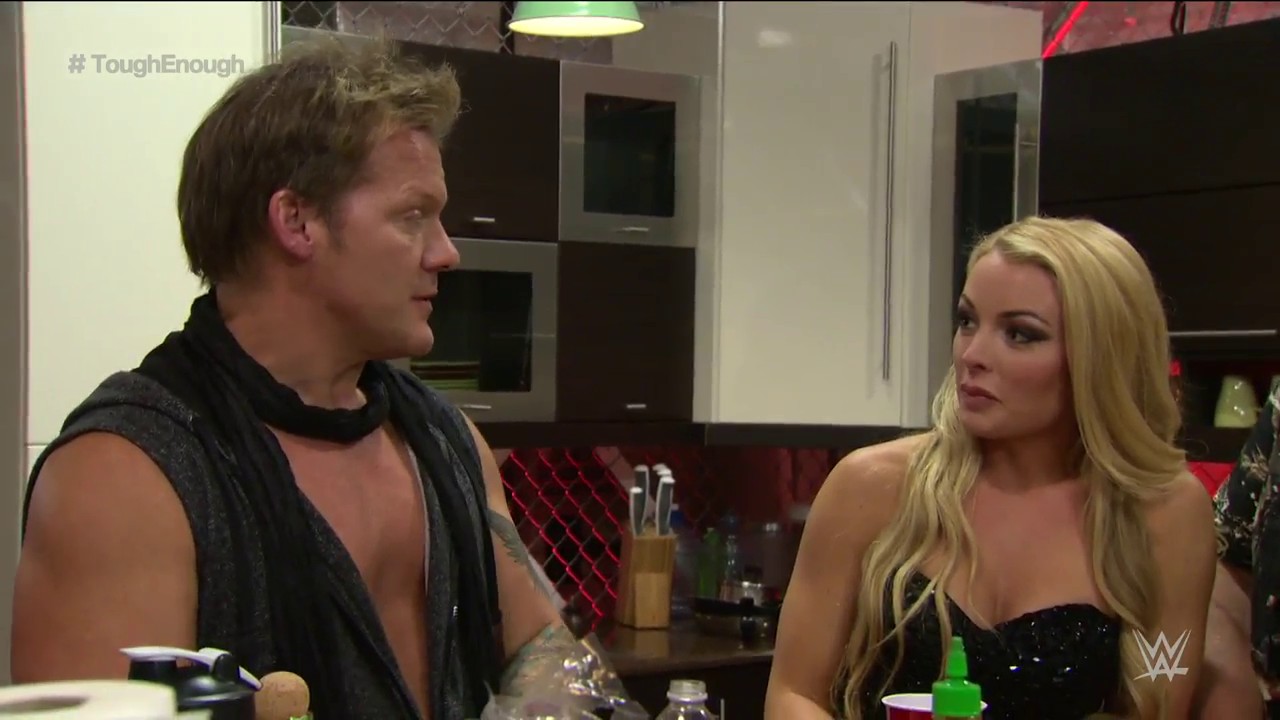 ---
TOUGH ENOUGH WEEK 8
• Only 6 competitors left! René looks great in a leather jacket
• Fashionista Jericho (sleeveless hoodie, bare chested, with a scarf) is showing more skin than the ladies. He congratulates the remaining peeps for surviving this far. They talk about ZZ and Sara having the popular vote for some unknown reason, sneakily planting that they aren't worried about being in the bottom 3 (subtext: they're taking you for granted, WWE universe! Stop fucking voting for them!)
• Do Americans all drink liquor out of red plastic cups? I thought that was a college movie thing.
• WWE test something very important, ability to drink, then get up & wrestle the next morning. They do headlock and shoulder tackle drills – maybe it's just the footage but they looked poor.
• CHALLENGE 1: They pair up to try tell a storyline in the ring. This is a fantastic idea, I wish WWE would take their own advice. Kicking out of each other's finishers is cheap.
• They have an audience, the NXT roster! I hope they're not too embarrassed what they see. It's a bit of a slap in the face making the NXT peeps pretend to be excited for these fuckwits play wrestle, — contestants are gunning for a legitimate $250,000 contract, whilst some of these actual wrestlers were brought in at $30,000.
• They chant truffle shuffle at ZZ; who is topless. I wonder if they ever forced Bubba Dudley to wrestle topless.
• ZZ/Josh ("Try outsmart the big guy"). Blah. Being highly edited with loud rock music/'crowd' reaction, lots of slow motion camera effects, you can't get a feel of how it actually went. ZZ shows the most personality, shaking/biting the ropes etc.
• Amanda/Sara Lee ("mean heel vs nice girl") HUGE groan when I heard Amanda explain this. Jaysus, nice creativity.  It looked horrible but the coaches said it was grand. Booker gets angry for Sara pulling a Marty Jannetty, constantly smiling.
• Tanner/Gigi ("you dumped me"). Had the most potential for a great storyline match (especially with an intergender match) but like the previous two, it was just using basic hip-tosses and shoulder tackles – no real match or storyline drama. Despite supposedly being a face Gigi got booed and worked heel (admonishing the crowd). Winner: Josh. Loser: Sara Lee.
• The girls read out mean tweets, which would been SO much funnier read out in front of the live audience! Seriously. Read out one mean tweet each live at Full Sail.
• John Cena's here and in a horrific blinding orange and green new merch. But WHAT BAR is he? Cena the phony character shows up, shit. He says "many people are calling Tough Enough the greatest show in the history of shows". He recites his 'go get 'em' script and leaves 2 minutes later. Fucking useless!
• BOTTOM 3: Tanner (Miz, lack of charisma), Sara Lee (Paige, big surprise, calls her a C+ player), Gigi (Bryan, for a babyface getting booed). Final pleas – Gigi (aint no stopping me nowwww, ok) Tanner (nothing u can teach that I can't learn, very good) Sara Lee (improving, never give up, good). Bryan (the only judge with a save) – No saves. You're fucked Gigi! She loses with 22%, Of course Sara wins with 43%, so Gigi's going home.
Overall: Really evident this week – The format of the show really strips the feel of actual performances, making the show kinda useless. It's like if RAW was presented solely as a 5-minute recap YouTube video, you don't get a good sense of what actually happened. Seeing them try to pull of a match live would've been compelling TV but perhaps it would've exposed them as terrible wrestlers (but sink or swim is supposed to be the draw of the show!). Cena's appearance was channel-changing fluff. Sadly, avoid.
---
---
TOUGH TALK WEEK 8
• Gigi looks genuinely upset and is grateful for her opportunity. Although this show is a terrible indicator of actual talent, of the women she looks to be the best fit, and not having the Tough Enough "Maven" stigma (should she get a developmental deal) would be good for her. The judges console her with positive advice.
• Byron asks boring questions. Conversely the hosts try spicy questions, but the contestants don't bite. It makes for mustn't-watch TV.
• Paige was only obnoxious once (twice if you count picking on Sara) so that's an improvement. Bryan said almost nothing on both shows, reiterating points others made – he has already checked out. Miz wasn't trolling this week. It needs to be said though – Miz dresses similarly but way better than Jericho.
• Tanner: They're overly tough on him, chastising his lack of charisma, but at the final 6, its easy to be in the bottom 3.They manage to get him to bitch about ZZ not improving physically and lasting 2 minutes (heh) while he grinds every day (also heh). He comes off as obviously frustrated (similar to GiGi), and unwisely presents his positive attributes (cardio/skills etc) as a weapon against ZZ, as opposed to rallying support for himself. People just see that as picking on ZZ.
• Josh: The judges reiterate the coaches' boy; the tallest, biggest guy there: Josh, saying he has the IT factor. He tries not to take sides but eventually chooses Tanner as a better in-ring partner. ZZ sweet talks the crowd, standing up for himself and wins that argument. Paige slyly quips he's such a good manipulator.
• Byron remembers to ask the women (as Amanda and Sara are the final 2 women) but have to abruptly end the show…so I guess we're out!
• So next week, put me down, Tanner will get eliminated – Sara can't be the only woman going into the final show (so Amanda can't go), ZZ's not going, and Josh is their new boy, and comes off better than Tanner. I know she's pretty but I'm shocked Amanda's lasted as long as she has; perhaps as the sidekick of the main bitch she's coasted under the radar.
Overall: Despite being the 3rd last week (and initially a hot crowd that they killed) it was quite a ho-hum low-key episode. Nothing memorable, WWE repeatedly (what I'd class as spitefully) mentioning that ZZ and Sara are there just because of their fans, for some intangible reason. They planted the "taking your fans for granted" card with Sara and it bore out with her dropping 10% of her voting dominance. They'd better have judges voting the winners in, otherwise its a slam dunk with Sara and ZZ, which it's been since pretty early on. It's weird how after 14,000 applicants that this group were the best. Verdict? How can I say it nicely? Well I saved you 90 minutes!
---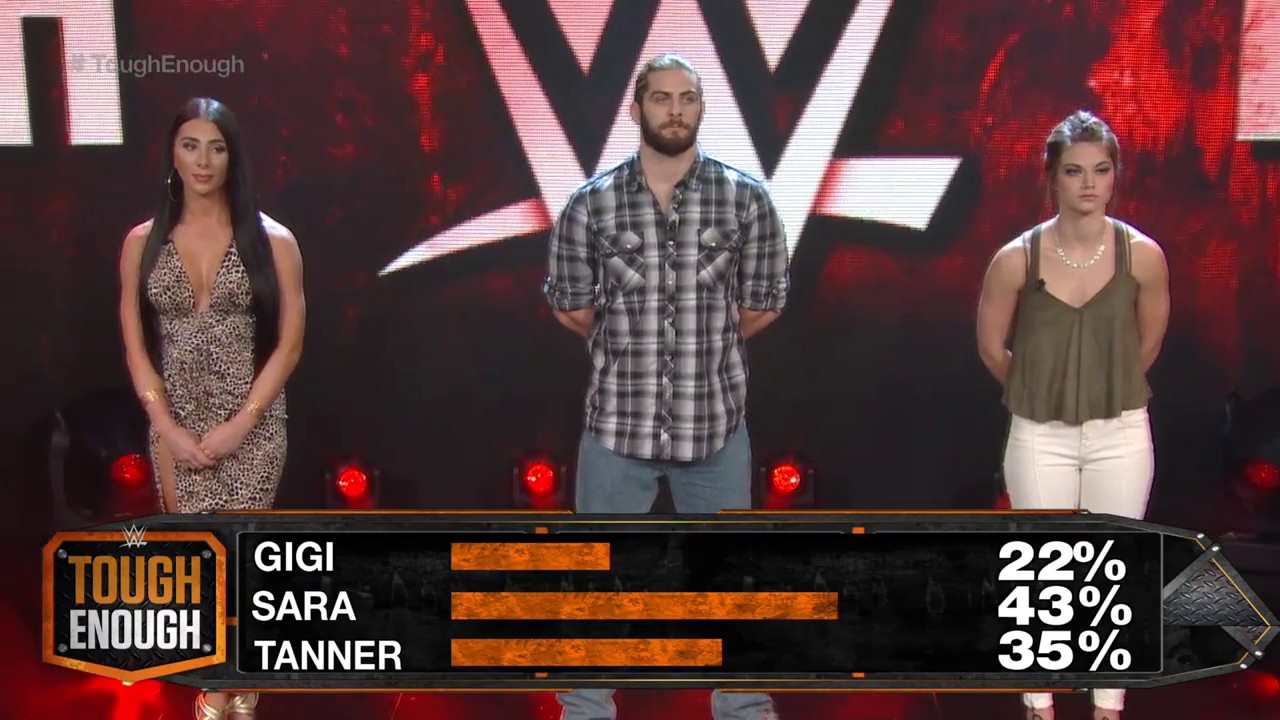 ---
OSW Panel at Dublin Comic Con: Pics & review! OSWreview.com/dublincomiccon
Lastest update on the next OSW episode: OSWreview.com/osw-update-august-6
We're sold out of brown what bar tees/choccies at the moment but there will be a few more on sale once shipped numbers are finalised (give it a few days), but the black tee is available now!
US: Merchnow.com/catalogs/squared-circle-clothing
UK: SquaredCircle.com/category/t-shirts-partners