Tough Enough Week 9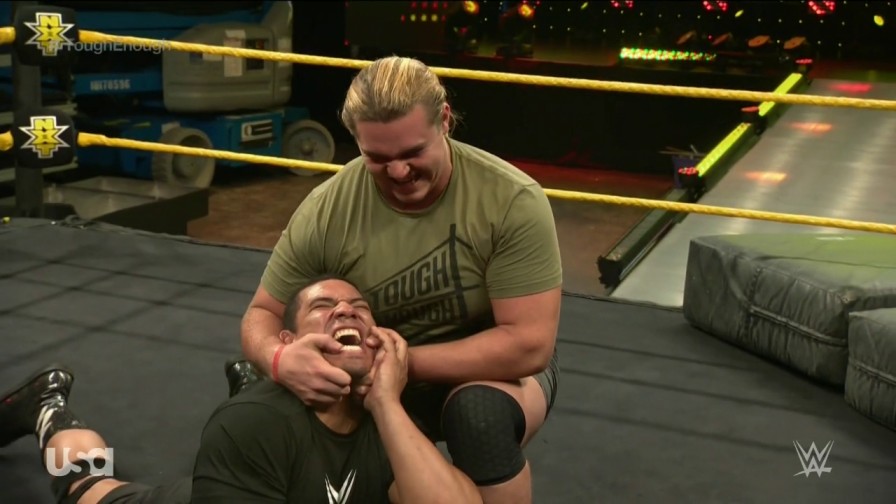 ---
TOUGH ENOUGH
• The Penultimate edition of Tough Enough! 5 contestants remain: Josh, Tanner and ZZ for the guys, and Sara Lee and Amanda for the girls.
• Paige informs us since there's only 2 women left, fans vote on the final 3 men for elimination.
• I said it last week, Josh is WWE's boy, so you're fucked Tanner! He and Amanda don't get it's a popularity contest – and blame the WWE universe for keeping Sara and ZZ, instead of finding a way to gain popularity.
• The final 5 set up the NXT ring. When completed, Booker says "pat yourselves on the back", and only Tanner and Josh do (I wonder if either meant it like Barry Horowitz!). Not a Challenge, but we get Create-a-finisher!
• Sarah Lee (Russian leg sweep into arm bar), Tanner (The "Randy O" special, top rope cross body – that has to be a rib on how bland and generic he is, as it's given to boring white-meat babyfaces starting off, like Randy Orton in 2002) Billy suggests yelling to try hide his lack of facial expression. Josh suggests a powerbomb but it's immediately nixed because of safety (Dammit D'lo!). They give him the Ho Train instead (LOL!) into a powerslam. Amanda gets the Dudley Dog (running up the corner, as opposed to Trish's bulldog off the ropes).
• René refers to ZZ as the Gator King. Woah. Nice! He gets a flapjack into the "Gator Grip", which is just holding someone's jaw and both guys selling with facials – something even the Great Khali could do. This is PERFECT for ZZ. He even comes up with a 'snap' gesture (like the lasso prior to a DDT) and a catchphrase "don't get bit, by the Gator Grip". Awesome. Murders everyone else.
• It's a bit odd that ZZ and Sara practically never interact, considering their similar circumstances (bottom of their class but with massive fan support)
• A rare occurance, ZZ fucks up by telling his housemates "Other than cardio, I am what this business is". The judges rake him over hot coals about trumping himself up ("so you're a liar") and he doesn't deal with it well. Always find it weird how WWE fight with it's fans – you don't like what you like! You like who I tell you to like! Why not make better, accentuate his positives instead of trying to bring him down? It feels spiteful, every contestant is WWE's contestant…
• It's not news but ah man, the never-ending rounds of clapping. It's so obnoxious and false, and they're already covering themselves with the horrific autotune pop soundtrack! I wish we could see Vince just off-stage gesturing "clap goddammit!". That would be incredible and turn this into a 10.
• There's no "who'll be in the bottom three?" segment so they ask everyone rapid fire questions. Paige grills Sara and then interrupts and gives out. What a huge bitch. It's disappointing that the live audience do not boo Paige one bit. Tanner comes off much better, saying his lack of showing emotions is a defence mechanism from how he was raised, and says he has to work on showing it more facially.
• They hyped up Bryan pretending to make this hard decision not to save anyone. As it turns out, he really, really should've done it for WWE to get their way. No saves.
• Final pleas: Josh does the best, pushing his new catchphrase "bringing the sauce" and gives the lollipop to Paige. That confirms Tanner going! He's out with just 20%. Wow – JOSH actually won the voting with 46%, ZZ being a good 20% less than expected. Their burying has paid off!
• Jericho lets us know that the two pairs will have wrestling matches next week – making their create-a-finisher segment more relevant. Can't wait to see them incorporate it!
• WWE cut to the final 4 graphic they had on standby and we're done.
Overall: Sadly it's a very much a "show before the show", the create-a-finisher segment was the most interesting, but with the elimination obvious, it was a missable edition.
---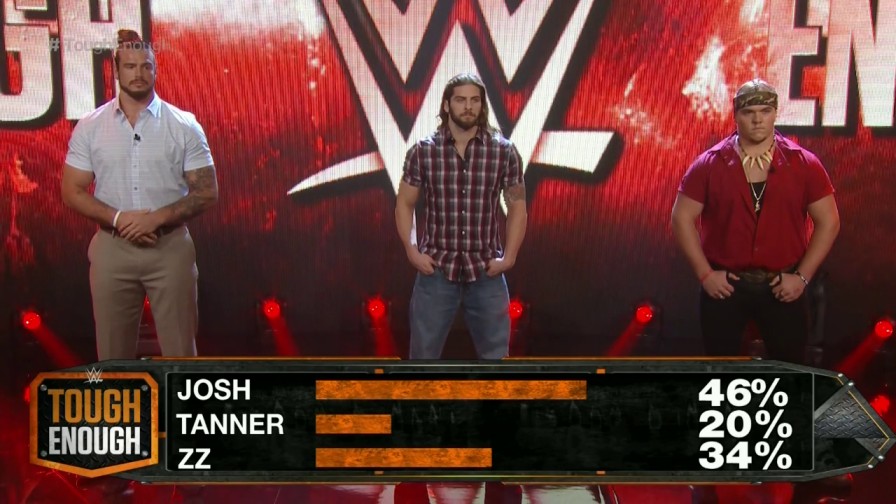 ---
TOUGH TALK
• Tanner uses his final interview time to politely chastise the audience, frustrated with the voting pattern. Byron actually proposes that it is a popularity contest.
• Bryan consoles Tanner saying he sees himself a lot in WWE, saying he didn't have personality beforehand, and it can be learned. He's far too modest to the point of lying. I HAVE 'TIL FIVE!
• Chatting to Tanner is used as a springboard to turn on ZZ. It's like a fucking Fox news debate. The judges, especially Paige, pick at him for the next 2/3 of the episode, hoping he'll heel turn. "What's ZZ *REALLY *like behind the scenes?". "You've a minor in psychology, are you manipulating all of us?!" Oh go fuck yourself. Miz just calls him a liar outright. However Bryan's so nice, he tells him he didn't want to say it on TV, but he's not trying half as hard as the others do cardio-wise.
• Their burial of ZZ is an awful watch and a transparent attempt trying to influence voting. Sadly, he doesn't handle it well, sticking to what he's said beforehand. He should've said he can't 'go' like they go, yet. His max stamina is the best it's ever been and improving every day; just next to the athletes, it looks bad. The judges close it with don't be lazy and take the WWE universe for granted (as they do with Sarah Lee).
• Paige corrects Byron calling the ladies "ladies" as opposed to Divas. They're not Divas – they don't have a proper WWE contract.
• Amanda's plea for votes is that she just plays a bitch character, she can turn it on and off, and she's actually nice. A smart idea but I don't think anything she could say will make a difference – Sarah Lee's winning the popular vote. BTW, being a heel character outside of a promo class segment makes her a heel to the TE audience, which will always lose a popularity contest. Being prodded, she reveals she has a small congenital bald spot (another thing to make her more likeable). However this work is undone immediately.
• What happens next is a disgrace – Amanda literally calls Sarah Lee a RING RAT, and equally as bad, Paige milks for all it's worth, boorishly agreeing with it as if it's gospel. It's wildly classless and a really trashy, scumbag accusation. (A ring rat is a tramp that tries to sleep with wrestlers, btw). Amanda did mention she's trying to get inside Sarah's head, but this is a lose-lose situation – whether it's true or false, she's publicly making damaging, unprofessional accusations for personal gain. Trying to take down Sarah rather than building herself up. Fun trivia, Coach Lita was well known for blowing the entire ECW locker-room and sleeping with anyone that would train her. Sarah Lee does very well to not let it rattle her. She says of course it's untrue, and that's about it. The burying continues – Byron hassles Sara about her nose ring. "Whatcha do, wake up one morning and say I'd like a nose ring?" Paige demands she give a gimmick name (and not "Sara Lee" like the cake). I would've said something bitterly smarky but she says "Smyle" because they're always giving out about her smiling. And mercifully the show ends.
• Sadly the matches next week will be against Cesaro and Alicia Fox, not too newbs together (which would've been AMAZING) It could've killed the business!
Overall, the worst episode of Tough Talk. The shameless scrutinising of ZZ & Sara Lee to try influence next week's final voting made for a horrific watch. Sarah did a much better job of deflecting it, ZZ could actually lose this. I hope WWE have to give them both a quarter million! Serves you right!  
---
A NEW OSW review dropped last night! Simulcast RAW: OSWreview.com/media/oswreview52
Latest film review: Scream 2 OSWreview.com/reviews
OSW Dublin Comic Con Panel: OSWreview.com/dublincomiccon
There will be a few more What Bar brown t-shirt/bar combos available over the next day at SquaredCircle.com/category/t-shirts-partners?page=2 but I'm not sure when the site will be updated!