WWE Beast In The East
---
WWE Beast In The East house show
New Sumo Hall, Tokyo, Japan, July 4th, 2015 (10:30am BST)
I'm so glad they made the decision to air this on the Network. Despite having hallmarks of a house show, it's very cool to see WWE in unfamiliar surroundings with a different setup. The production was more like NXT: harsh bright lighting, less rigid camerawork – no cutting every second or zooming in/shaking on moves like stomping. With Michael Cole & Byron Saxton on commentary (live from Stamford, CT) they weren't shilling Sonic Burger or whatever bollocks about the United Authority – there were no promos, no backstage skits – they just talked about the match being presented and the background of the wrestlers, in a reserved, relaxed way. It was much more of a legitimate sporting event feel – really great stuff.
Two untelevised matches: Cesaro submitted Diego, and Lucha Dragons got the pin over New Day.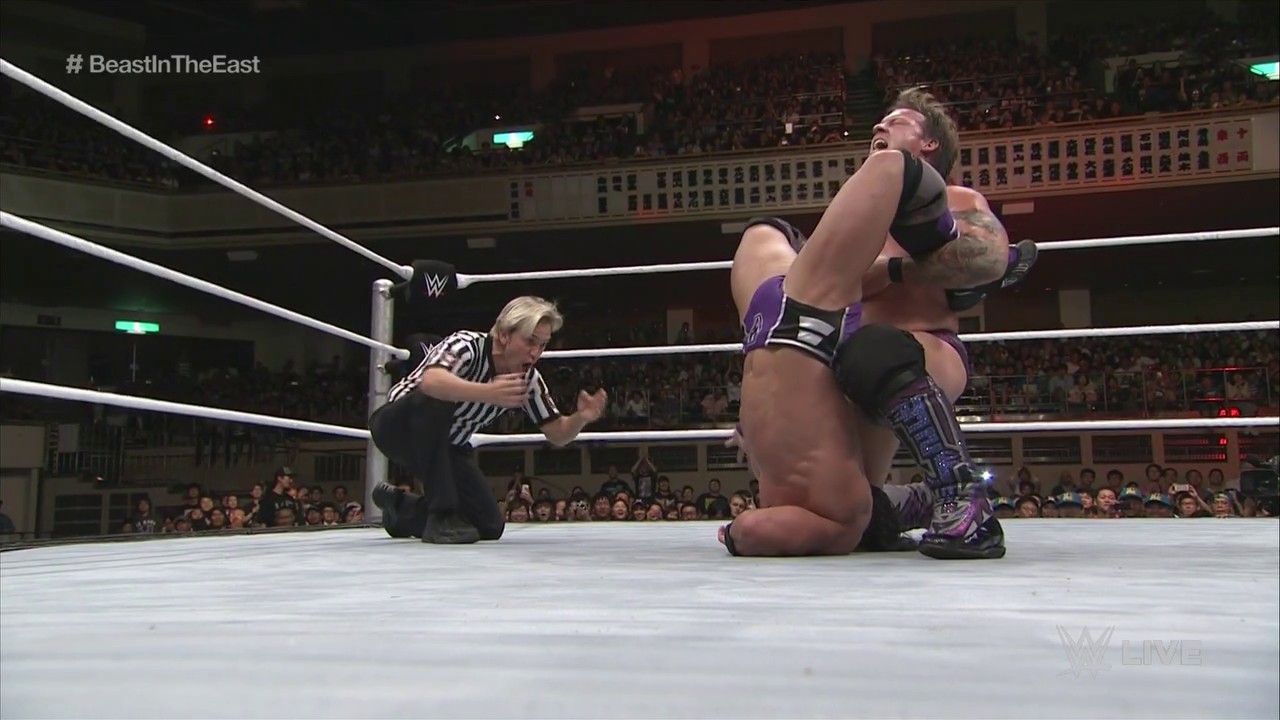 CHRIS JERICHO vs ADRIAN NEVILLE
Jericho has his light-up jacket, which is fun to see again. Cool to think the last light-up jacket used in Japan was Prince Devitt's, who's now in WWE but back in Japan! Mildly jarring remembering that Jericho's in WWE (with Tough Enough) but doesn't wrestle. He has more knacker tattoos than ever! Cole & Saxton talk about their pre-WWE backgrounds, it's surreal, FMW (Jericho), DG (Pac). It makes Michael Cole especially sound so much smarter and credible. The lads are wearing matching purple attire. Jericho's very windy and Neville's SO much faster. Oddly they don't work the crowd. Speaking of, there's an awesome "I'm deaf" sign. It's so odd to hear a Japanese crowd go through the usual WWE chants (this is awesome, later on 'let's go Cena, Cena sucks' etc). There's a couple of mistakes and very short sequences i.e. they're calling this one in the ring, but overall it's an entertaining match. Lots of Jericho countering/cutting off Neville. Y2J didn't do any high-risk moves, he's too old for that! The only real choreography was the finishing sequence. He catches Neville with a lionsault, Code Breaker, countered the Red Arrow with his knees and applies the Lion Tamer (a great treat! Something we only see with smaller opponents like Tyson Kidd) for the win in 16:20. I quite enjoyed it despite being a little sloppy and a little too long.
DIVAS CHAMPIONSHIP: NIKKI BELLA (c) vs PAIGE vs TAMINA
Nothing really of note here. Tamina gets teamed up on, replies with a Tower of Doom. She gets caught with a Nigel forearm from Nikki, who retains at 7:04.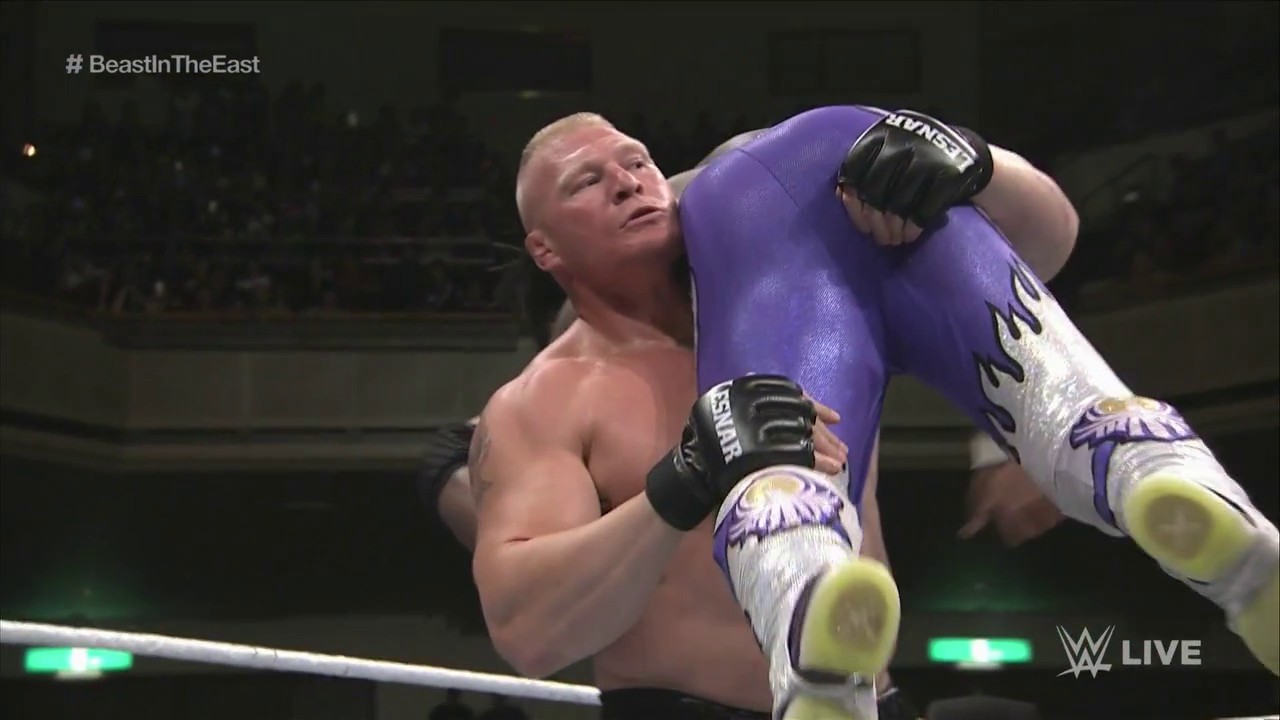 BROCK LESNAR vs KOFI KINGSTON
No Heyman and instead of pyro, dry ice discharges! Brock is SO huge. A beast of a man, if you will. Cole mentions Brock being IWGP champion, which was this whole messy affair: Antonio Inoki left NJPW to create the IGF. Champion Brock left NJPW, but kept the title over a monetary dispute. He dropped this title to Kurt Angle at the first IGF show. Kurt then wrestled in NJPW and lost it to Shinsuke Nakamura, who became their new unified IWGP/IGF champion! (And all was right with the world again).
An obvious mismatch turned to be…an obvious mismatch. Kofi's gameplan was to WCW Brock and counter suplexes by landing on his feet. After a minute Brock stops selling Kofi's offense (looked great) and just catches him, suplex city over and over, F5 and pin. A blowout, dominant performance in a nothing match – just him being there was the draw. That felt quite house show-y but it gets over how big a deal Lesnar is, and god help Seth Rollins. He destroys/F5s New Day afterwards.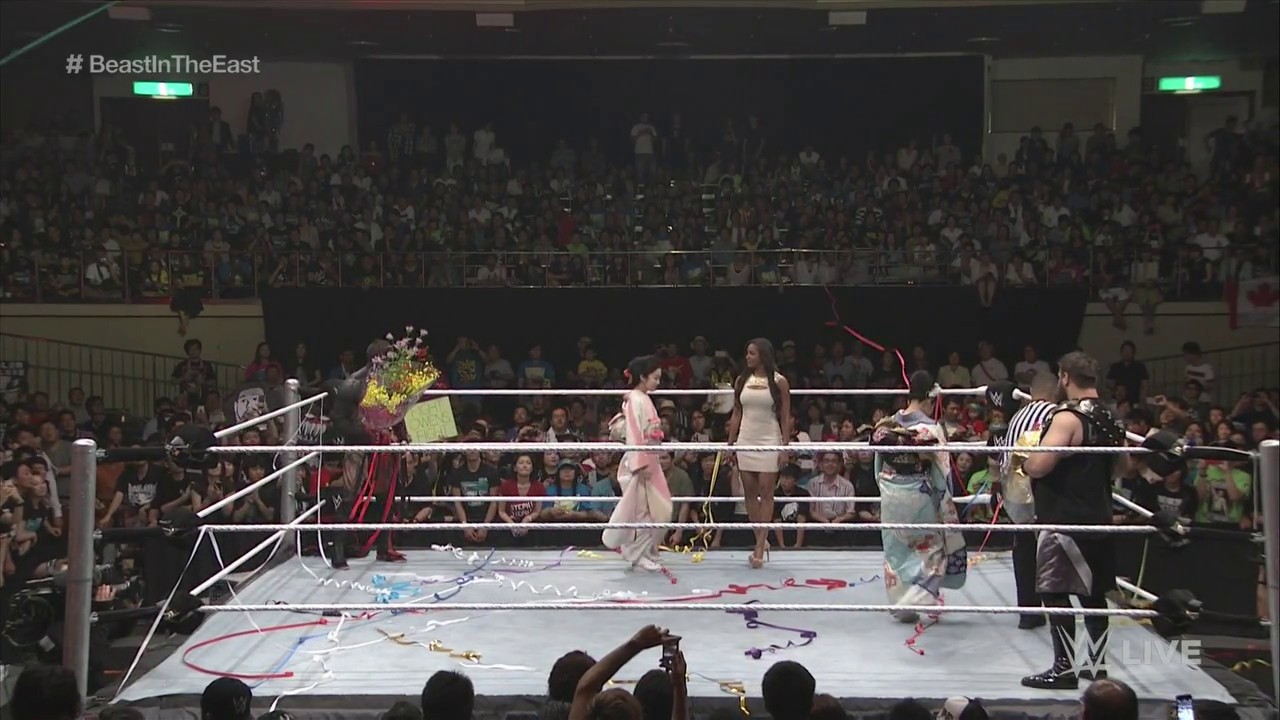 NXT CHAMPIONSHIP: KEVIN OWENS (c) vs FINN BALOR
I haven't mentioned it but WWE have been doing a mini-documentary about Finn for the 3 weeks leading up to this match, it's superb viewing. Devitt comes off as very humble, professional and dedicated. He loves legos and is big pals with Tensai. Becky Lynch is given tons of time talking about Fergal and going to his wrestling school. They show lots of photos, tweets and footage from his time in the Irish, English & Scottish indies, which is really amazing to see on WWE TV. They put the three parts together into a 26-minute mini-docu called "The Demon Revealed", track it down!
Balor's entrance is kinda in fast-forward, he didn't revel in it. His full-on body paint has a Japanese demon head on his back, awesome. I LOVE the giving of flowers for championship matches. It's so out of place with Demon Balor and KO. Finn thanks the Geisha whilst Owens throws his out onto the ramp. Fans throw coloured streamers for Balor's entrance. Oh man, I've said it before but I wish someone worthy in WWE would take that gimmick of the streamers. Bryan (well, it's too late now) or Itami or Balor himself would be perfect. After a dropkick into the barricade, you can see someone dressed as Curry Man. AWESOME. There's also a Japanese Simon Gotch.
Owens spends a lot of time working the crowd, bowing to each side. He also builds up a big head of steam and into a headlock, shouting how he hates the country and everyone in it. Hilarious. He's great. He successfully gets even me to hate him as they wrestle a WWE match, where the heel gets the shine for the vast majority; making it a slow affair, Devitt keeps getting cut off. Owens, the man with the most feuds of anyone in wrestling (Itami, Balor, Joe, Zayn, Cena) does the 5 Knuckle Shuffle. No chained sequences, just move to move; until Finn gains momentum, hitting a reverse & regular Bloody Sunday. Owens hits a sweet release german, cannonball and package slam; before a Green Bay Plunge from the 2nd rope. Some really sweet moves but at a heel's pace. In the end, Balor his a running dropkick, sliding dropkick in the corner, and coup de grace double footstomp to win the NXT title at 19:26! Afterwards WWE HOF'er (lol) Tatsumi Fujinami congratulates Balor and the commentators and replays put Devitt over really strong.
Overall it spent a bit too much time with the heel being intentionally slowly dominant (we've seen even in WWE with Cena that KO can do a much faster pace) but it's great to see the two have a prominent match, KO dropping the belt and fully graduating to the main roster, and Balor's next in line to do so. This should've main-evented.
NXT right now is this weird (awesome) hybrid of extremely talented ROH/Japan guys and then dudes like Blake and Murphy, who REALLY need developmental. I wonder if people will still love NXT after Itami, Sayn and the most talented guys leave.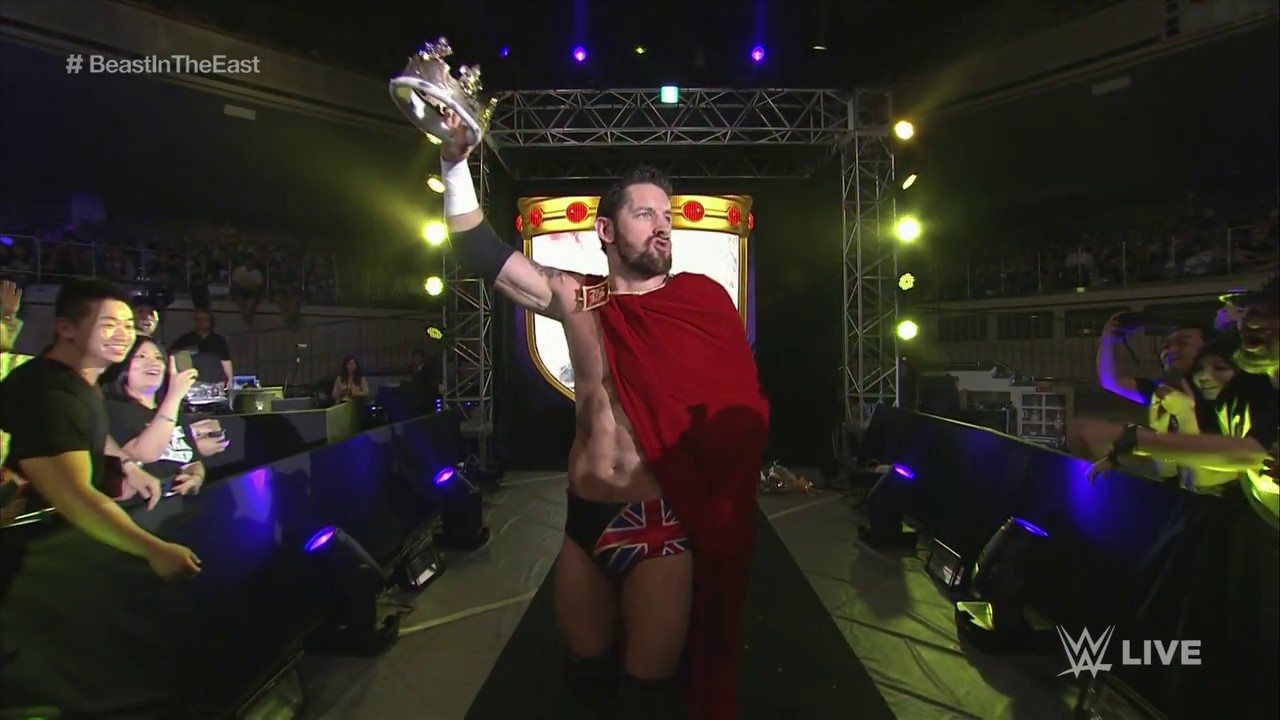 MAIN EVENT: JOHN CENA & DOLPH ZIGGLER VS KANE & KING BARRETT
A tag match main event? Featuring Dolph, Kane and Barrett no less? It must be a house show! Half an hour left to kill too. This match drags and drags, lots of time spent working over Ziggler. He eventually tags in Cena, who hits all of his signature moves on Barrett and gets the win at 23:51. Sadly Kane didn't come out with a lei (Hawaiian wreath of flowers). That would've been boss. Hawaiian Kane. Since he went on Va-kane-tion. I'm so sorry.
Overall: I hope they do this televised house show every so often, it's very cool. The house show mentality (for better and worse) made for a much more refreshing WWE production. 2 hours is perfect (like NXT Takeovers). Imagine if they had Cesaro/Brock instead. Could've used Ambrose & Rollins in the main event instead if they were intent on a tag match. If you're sick of WWE's 20-minute promos and 3-hour RAWs, I recommend giving this a watch. Great place to give Balor his first title in the company.
Link to the new Tough Enough/Tough Talk "Swamp Stories" review: OSWreview.com/tough-enough-602/
---
Our brah Nate's photos and live event experience:
---
The crowd were straight up smoking hot! Folks got into the austere tradition and the funky colorful side of it, too: a whole gang of gents were in full Cena garb, fans were in cosplay like mad (I'll send pics of that soon), and there were plenty of old school diehards running around – I saw Warrior shirts, Big Gold Belts, and even a Bunny!! (no Adam Rose, tho). Lots of foreign dudes were there – we all had an instant international chant-heavy connection.
Hope you loved the show! The crowd did manage to crank out some pretty good English chants, yeah? – even bigger than what was heard on the Network broadcast (someone seriously needs to muzzle Michael Cole!!). Too bad they left out the Cesaro vs. Matador Diego match, and New Day vs. Lucha Dragons, which the crowd were insane to see. All in all, it was a smaller-sized venue full of fans who were genuinely happy to be there; no cynics or grumblers in sight. They were GLUED to the performance, too – nary a side conversation going on, and so much energy for every move!!
This really was one of those cool live shows that just can't be done proper justice on a TV. Never mind the surprisingly satisfying in-ring product (even the divas' and the main event!) – the atmosphere was all positive, all enthused, and all inclusive. I could even hear myself roaring out "Y-2-J!!" and "Fozzy Rocks!!" on the broadcast like a mad shameless mark, but folks always got into it – people were yelling out great J-English phrases all the while: "Supa-koo(l), mahn!!" and "Yooo rock-oo!!". Even my girlfriend was bouncing up and down for every match – too damned cool!!
Also on that, we were trying to do the old Savage / Elizabeth-on-shoulder pose for the picture. Didn't realize that the shirts were so obscured, but that's what a sushi / saki warm-up snack will do to a guy… C heck out the square whitish photos of Sumo wrestlers in the top left wall area! World class ! Y2J looks when I yell FOZZY and MOONGOOSE!
On the dark matches:
Yeah, they were solid! Cesaro / Diego was nice and fast with competing "Ole's!!", and Cesaro really knew how to work-up the crowd. He wings Diego for 27! The Matadores used some hilarious twin-magic with hugging each other and spinning in a circle at ringside, and when Cesaro went after them, they split up and ran under opposite sides of the ring, so he dug them both out and squashed both. It culminated with Torito wiggle dancing on top and pouncing on Cesaro, so he caught the baby bull and gorilla-pressed him over the turnbuckle onto Fernando before getting the pin.
New Day got great heat with the clapping and chanting, and LDragons started well with their signature speed-over-power action (awesome). Xavier looked great, and even Big E looked faster than usual with Sin Cara crawling all over him. After New Day pummeled them for a bit, Dragons turned it around with a double tope dive through the ropes, and Calisto spun around and rolled up Xavier for the win. Great opener-style match.
The crowd was just manic for both matches, and they actually kept awake for the whole show after (though some did leave during the final match — Cena just moves at such a glacial pace..). Still a surprisingly good show, and so much more fun to watch without having to listen to the commentators — this actually restores a bit of my faith in WWE, which is great considering the drop in wrestling numbers worldwide…