Mick Foley Dublin Gig #2!
I couldn't pass up Mick's return to the scene of the crime - in 2012, Mick bombed on stage on his last visit - the main problems being he's not a comedian (anecdotes don't have punchlines), he can't deal with overly enthusiastic fans (shouting 'talk about Undertaker!') etc - stopping mid-sentence to chastise ~2 audience members, and having an extended meet and greet beforehand (so people would've been drinking for ~5 hours). Mick Foley had mentioned in several interviews since (including earlier this week) his disappointment at the first Dublin gig, and wanted to return to avenge his failure. Why would I pay to see Mick again? Either it's a great show, and it's worth seeing, or it's a terrible show, and it'll be very worthwhile seening! It's win-win!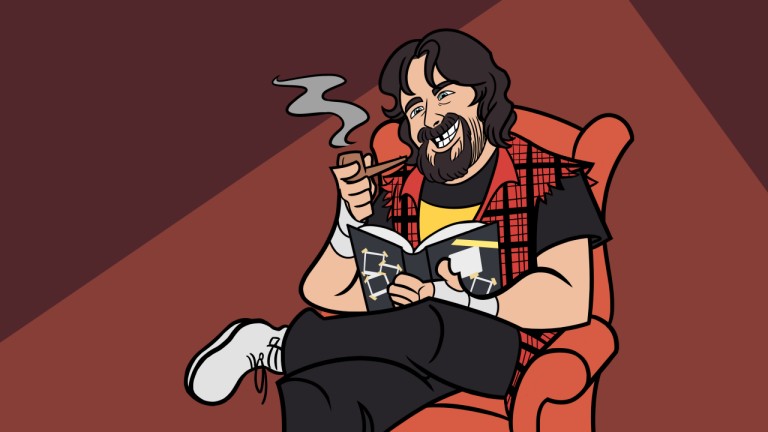 You can view pics of the gig by Shaun Neary at Pure Rawk.com
---
• The event was split into three parts: The stand up, Q&A and meet and greet. He used all-new material (well, material not used in the 2012 gig), apart from recounting Hell in a Cell with the Undertaker, which he told from a different point of view. He focused on Terry Funk – Taker telling him "see if he's dead", being chokeslammed out of his boots, and Mick regaining consciousness and just seeing Funk's sneakers in the ring.
• DUBLIN: Foley kicked off with talking about the first Dublin show. "Anyone from the first gig?" (I cheered!) "Let's get you out just in case". Mickster took almost no blame for how badly the gig went – "I didn't have the Foley mojo back" was the extent of it; instead blaming the long meet & greet. He also mentioned a Dubliner vomiting in his seat – which wasn't true – and then started to recount other horrible Stand-Up moments as if they happened in Dublin, which was pretty weird. He talked about being irritated by a fan holding up "Xbox 360" (a game) with The Rock on it, repeatedly hollering "The Rock". He said he got the fan up on stage and flung his game onto the ground, only afterwards realising he was a man with special needs. I'm certain that was a lie but it was a fun bit.
• Q&A: He also limited his act to the first half of the show – leaving the second 45 minutes to an open Q&A. This was a bit of a mess – people in the crowd just put their hands up and shouted to get Mick's attention, and 2 guys with mics would go through the crowd and hand them the mic. It was pretty disorganised, they should've made a queue for the mic. The Mickster made sure to pick questions from the 3 girls in the crowd! (2 of which were Irish wrestlers btw!) The quality of the Qs were pretty ass (which isn't Mick's fault). Lots of fantasy booking and "what you do think of X on the current roster". My buddy Luke noted only one of the questions was self-centred (i.e. lemme tell you about me rather than ask a question) so that's a win! Not as a knock, but he didn't really answer most of the Qs, rather he just heard a keyword (like "Triple H", "Montreal" etc) and had a short anecdote about it.
• Meet & Greet: The Q&A finished about 10:30pm and when we found the Meet & Greet queue, it looked like it'd be at least 30-45 minutes before seeing him, so fuck that and we left. Plus getting him to sign a Virgil Dollar might be cunty! Perhaps start earlier in the day to accomodate the meet & greet, Boards.ie's BeakerJoe told me he looked like he wanted to be anywhere else.
---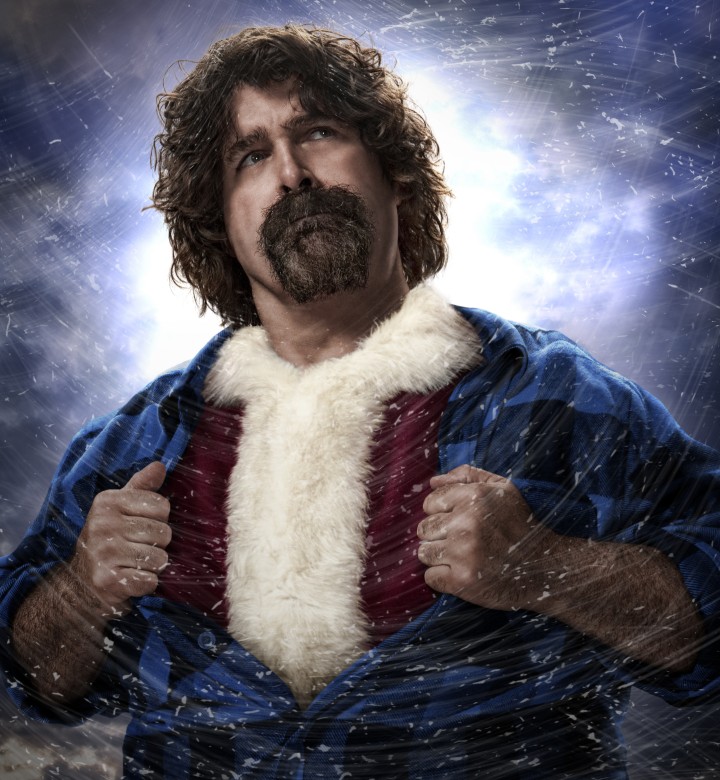 ---
Quotable Notables:
• Opening Act: Ross Browne did quite well, getting quite a big crowd response for pretty stock wrestling fodder (wrestling fans tell your girlfriend, what girlfriend etc) – he sounded genuinely ecstatic and hyper to be on stage and introducing Mick.
• Right here: He also had a fun schtick with the "RIGHT HERE! In….", repeatedly not doing the bit, like "RIGHT HERE *waits for crowd response* "…You know where you are". Hilarious.
• Knock Knock: Great bit "I don't do knock knock jokes! Knock knock." *crowd – Who's there?* What did I just say? That's an example of jokes I do not do… Actually, knock knock. *who's there?* Al Snow. *Al Snow who?* Exactly." (huge laugh). He used Al as a punchline another 2-3 times, talking about the WWF superstars and also Al Snow.
• The only real groaner of the was Mick pressing the "John Cena issue" for a crowd response, saying you should respect his work ethic etc. He's been a booed babyface for almost a decade now, please just talk about something else!
• Survivor Series: Don't put Fergal Devitt in the team as it'd accentuate how (relatively) small he is.
• Very fond of "Becky Smith", immediately corrected himself with "Becky Lynch"
• Almost no TNA talk. There was one anecdote where Kurt Angle got upset that Mark Coleman (iirc) got the dates wrong and said he beat Angle in 94. This was meeting him & Mick the day after a night of fighting/drinking. Angle wouldn't let it go "he knew what he said" and Jarrett came up to Angle the next day asking if Coleman beat him in 94. That sounds like shit but his impression of Angle being annoyed was actually quite funny.
• He's not interested in seeing Sting v Taker, as you need someone young who can bump and bring the best out of an old guy.
• He barely moved around the stage (his hips must be done), mostly sitting down and just pacing a little bit. He just had a few swigs of water, and whipped out his iPhone from his sweatpants a few times.
• Denigrated the excellence that was his original Mankind gimmick (which I my favourite Foley incarnation). Said Vince was never a fan of his, surmised WCW Cactus Jack as "seedy" (hilarious), thought he was ugly so that's why Mankind got a mask. "A journey of one man's goal to cover up another man's face". Ha!
• However he recounted his 97 sit-down promos with JR as when he was "made" with Vince. He tried to do a bit as original Mankind but his false teeth fell out, hilarious. He said he was hit in the groin during lacrosse without wearing a cup and his testicle swelled to the size of a grapefruit, then Vince started using the term.
• Cheap pops, he described hurling as "like American football but with less compassion" and noted a previous Dublin gig-goer looked like "one of the lads from the flats"!
• After his WM21 match tagging with The Rock vs Evolution, Austin asked him if he considered him a straight shooter, and told him he stunk up the joint. (It was a disappointment but hey) Foley said it was his wish not to completely suck that night, let alone steal the show.
• He's extremely proud of his matches with Orton and Edge at WrestleMania, wanting to showcase their vicious edge that was perceived to be lacking. Couldn't agree more, especially with Orton at Backlash. I don't think it's half as famous as Foley's match with Edge, it's a shame they didn't just do that Foley/Orton match at Mania. Also a shame we never saw Orton vs Rock. Would've been an amazing Legend to Kill for the Legend Killer.
• Mick (who said he allowed himself to drop one F-bomb per show) finished with an anecdote of being shown the RAW ramp and a massive dent in it – that he made – being told the metal ramp that doesn't dent. How? Because he's Mick Fucking Foley!
Overall: I'd equate Thursday's show to George Miller and Mad Max: Having seen the 80s trilogy, I know what Miller's capable of, and seeing Fury Road (his 4th installment in 2015), he's improved in every aspect. Sure, by other movies' standards, it lacks character depth and non-hammy dialogue, but Fury Road is way beyond what I thought the ceiling of Miller's talent was. Mick knew he must be on his A-game, and it showed he was out to overturn his first outing (a second would cross the city off his map) – so all of his anecdotes were tighter, had a beginning, middle and end, finishing with a punchline for the crowd to react. Sure his delivery, impressions, anecdotes isn't as sharp as other comedians, he rambled a bit, and a large portion of his act was name-dropping a wrestler and listening to the crowd's response, but this was 400% the quality of his previous outing – a MASSIVE improvement. Cheap-pops are his gimmick, he had a much firmer command of the audience this time, with less whispering into the mic and some funny quick one-liners. I won't recommend the show as it's just decent, but he set out to avenge his horrific last outing, so mission accomplished.
p.s. It was very cool meeting some of you at half-time and after the show! Virgil dollars for everyone 🙂 So would you go see Mick Foley live?
NEW Super OSW 64 Level 6 – Jay's videogame music show! Click here: OSWreview.com/super-osw-64-level-6
Historic first Foley gig in Dublin (the bad one!) review: OSWreview.com/FoleyGig