WWE Survivor Series 2015 P2
Part 2! (Click here for Part 1)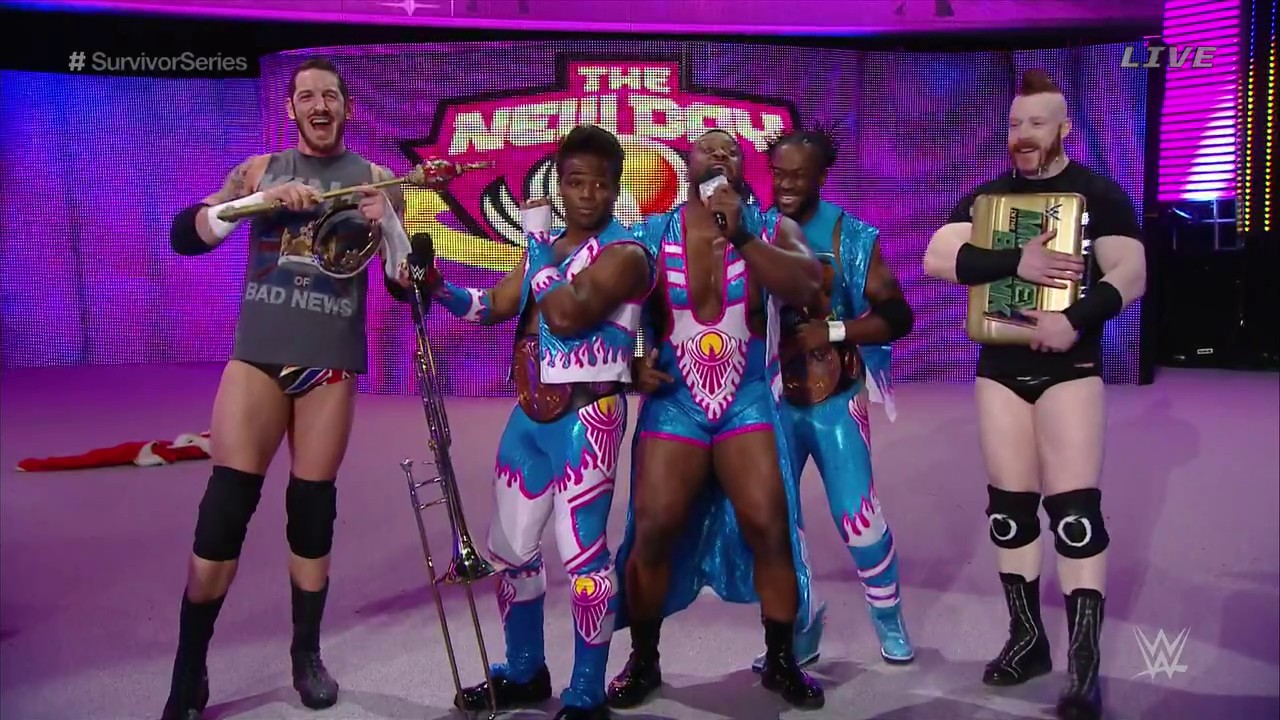 SURVIVOR SERIES ELIM MATCH: 3 members of The New Day & Sheamus & King Barrett vs. Ryback & The Usos & Lucha Dragons
• New Day are on top form again! (WWE are capable of showcase one mid-card comedy act, last year it was Mizdow, this year New Day, I wonder what next year brings?).  Xavier has an amazing pompadour hairdo. Sheamo is shown here as a right comedy heel that tried & failed to gain acceptance from the New Day ("we're gonna get jigga on these posers!"), which is sandbagged. I did love him slapping Kalisto shouting "hey! What about ya?". The Usos and Luchas are matching Black, White and Red; if they're going all New Day/comedy heels, perhaps have Sheamo & Barrett get baby blue, pink and white gear like them! STEVE! Michael Cole had a hilarious line "Sin Cara's all over the place tonight". Barrett was first to job.
• The match is just paying attention to New Day (well, Xavier), otherwise quite boring. Although, I absolutely loved when Barrett joined in dancing to Xavier's trumpet. He's already in the gutter so no amount of comedy can hurt him! There was a 4 man dive over the top, then Ryback followed up by a splash and telling people he was alright. When Big E was eliminated, the New Day left with him, leaving Sheamus (who comically looked around for this team-mates) alone, eating a finisher from Jey (superkick) and Ryback (Shell shock) for the babyface win at 17:33.
• It's odd how WWE feel obliged to do these elimination matches, but what they present is nothing more than lip service. The other match was on the PRE-SHOW (jaysus!) and this one was cobbled together, without any decent reasoning for these teams to be made, not advancing any feuds or having any consequences of the matchup. So the resulting is a quite blah. But New Day are still fantastic, the crowd loved them, and they carried this match.
DIVAS TITLE: Charlotte (c) vs Paige
I refused to watch this match after Paige's shameless line "your little baby brother didn't have much fight in him, did he?", referencing Charlotte's dead brother Reid Flair, who passed after a drug overdose in June 2013. Regardless of if it was Charlotte's idea, this didn't gain any heat on the characters – just the wrong type of heat on WWE. It just showed you how WWE are still the same exploitative scumbags, that this PG white-washing is just a facade for the same carny mentality, and that TV networks and other companies are right to view WWE as basically porn without the nudity. It's sad that nobody thought to inform Flair/Reid's mother about the line ahead of time. Flair bit his tongue on his podcast, saying that he won't say anything that'll get her in trouble and maybe she wouldn't want to say no to anything WWE ask of her, this early in her career. Charlotte retained.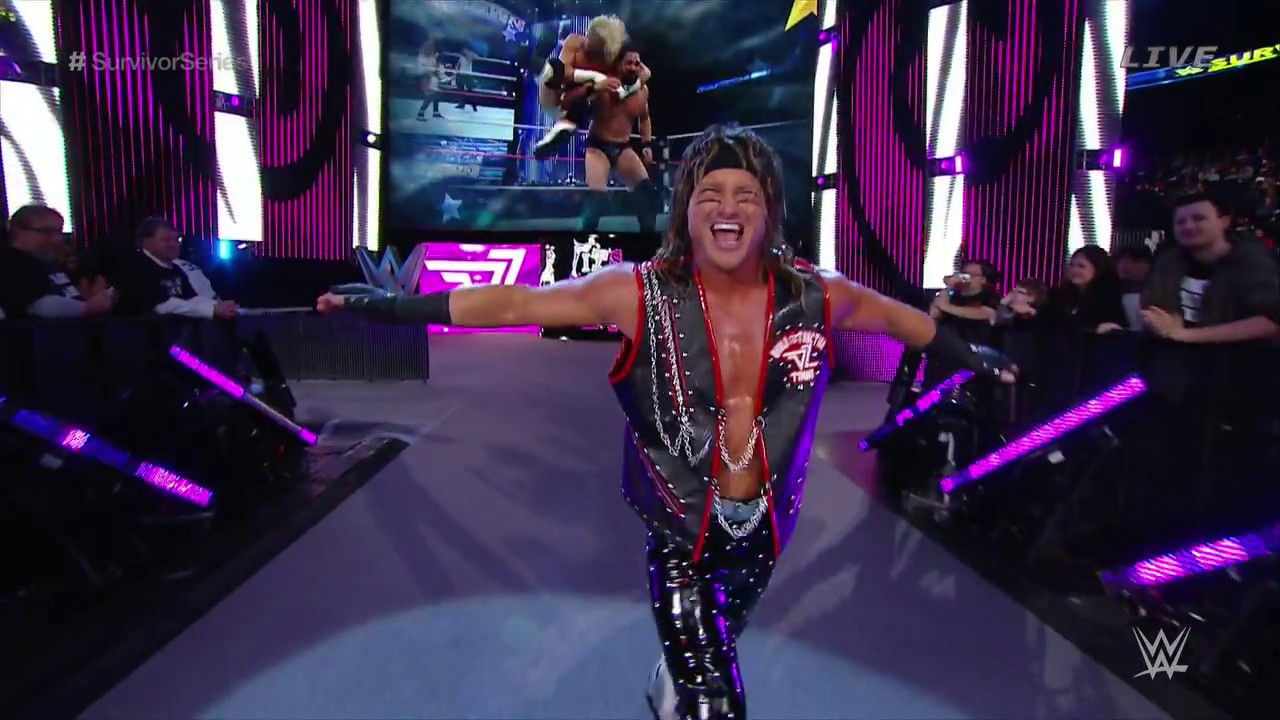 Dolph Ziggler vs. Tyler Breeze
• Without Lana and Rusev, Ziggler's being aimlessly bouncing around (don't even ask about his ring attire!) and has landed upon The Miz's guest friend, Tyler Breeze. Tyler's finally been called up from NXT, who has been there since June 2012, one of those 'will he ever get called up?'. Turns out they didn't have much for him, with a low key introduction, and losing his main-roster debut match against Ambrose in the tournament. It's a shame as he's presented as a bigger fish on NXT (sometimes getting 'catwalk fashion show' entrances) and a reliable guy to have a solid match with. I hope his titantron malfunctioned because he doesn't have the selfie video cam on the titantron, just a still image of his name. He's with Summer, so they can be Summer Breeze *big break music hits*. They can face Madison Rayne and James Storm! Yes? Eh? …Sorry.
• Battle of the blonde show-offs. Whilst nothing technically wrong, it was quite the unmemorable match. Tyler gets an unprettier (ie Christian's finisher) off the distraction for the three in a tepid 6:40.
The Undertaker & Kane vs. Bray Wyatt & Luke Harper
• 25 Years of Undertaker with a special entrance. As well as the fog and fire, Taker had a Taker symbol and a big open casket in front of the titantron, which had a tron inside it, showing pictures of the evolution of Taker throughout his career. It was really very cool.
• The main storyline is Bray Wyatt has 'harvested the souls' of Taker & Kane, and how has their pyro/lightning powers. It's not been well-received. Despite the 4 members of the Wyatt clan showing up, it's just a 2-on-2 tag match. They have Corporate Kane now Demon Kane (babyface) so he can tag with Taker. Rowan "has left the arena" after a chokeslam. The match is a brawl leading to the one big spot of Taker and Kane being laid out, sitting up and hitting choke slams. Taker tombstones Harper for the win in 10:18. Then the Brothers of Destruction take an ice age in the post-match, putting their fists in the air.
FINALS for WWE TITLE: Roman Reigns vs Dean Ambrose
• Dean ripped his shirt in the last match so he's bare-chested here, which is odd to see (his chest hair is ginger, like his sideburns). The two wrestle well together although they don't show that they know each other inside out (there's no "I'm countering your moves" big obvious bits that they bring attention to) but I watched this waiting for Triple H to come out for some kind of screwy finish. Reigns kicks out of a Dirty Deeds pretty early on. Ambrose runs into a spear and Reigns get the pin, and the win out of nowhere in 9:02. Perhaps for the reasons above, and that Roman's promos/charisma aren't up to snuff, the reaction really wasn't that great. Confetti hails down and pyro too, which is nice.
• What we got next felt very similar to Daniel Bryan's SummerSlam win, where he won the belt & got to celebrate for a bit, H made himself known (pedigree), MITB cash-in with Orton, and new heel champion that sides with H. Roman won and got to celebrate for a bit, H's theme played and came down, looking for a handshake (but got a spear), MITB cash-in with Sheamus, and new heel champion that sides with H. As Irishmen we marked out, but I couldn't expect anyone else to! Gotta mention that technically this match shouldn't have started as they've made it clear recently that the opponent has to be standing and able to fight before the match starts! The decision to give Sheamo the belt was made hours before the show in the hopes people would cheer for Reigns over heel Sheamus. Great job lads, lol!
OVERALL: It's a skippable show, showing up WWE's stretched roster. Just watch the tournament semi-finals and finals, and taker's entrance (ha! can't believe I said that!) and the TLC ad.
---
New OSW coming this Sunday (hopefully!) read the latest update here!