---
Yo! Our final tattoo review, and Monty Motorsag's chosen IWA's King of the Deathmatch '95, featuring the infamous Cactus Jack/Terry Funk explosive/barbed wire match! He says the best way to view it is with mates and beers, so that's what we did! So sit back with some brews and watch the entire PPV with us 😀

Since tattoo reviews delay our regular release schedule we won't be doing more tattoo reviews! Please don't get one!
Mr. OOC's ringtone!


Download it here: Hogan Schmogan Krogan Logan.mp3
• Next up is our annual Golden Nogger awards and Q&A celebrating 2015 in OSW! Voting starts v soon! Then after that we'll be back to our regular format, and starting our brand new mysterious storyline arc! We'll be choosing it from your suggestions on this page (you can still suggest arcs!) OSWreview.com/what-should-we-cover-next!
• Our new FIGHT T-SHART dropped! It's our most audacious tee yet, crammed with references, love and also cotton. I commissioned famed Rick & Morty artist and lovely bloke Steve Yurko for the illustrations and the design is by myself and Squared Circle Ts. You can pick one up from them at the US Store or the UK Store! 😀 If white isn't your thing (you racist!) there's a black version coming out in about 2 months.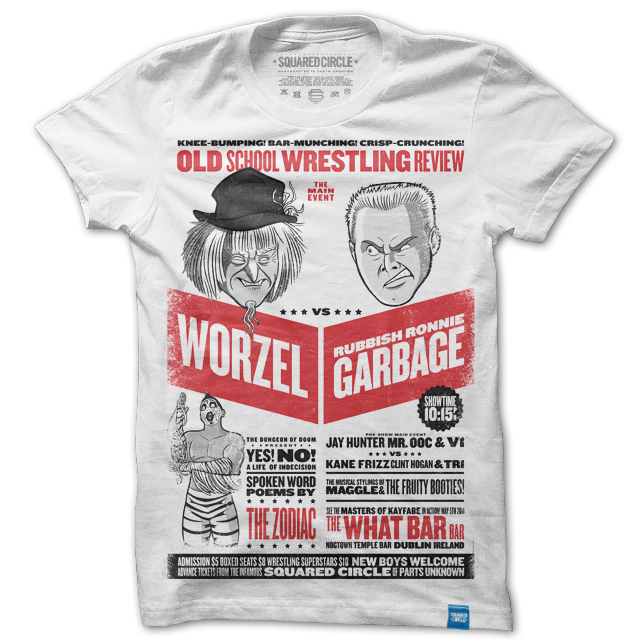 When you're watching this, LIVE TWEET me your thoughts!
Edit: Mick was paid the paltry sum of $300 for his work that night ($100 per match); when asked about a bonus, the promoter got him a can of soda from a vending machine. He kept the soda for a long time as a reminder. Damn! Also Ben Davies tells us that "Leatherjocks" was played by Rick Patterson, a Canadian who took Corporal Kirchner's gimmick after he went to jail for assaulting a reporter. State of him, no wonder! Can of coke for both Mick and Ben!