OSW Update (15th June!)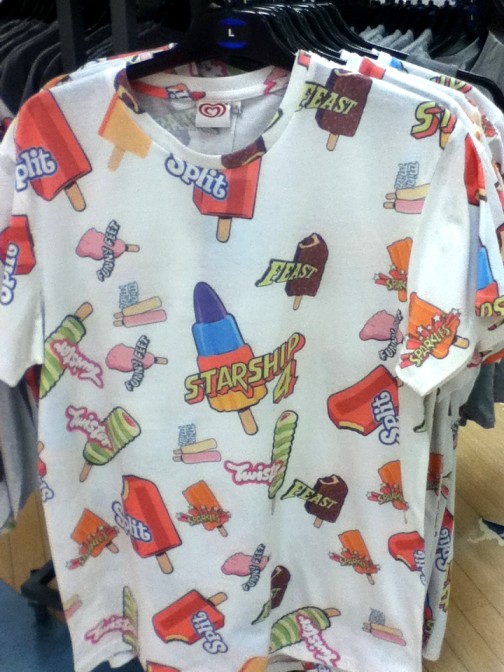 WHAT BARRRRRR is this Penneys t-shirt? 😀
Notice that "Freaky Foot" is now "Funny Feet" and has lost it's gouty toe (which was a chocolate wedge). Jay is not amused.
---
What's up with OSW!
• Hope you enjoyed our new episode, Final Nitro!
• The audio version is already uploaded:
Android: http://RSS.OSWreview.com
iTunes: http://iTunes.OSWReview.com
Direct Download: (right click, save as)
• Next episode is WWF RAW Simulcast, from the same night as Final Nitro (March 26th) which is also the go-home show of WMX7!
• It's too soon to give an estimated date for Episode 51, but I'm aiming for the same time next month. I'll let you know when we've recorded and editing is further along 🙂
• I know it doesn't look like it, but we've made significant headway with YouTube. Our plan is to get all our episodes on YT available again, but sadly it's a slow process getting them vetted!
• We did record something exclusively for a short YouTube video, I should have it edited in the next week. Whenever our YT channel is back in the pink, the next YouTube review is Metal Gear Solid 4! Sorry to leave ye hanging on it!
• Written Film/videogame-review wise, I just finished reviewing the 4 Mad Max films! Next reviews in the pipeline are STATE of Decay and most likely, It Follows.
• Thank you for your lovely feedback re: Super OSW 64, a one off radio show about videogame music I hosted recently. Hoping to snag another slot if available for round 2!
• Some notes about episode 51 (Final Nitro):
– Thanks for being so patient with the wait! Tons of real-life stuff came up meaning I couldn't edit on my days off like I normally do.
– The original intention of the video had a "worst of WCW" vibe to it, but seeing the end from WCW's viewpoint at Nitro, it was just sad the way the company closed. So I asked Tri.moon to make a WCW Desire vid instead! Seriously love it. He also made our Dean Ambrose/Brian Pillman mashup for Hell in a Cell 2014 too!
– Next episode will have an OSW artwork showcase! If you wanna draw us anything (like an OSW Monster Truck, or Ghost Linda perhaps!) please send it to us here, twitter or email OSWreview @ gmail. com!
– I'm shocked so many noticed there wasn't a WHAT BARRRR or Ad Break Questionarium. We did discuss What Bar during the Bam Bam match (there's so few colours – black,white, pink we just left it be). They'll be back!
– The Mean Gene/blooper reel at the start of the video was from Jerry Springer's WWE Network show, Too Hot For TV episode 6 "Bloopers and Blunders". The show itself is pretty awful (it's Springer in front of a green screen throwing to clips) but that episode was a goldmine! My favourite was Kane breaking his sledgehammer on the tombstone!
– The Dusty promo used (SummerSlam 89, vs Honky Tonk Man) is my favourite promo of his. You can mark this one down tonight, I'mma kick your bootay, haaa!
– 2 people (so far) know what HANG TIME is.
Until next time, here's that Ambrose/Pillman mashup!
Jay
---