NXT Takeover Brooklyn II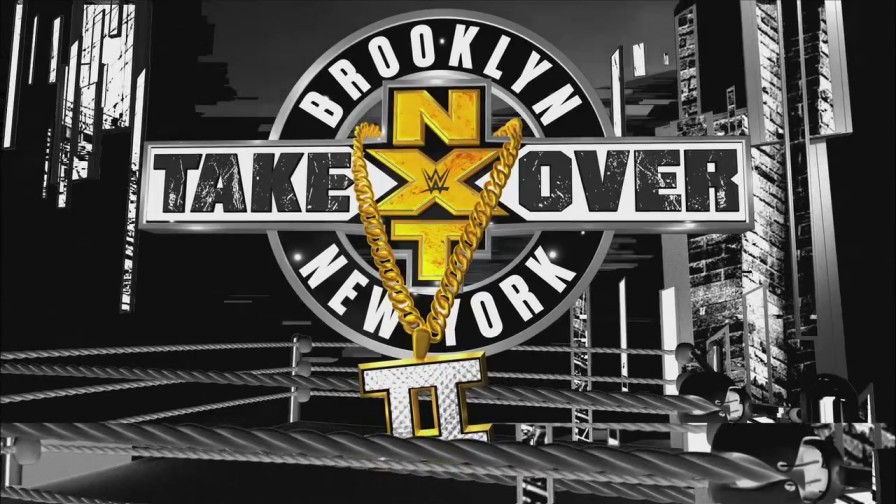 NXT Takeover Brooklyn II
August 20, 2016
Barclay's Center in Brooklyn, New York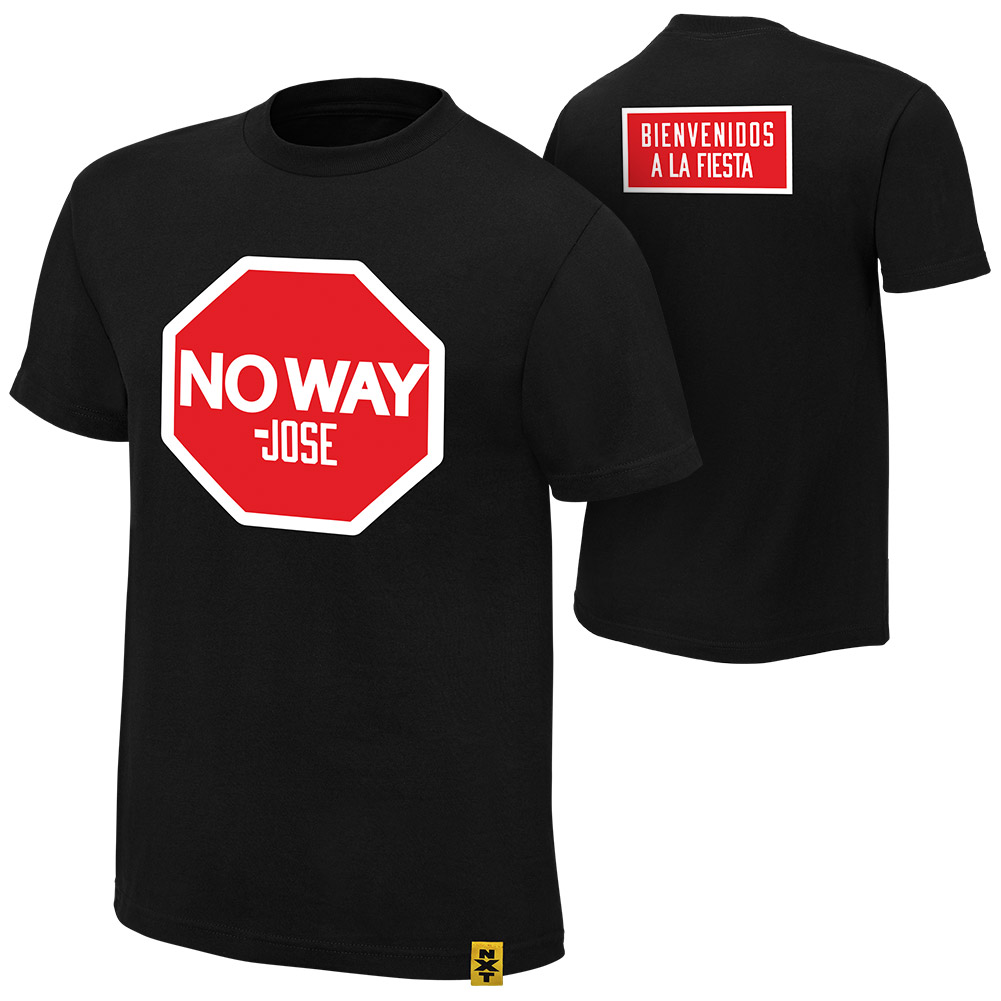 Austin Aries vs. No Way Jose
– Jose's tee is "No Way -Jose". That friggin' hyphen. Does Jose say "No Way" a lot? 😛 I'm not a fan of his dance spot, it's real house show gimmick and he got Aries to do it (at the Dublin house show anyway)
– nothing notable; crowd initially like Jose but get solidly behind the far more talented veteran. Aries hits a sunset flip powerbomb (no chance of Aloha'ing there) and Last Chancery for the submission.
– Itami hits the ring and out of nowhere hits the GTS! Wow I can't believe they gave it away so quickly. Looking forward to their match in 2 months.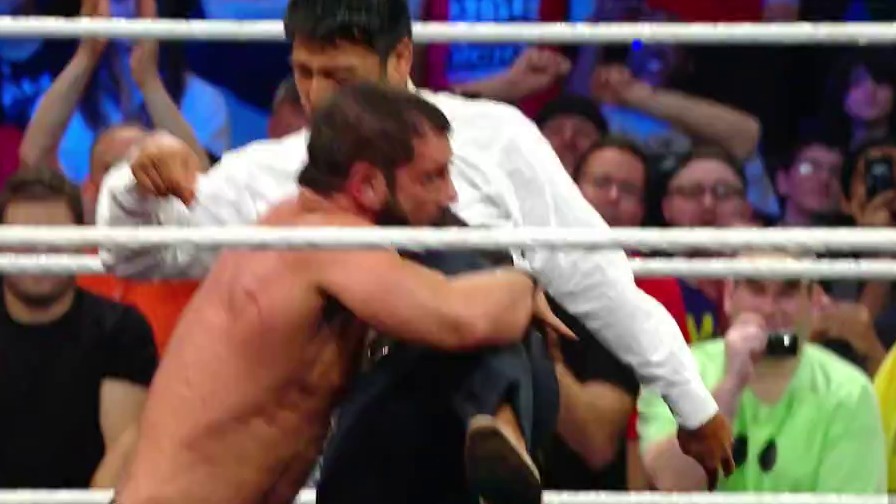 ---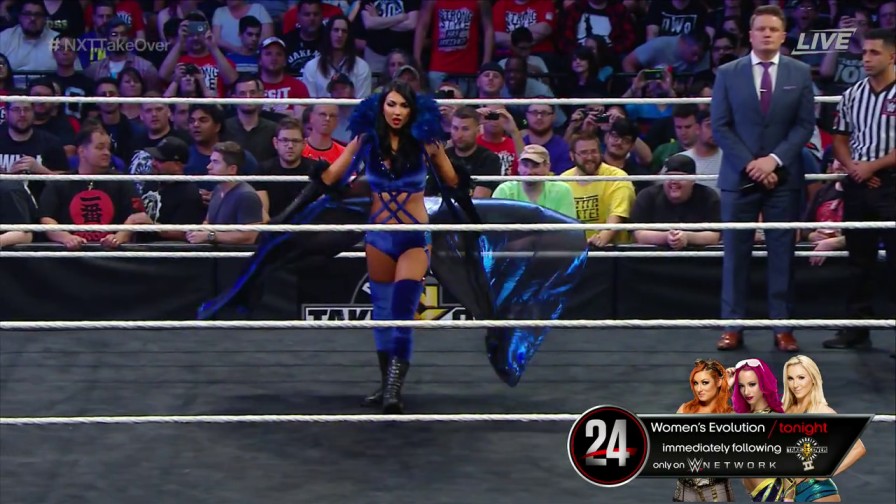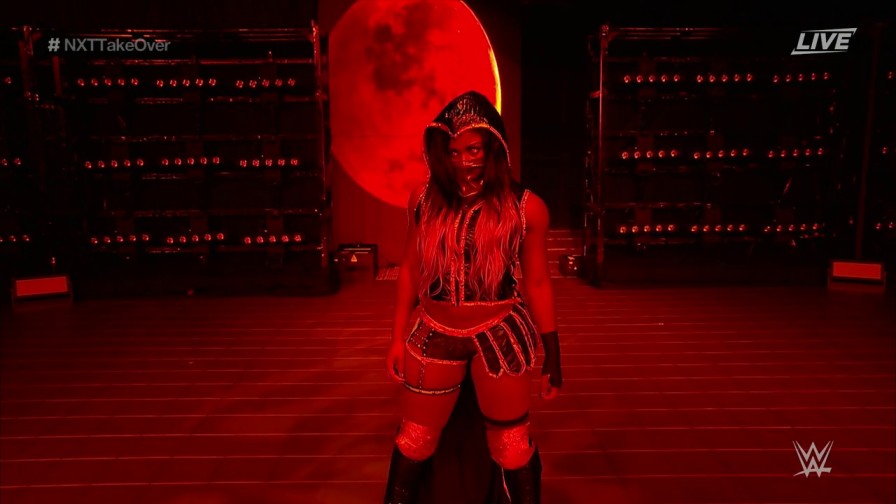 Ember Moon vs Billy Kay
– Australia's Billy Kay looks like the alternate costume version of Eva Marie.
– Enjoyed Ember's Milena mouth veil and gothic entrance; then she starts bouncing up and down as she's excited, odd mix!
– NXT is this weird place where you have 10+ year veterans and developmental talent on the same card. This match is between two new signees having a highly scripted match. Couple of awkward exchanges and dodgy punches, the two didn't gel well.
– Loved Ember's top rope RKO/Stunner. Looked awesome, popped the crowd.
– Not high hopes for either wrestler.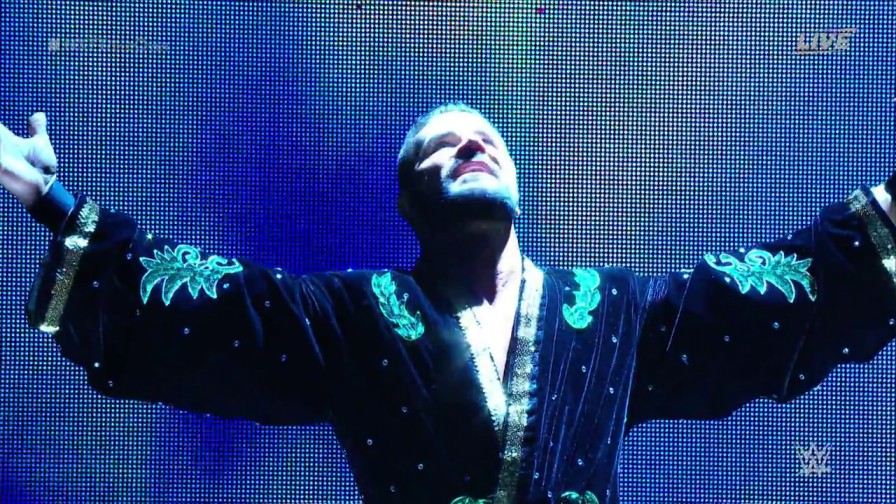 Bobby Roode vs. Andrade Almas
– amazing entrance by Roode. He tried very hard not to mark out, basking in the love of the NXT crowd singing his entrance theme (already!!). Ya gotta love when WWE do things solely for it's very hardcore fans and they reciprocate in kind.
– match got Andrade's gimmick/personality over a bit (eg countering thrown to the outside by tangling himself in the ropes) but was more just a coming-out party for Roode
– match had nothing huge going on, Roode won clean with his pump-handle slam (minus the bumming)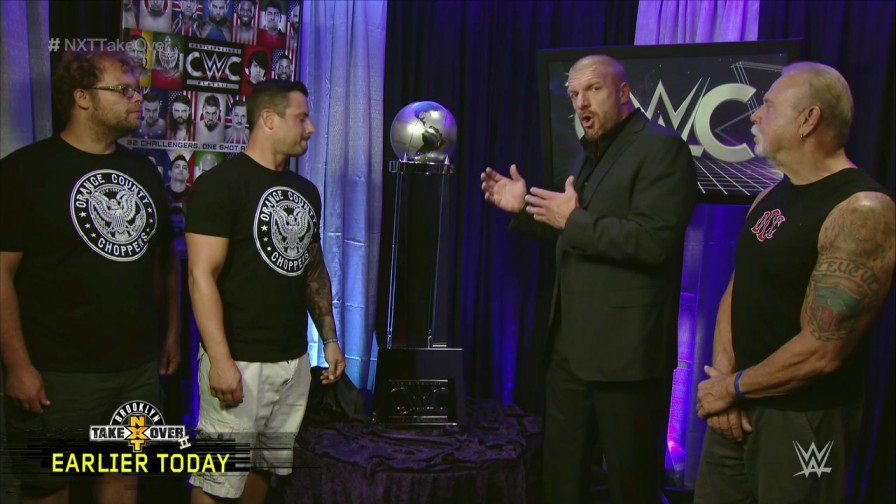 – OCC (not OOC) reveal the CWC trophy, which is a metallic, bulbous penis.
The Revival (c) vs. Johnny Gargano and Tommaso Ciampa
– Revival are great at being old school rasslin' heels (eg pulling someone off the apron) and Gargano/Ciampa warmed up to an exciting finish, tons of near falls that the crowd were really into; right team won I felt, Revival win with an inverted figure 4 and can face TM61 next probably.
– The match was WAY better than expected! Very impressive. Crowd gave the challengers a standing ovation afterwards.
– For a couple of seconds they tease a Ciampa heel turn but they didn't. Good stuff.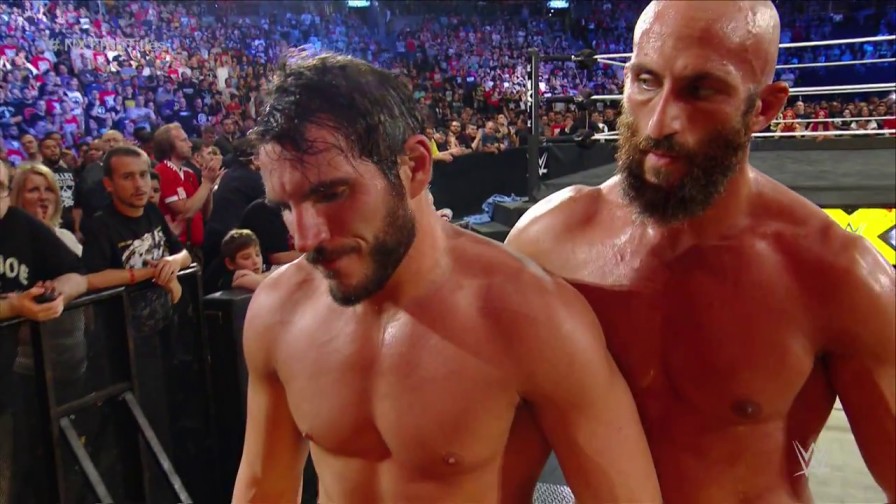 – Jolly Rancher's new slogan is "keep on sucking". ha ha ha!
Asuka (c) vs. Bayley
– fantastic storyline match: Bayley was clearly in over her head vs Asuka. The champ enjoyed being in front, smiling as she controlled Bayley – which is almost a heel thing.
– Bayley would fight back, despite changing tactics, hulking up, and escaping the Asuka lock, she'd get repeatedly beaten down
– In the end, Bayley's never-say-die attitude was kicked in the head (literally) and she went down for the 3.
– AWESOME storytelling, the loss gets Bayley over more (as a sympathetic underdog) and Asuka looks like a fucking killer.
– Great shot of Bayley's mates Becky & Sasha heartbroken afterwards.
– Small point but Charlotte was not sitting near the babyfaces – awesome kayfabe.
– I expect Bayley to be called up any day now (she bloody worked Battleground last month wtf!) and since she was thoroughly outclassed there's no need for a round 3/getting that 2nd women's title reign – it's been 3.5 years!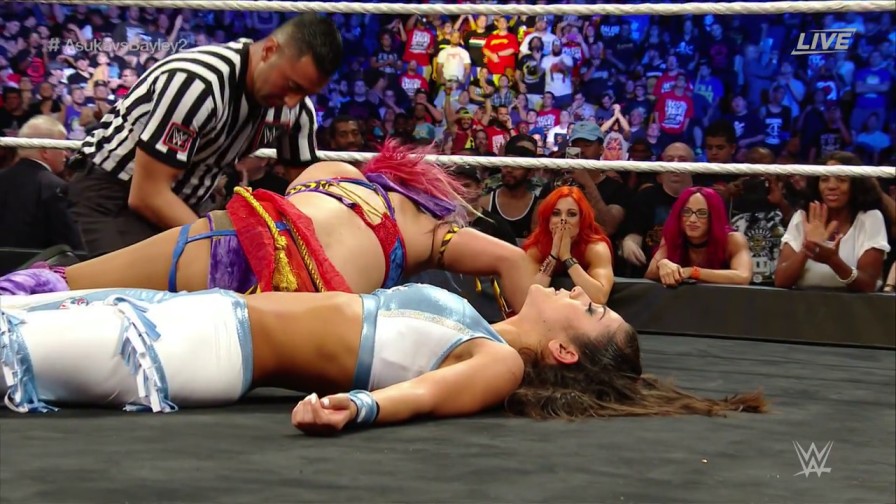 ---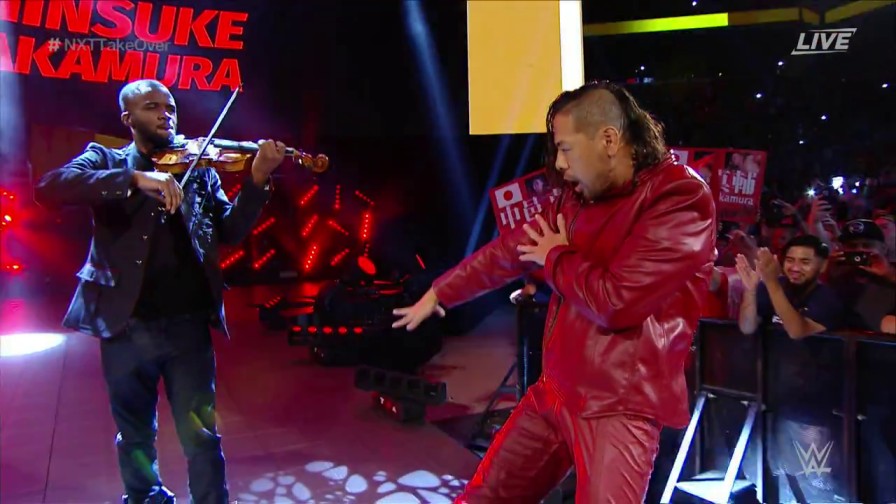 Samoa Joe (c) vs. Shinsuke Nakamura
– Shinsuke's entrance was very cool, had the violinist play a little piece beforehand and along with the main theme.
– Joe's street-Godzilla theme is also cool
– started off with Joe dominating with well, rest holds, more of a showcase transitioning into various submission holds. It's pretty awesome to see how large his repertoire is.
– after 10 minutes or so it built up into big moves trying to score the win
– both men kicked out of each other's finishes (Joe selling a broken jaw is great)
– Nakamura hit a top rope knee to the back of the head then a Kinshasa for the win and the NXT title, place goes nuts.
Overall: Very good Takeover special (they're always great) but it's getting harder for them to live up to the unmatchable high standards/expectations set by previous attempts; especially losing a lot of wrestlers to the 'big leagues'. It really is a TNA 2013 show with Aries, Roode and Joe in singles matches! With Sami doing nothing on the main roster maybe he could pop down for the next TakeOver. A very easy 2hr35m watch, but not unmissable.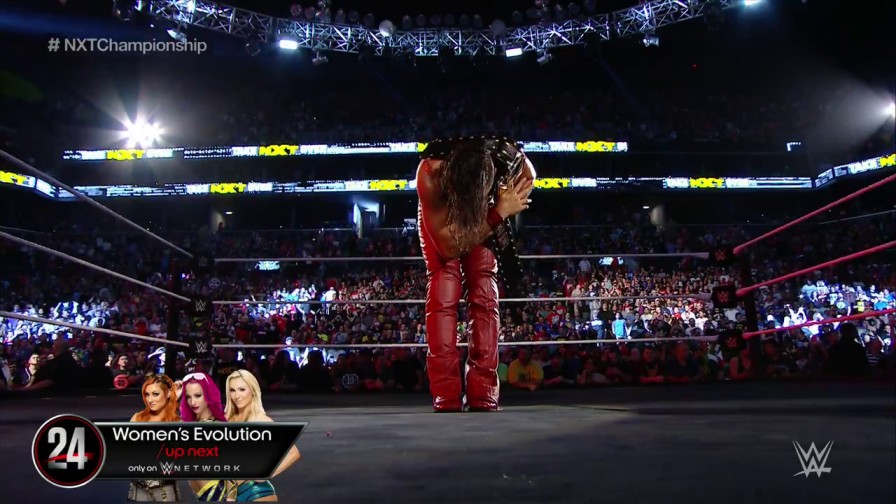 ---
An #NXTTakeOver debut worthy of only one word…
Excited to see the future of @REALBobbyRoode in @WWENXT. pic.twitter.com/mq8V0X1O26

— Triple H (@TripleH) August 21, 2016
Not too hard to see who Roode modeled himself on!
SummerSlam 2016 video review coming next week! More info: OSW Update for August