Super huge OSW announcement!
OH SHIIIIIIIIIII
---
• YEEEEEEEOW! We'll be at WRESTLECON 2017! It's on the week leading up to WrestleMania 33, very close to where WM33 is being held, in Orlando Florida. It's gonna be emotional!
• The announcement vid was shot during WrestleCon last month, that's Bill Apter (of Starrcade 94 PWI awards 'fame'!), promoter Brad Jones, head of Gimmick Tree (the guys putting on the promotion) and of course THE GENIUS Lanny Poffo!
• We'll have more info on the event as they're set but the main thing is if you were planning on going to a WrestleMania, go next year and meet us!! BOYS CLUB!!
---
• To celebrate our 5th birthday (we started 5th May 2011!) we brought back our ORIGINAL t-shart for a limited run! If you missed out first time please pick one up, it's out of some sizes already! (You guys work quick!!) SquaredCircle.com/category/t-shirts-partners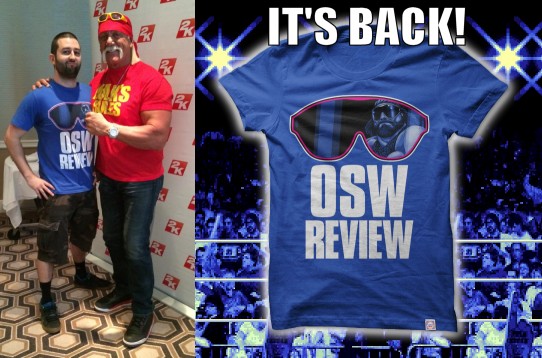 • Newest Super OSW 64 videogame music show (Level 8!) OSWreview.com/super-osw-64-level-8
• WWE Payback & RAW review: OSWreview.com/payback-2016-part-2