OSW May Update!
OSW Update for May!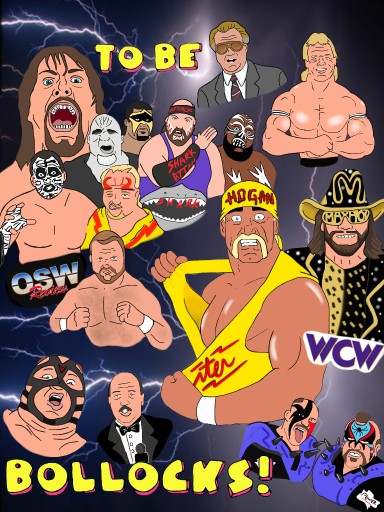 Pics by the amazing Carl Jenkins!
Hey yo! Here's what's coming up with OSW this month:
• We're recording the next part of the WCW Dungeon of Doom story arc with FALL BRAWL 95 Tuesday (17 May)! Absolutely decimated for free time so I'll be spending my weekends doing this; probably out around the 2nd week of June – will let you know when we're on the home straight for editing 😀 It's gonna be so incredible! SOOOO much good badness to enjoy/give out about!
• A new edition of Super OSW 64 went up last week! Really happy with the show, tons of awesome videogame music. We're actually nearly full with requests for Level 9 – suggest tracks in the comments section here!
• With YouTube – currently hassling WWE to allow me to post the full-screen version of WrestleMania X7, should be up in about 2 months. Til then I'll be uploading shorter snippets and window'd versions of previous episodes in chronological order (into 1989 episodes now!) to keep the channel ticking over until WWE allow the proper full-screen versions. Latest is the WBF retrospective! You can check 'em all out here!
• OSW turned FIVE last week! Thank you so much for the wonderful birthday wishes. You can see the post here, filled with 10 lesser-known facts about OSW! (wow, I almost wrote WBW there!)
• To kick off year 6 of OSW we made a HUGE announcement for 2017! Actual one-in-a-lifetime stuff, thanks to much to @TheBradGimmick of @GimmickTree . Pretty hilarious to have Bill Apter with the announcement considering we just put him through the ringer for the PWI awards at Starrcade 94!
• To commemorate the milestone we brought out our original blue Macho shart! You guys work super-fast but it's available in mmmmmmmmost sizes in the UK  and  The US!
• I asked what your first episode of OSW was (on facebook and on twitter) and most peeps who replied started watching during the final few Hulkamania Era eps to around the Arquette Trilogy (eps ~26-34), particularly WrestleMania IX. Good times!
• Latest written review is WWE Payback which you can find here!
Until next time lads, see you in the funny pages!
Jay