Dixie Carter will no longer own TNA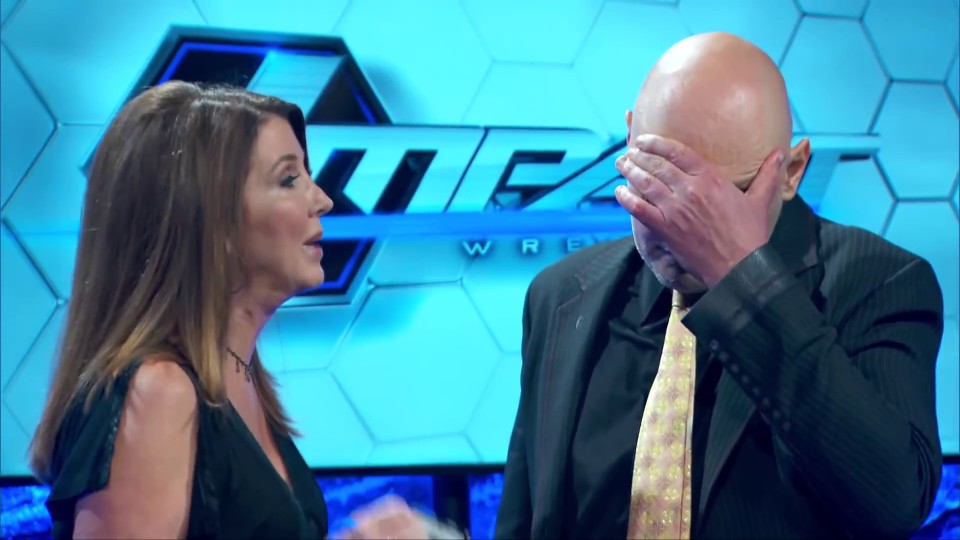 ---
I've written up a blog getting you up to speed of THE STATE of TNA. Enjoy!
Dixie Carter will no longer own TNA. Who will?
Anthem Sports & Entertainment (the company that owns Fight Network) will take control getting 85%, Aroluxe getting 10% and Dixie getting 5%. Anthem funded Bound For Glory and the recent TV tapings. Aroluxe's Jason Brown will be the new CEO of TNA. Dixie's 5% is more for saving face and won't have any power.
What about Billy Corgan?
He's out. He tried to get control of TNA (as was agreed when he loaned them money during the summer, totalling $1.8m) but on Monday, Judge Hobbs sided with TNA & Dixie, which allows them to sell. TNA won because he couldn't produce enough evidence that they were insolvent.
What will he do now?
Corgan can sue to get ownership interest but not voting power. Anthem has agreed to pay Corgan back his loan + 6% interest, but he'll likely look for the 50% extra promised in the event of a sale, about $800k.
What about all the money TNA owe?
Anthem would be responsible for sorting that. Rumour is TNA owe about 10x what the company is worth. Their owner Leonard Asper is aware of TNA's financial situation, but is wealthy and will try turn it around. Last year The Fight Network made $4.5m in Canada alone, is now in 30 countries and has a piece of other sports properties.
TNA's TV Deals:
USA: PopTV doesn't pay TNA to air iMPACT. It's a terrible deal.
UK: TNA's UK deal has not been renewed – Challenge will stop airing TNA in January, worth about $1.25million. TNA's biggest supporter at Challenge left the station and iMPACT has lost ~30% of it's UK viewers in the last 2 years – with a large downturn in May. TNA tried to spin this loss of TV as "we want to find a new channel to avoid tape delay and spoilers" which I bet a lot of TNA fans would actually believe; despite spoilers being available months in advance (as iMPACT is recorded months in advance)
INDIA: This is TNA's biggest revenue stream, their 6-7 year TV deal with Sony Six, giving them $5m/year. However the deal hinges on doing yearly tours of India, which they didn't last year, so they could cancel this at any time.
What happened to WWE purchasing TNA's tape library?
They did offer, then lowballed 'em; but as 85% owners, Anthem will retain the tape library even if TNA go bust. Seeing as Anthem bought into a money-losing company, TNA will survive. Amazing, really! The dolphins could take over the earth, and TNA would still manage to get the next set of tapings done.
How about some good news?!
The upside to all of this is that everyone working for TNA will start getting paid (hooray!) and they'll tape the iMPACT at Matt Hardy's house as soon as they can, which is something the world needs to see!
TL;DR? Dixie's out out power (but retains 5%), Corgan's out, Anthem is in, and Aroluxe's Jason Brown is in charge.
Note: Of course this blog just deals with the business side of things, regardless of any good stuff they're doing on TV with Lashley and co. Hate to see their talent squandered under Dixie and hopefully Jason Brown can turn it around!
Do you still watch iMPACT? If not, when did you stop watching?
---
Our new episode dropped on Monday! SUPERBRAWL VI: OSWreview.com/media/oswreview60
As well as audio for our last show, World War 3! : OSWreview.com/media/oswreview59
---
Getting mean-spirited on twitter between Billy & Fight Network!
FACT: I have still not been paid, and I'm exploring all remedies including new filings with court and converting to 36 pct. equity

— WPC (@Billy) November 3, 2016
We reject Mr. Corgan's social media comments today re:@IMPACTWRESTLING. The matter is before courts/public discourse is inappropriate. (1/2)

— Fight Network (@fightnet) November 3, 2016
@fightnet Terrible way to start our future relationship! What w/ the lying through counsel + propensity for press releases claiming victory

— WPC (@Billy) November 3, 2016