ICW in Dublin!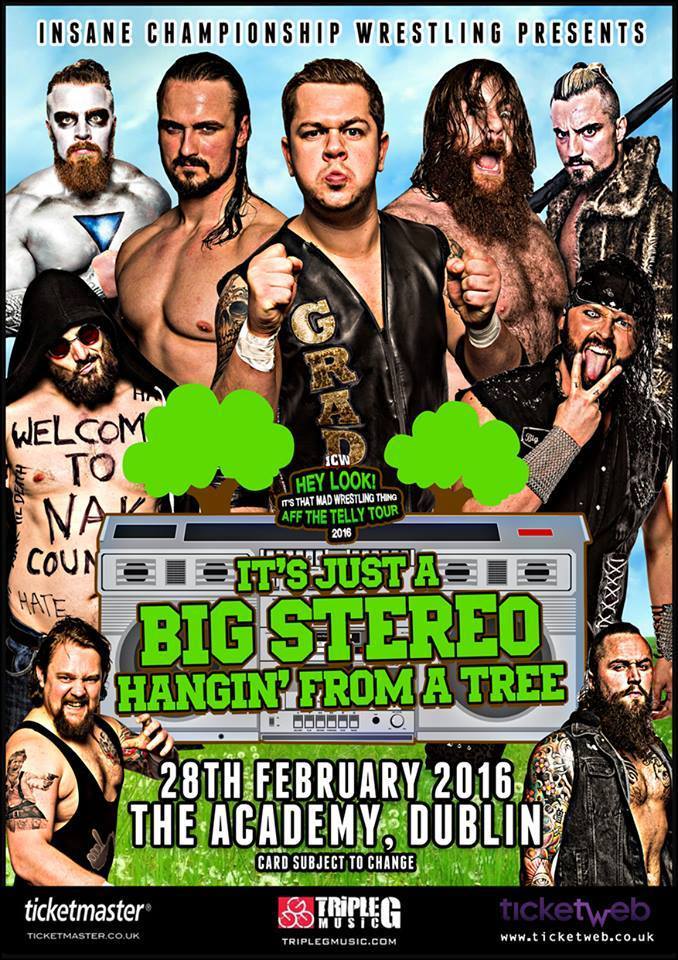 ---
Yo! Myself and the lads were at ICW's first Dublin show last night! We had a great time, never saw ICW live before. I wasn't sure what to expect, thought it might've been all hardcore wrestling/bloodfests but it was similar to a WWE house show, pretty straight forward wrestling bouts (apart from Jack Jester using a chair and blood) with some spots out in the crowd.
---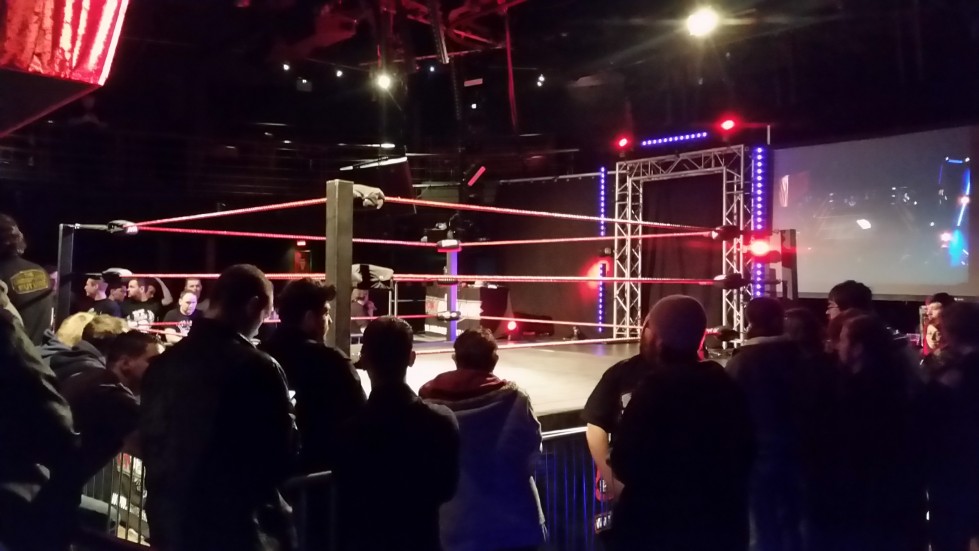 Pic taken as soon as we got in the door – doesn't do the crowd justice. Loved how it was standing room only, everyone just came  up to the barricades. Without general seating (only at the edges) you could get in and out for a pint really easy.
---
• My favourite parts were when the wrestlers would give quick comments after a stiff shot (like "ooh ya bastard!").
• There was a tron to show video packages/music videos and such which I was impressed with. There was an ad for Inside The Ropes' Scott Steiner Q&A – I was devastated that OSW wasn't promoted underneath the Belfast show. Must be an old ad 😛
• Billy Kirkwood did a great job of warming up the crowd – hilarious – lots of really funny jokes. ("Shawn Michaels is what I call my penis, because it doesn't work and has a squinty eye!")
• There was definitely a good chunk of travelling Scottish fans (which I think is pretty incredible) and big pockets of fans knowing all the chants for each wrestler.
• It wasn't a wild atmosphere – it was hurt by being on a Sunday night, but sure they were in Belfast the night before; so you wouldn't be drinking as much or going crazy.
• Pleasantly surprised at the amount of women at the show, probably 5%, which is loads for wrestling!
• My favourites include Sha Samuels (the East-End Butcher/lout!) and wow, Grado is absolutely bursting with charisma. He acted blown up doing his entrance and said "Grado's fucked, lads!". Just relentless funny spots.
• Was cool to see Drew Galloway, Noam Dar and Marty Scurll live in action for the first time.
• Wolfgang has an amazing Edge-style long brown goth jacket.
• I wonder if someone stole Davey Boy (Zero G champion)'s jocks as he was wearing plain adidas shorts!
• I would've liked at least one (if not both) wrestlers to cut a quick promo to get their characters over, worked a treat with those who did ala Sha Samuels.
• Was nice to see Mark Dallas out at the end to thank the crowd and swig some Jack!
• After the show the fans kept chanting for more whilst the crew tried in vain to tell people it had finished. It was pretty funny. Billy shouting "fuck off!" eventually got people moving, ha!
Overall it was a fun show, it wasn't anything crazy – I think going to see them live for a bigger event would be a truer slice of what ICW is really about. They mentioned doing the SSE Hydro (a 13k arena!) for Fear & Loathing IX sounds amazing!