NXT Dublin Review! (14 June 2016)
NXT Dublin 14 June 2016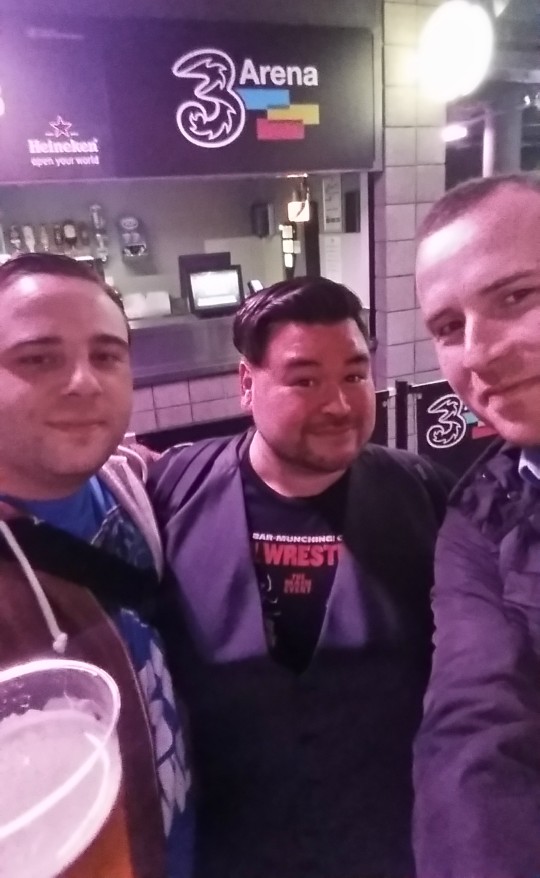 ---
Yo! Here's a quick write-up about last night's NXT event at the 3 Arena. Thanks to James at MCD who comp'd our tickets! I'm no good at numbers but probably 4,000 were at it — not being full was great as in general you could get in and out in a few minutes. WWE have a deal with Three so they had to use this arena (as a WWE Network-only Developmental Show, a smaller one would've been preferable) so they closed off the entrance way side — but only the top section of seats were empty. More importantly, the crowd were rabid! The audience were into everything and everyone (except No Way Jose's stop-match-to-dance spot) and sustained loud chanting throughout. Show kicked off about 7.30pm and finished at 9.45, including a 15m intermission. T-shirt-wise there were a TON of red Nakamura shirts and Balor Club shirts, a healthy dose of retro shirts (mostly nWo and Austin 3:16) and darest I say OSW shirts (which is so freakin' awesome!). Shinsuke's tees sold out immediately, and then Bálor's (although half of the entire merch there was his!) 
• Tye Dillinger v Hugo Knox
Tye cut a heel promo insulting Ireland's draw against Sweden which drew heat, I was really impressed (Americans insulting Europeans about sports usually gets derisively dismissed). He shouted "you're Ireland!" when beating up Hugo Knox. Who is Hugo Knox? Not Mike's brother, that's who. He got "who are ya?" chants. He's an English Brakkus, a former Port Vale goalkeeper, and is ripped to the gills, congrats on the Roidy Magoo award! Still pretty green but moved well despite being absolutely huge. Perfect 10 has go-away heat from V1 but the crowd absolutely loved him. Sadly I'll report it sounded like maybe 50/50 smarks and marks — I reckon a lot of smarks don't do house shows. Silly to have Tye as a heel. Peeps brought 10 signs! Knox won with a split-legged moonsault, which the crowd didn't appreciate.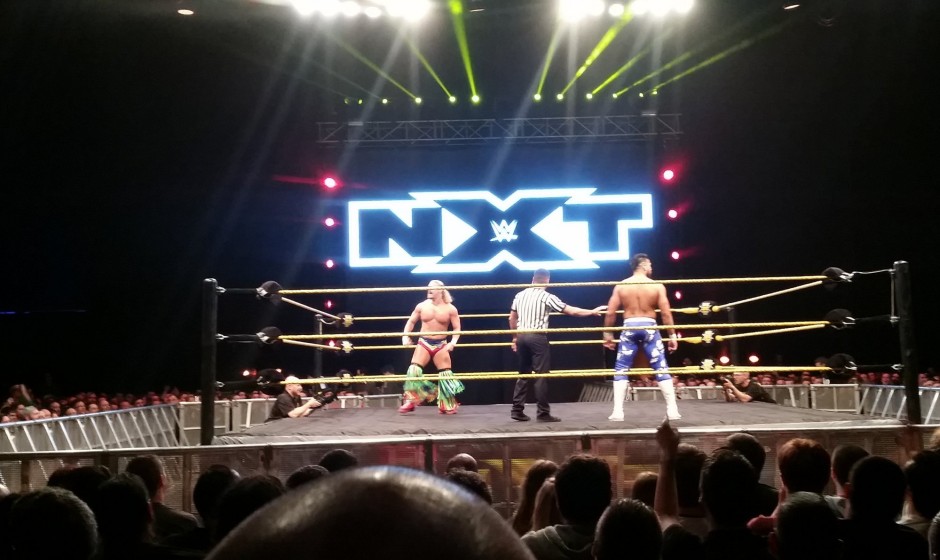 • Wesley Blake v Andrade Cien Almas
Gosh it's like a "great value" version of Trent Baretta and Sin Cara. Blake got (tag partner) "Murphy's better" chants. His outfit was like a refresher bar and tassles – in the 80s he'd be face but is a heel in 2016. Thought the star on his arse said "BLAM!" but I think it was Blake, lol. Andrade (CMLL's La Sombra) played a white-meat babyface Mexican who gets fired up from the crowd. His offence looked good but nobody cares about his character (and so his matches) yet. Andrade won after double knees in the corner. That move was done multiple times throughout the night, dammit d'lo!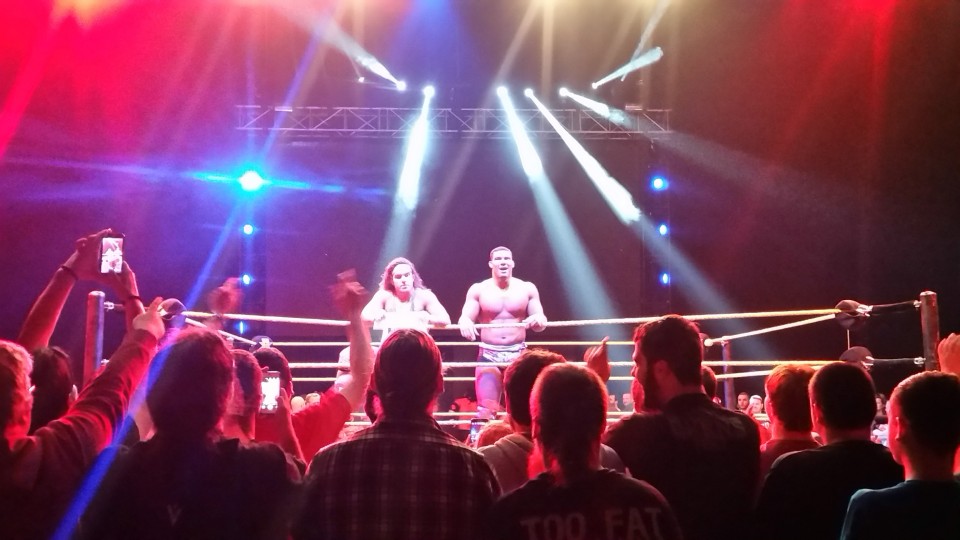 • Sawyer Fulton & Alexander Wolfe v American Alpha
WHO? Two Mad Max scruffy-looking fellas. Wolfe (the blonde one) is German so the crowd heckled them about it. So that's three matches in a row with at least one nobody/new guy that's not over in it – i.e. people that need to be doing house shows. We'd great seats (on the 'hard camera' side) with only one tiered row in front of us but whenever stars started coming out (ie American Alpha) the 7 foot dude in front of me started standing for the entrances. And then the 7 foot guy beside Steve started doing the same!
Jordan and Gable were CRAZY OVER. They just stopped for a while to let the crowd chant the There's No Limit song as well as the Kurt Angle song to their names. Gable looked so smooth and technical and sold a lot so Jordan could run wild, everyone lapped it up. Mad Maxes had some dodgy offense – the best/worst bit was Alexander Wolfe did these running fall-down splashes, and the crowd were agast at such a shit move – "WHAT WAS THAT?" chants! AA won with the Grand Amplitude and everyone was happy. Dash & Dawson showed up and talked smack, tried to ambush the faces but Dash was put in a double single ankle lock (Gable and Jordan with one ankle each) and they scarper.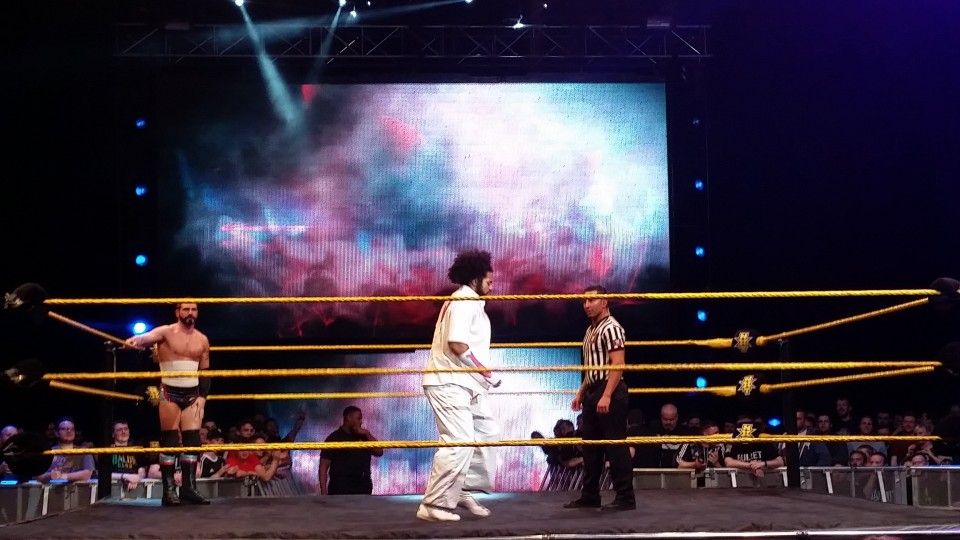 • No Way Jose v Austin Aries
V1 said he'd be at the bar but after hearing No Way Jose's theme but stayed for Austin Aries. Jose is supposed to be face but as soon as his entrance is done the crowd are solidly for Aries. Jose stops the match for a dance spot (he needs a definitive dance move if it's to get over, like Fandango'ing had the pointy arms thing) and the crowd entertained it but gave massive cheers to Aries for attacking him to end the spot. I imagine Aries takes his craft seriously, I wonder if he was pissed to have do this Punch & Judy house-show shit. Aries looked extremely crisp (as he should, he's amazing) and Jose didn't have much, Aries lead this match. Someone gave Aries a "you can't wrestle" chant, Aries shot him daggers after chain-wrestling Jose. Hilarious. A Double misses his discus elbow and Jose pins him with a schoolboy, fuck that.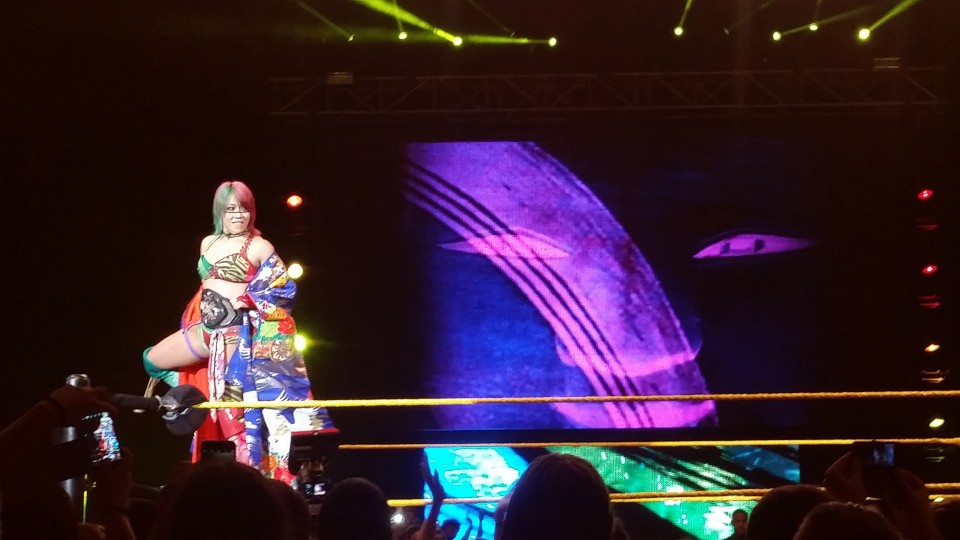 • NXT Women's Champion Asuka v Peyton Royce
Asuka got a great reaction but not as loud/sustained as I'd hoped. She's gorgeous and a bad-ass. That she used to work for Xbox and Nintendo only sweetens the deal! Peyton really needs work, they did the 'repeat the spot' bit more than once as she loses the run of herself. As an Aussie, Peyton got "Knifey-Spoony!" chants, which was amazing. The champ got "Fuck 'em up Asuka, Fuck 'em up!" which is a popular one here. Casual swearing this side of the pond 🙂 Asuka won with her crossface chicken wing submission.
15m Intermission