OSW update for June!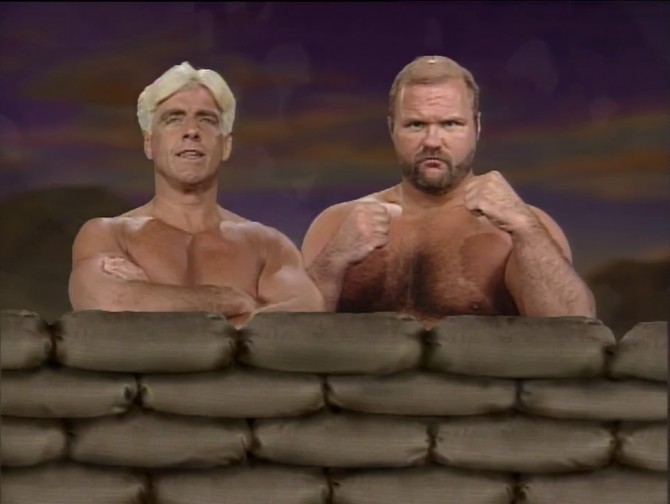 • The next episode, WCW Fall Brawl 95 later this month, roughly mid-June. EDIT: AROUND THE START OF JULY. SORRY GUYS 🙁 There's a ton of splicey, it'll be one of the biggest episodes we've done! It gobbles up all my free time after work so it'll take a few more weekends to complete, wish I could spend more time on it! I'll update everyone when I'm on the home straight editing 🙂
• Super OSW 64: I'll be doing another live videogame music show on this coming bank holiday Monday, 3-5pm BST! Had a whopper response already, you can request a track in the comments section of our last show: OSWreview.com/super-osw-64-level-8
• Vimeo: Every OSW episode is on OSWreview.com/episodes! To avoid WWE's sniffing dogs I've made them private on vimeo, this'll make sure they all stay up (fingers crossed!) Lemme know if you've any trouble viewing the eps – we've a new dedicated server so it should be smooth as rich creamery butter 🙂
• YouTube: WWE are taking a while to allow more older episodes to YT but in the meantime, WrestleMania X7 will be out in all it's glory in a couple weeks! Hope you've been enjoying the snippets of older episodes being put up in the meantime. Latest one is OSWreview.com/top-5-worst-foreigner-stereotypes
• The three of us will be at NXT Dublin on Tuesday June 14th! Come say hi and grab a pint with us!
• We've no other appearances booked for 2016, but thanks to @TheBradGimmick of @GimmickTree  we'll be doing a live review show at WRESTLECON 2017! Here's the announcement video! We're incredibly stoked about this!
• We're a bit low on tees and won't be restocking for a while but you can check out our sweet, sweet merch at the UK/Europe store  and The US store!
Alrighty better get back to work! Smell ya later!
Jay