Owen Hart DVD review part 2
---
---
2nd WWF Run:
Tag Teams: With Anvil as the New Hart Foundation. Nattie was ecstatic to see them together. The pair ended when Neidhart was fired for 'unprofessional conduct', refusing to take a drug test and trashed some TV equipment. You might remember hearing Anvil was smoking crack with Davey Boy (who was a trainwreck) in the Summer of '92. Bret kindly says Owen 'wasn't thrilled' working with Koko in High Energy and Edge notes the MC Hammer pants.
1993 Heel Turn: It was originally supposed to be Bruce Hart turning, but Bret demanded  Owen get that push, as he was younger, bigger (, more talented and could benefit the most from the spotlight). That's actually true and lead to Bret & Bruce falling out for a while. Sadly no splicey of "kick your leg outta your leg". The sprinkle in some Heenan commentary, which is always awesome: "I know the Hart family. When their dog ran away they used to put Owen out there instead".
1994: They splice WMX skycam footage of Bret & Owen chain wrestling. IT IS GODDAMN GORGEOUS. This New Gen footage is awesome to see. Bret mentions how during their feud they kept kayfabe by not talking in public or at home with strangers around. In the '96 Owen interview he talks about no-one wanting to see his lousy brother Bret, as he signs an autograph for a girl with a Bret t-shirt. Brilliant.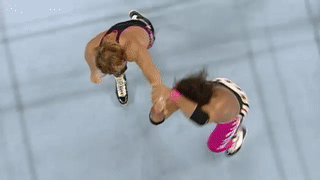 2-time Slammy Award Winner:  Triple H speaks about Owen with a loving reverence that you never really hear him speak of other wrestlers. Himself and Gunn recount him goofing off (generally during house show matches). Aitch gives Owen full credit of turning the Slammys into a full-time gimmick (which was brilliant, the Slammys are associated most with Owen for all time) and they show a clip of the crowd gasping (!) when a Slammy breaks during a tiff with Bulldog.
Tagging with Yoko: Anecdotes are told with multiple talking heads spliced together quickly to form run-on sentences. They recount a famous Owen story where he's tagging with Yoko vs Bulldog & Luger, where he trolled Lex so hard. He'd call to be press-slammed but would hook Lex's shoulder so he couldn't press Owen (making Lex look weak), but he'd bump like a boss for Davey, so he could proclaim he's the strongest of the team. Ha!
Dec 95 In Your House 5 Seasons Beatings: It was Hunter Hearst Helmsley vs Henry Godwin in a hog pen match, where they needed animals. When the truck driver with the animals arrived, Owen pretended he was the production manager and lead him and the animals into Vince's Office. When Vince saw them he went screaming for Owen Hart. He recounts that Owen would do such a great job no-selling it he'd almost believe he was innocent.
1997 Canadian Stampede: Talking heads note the building shaking it was so loud. It's a shame how quickly they run through this (esp as Owen got the pinfall) and I'd class as the biggest night in Owen's career. Did you know? When they let the extended Hart Family into the ring to celebrate (including a young Tyson Kidd), a few random children were able to walk right in as well. When Bret saw them, he told them to enjoy themselves.
Montreal Screwjob/Pillman dies/Owen stays: Ross Hart and Hunter repaint the story, that Owen wanted to stay with the WWF. Even Bret said he really didn't want to go. This irks me as I've always heard Owen demanded his release and Vince wouldn't allow it. I'll concede that he (in general) wanted to stay with WWF and asked to leave out of loyalty to Bret. Sucks that Austin went supernova at this same time as when Owen returned (in Dec 97), as Hart initially beat up Shawn and then was angry at Vince, but Austin was in the top-slot, he went down the card substantially. By WrestleMania XIV he wrestled Shawn's mid-card mate Hunter in a losing effort, having already lost the European title on RAW beforehand. What WWF did was absolutely right for business though. With Bret finally gone I hoped Owen would finally step out of his brother's shadow, but his character kept the same midcard mentality and just flittered around with the Nation and eventually Jeff Jarrett.
---
---
Attitude Era/Return of the Blue Blazer: Billy Gunn's summation of AE is hilarious. "I'll get nekkid, you'll get nekkid, all the girls'll get nekkid". They gloss over Canadian Country, tagging with Jarrett (with manager Debra) and don't mention Owen refused to do the angle with him cheating with Debra. He didn't want to do anything that'd shame his kids/himself. Wow, it's amazing to see people care that much about their characters' morals. So the anti-Attitude Era heel-goody-two-shoes superhero Blue Blazer was born. My favourite bit of this gimmick was Owen pretending it wasn't him under the mask, even getting Koko B Ware to dress up as the Blazer, sandbagging as if everyone couldn't tell the difference. Hilarious.
Death: They don't spend too much time on it, just JR's announcement, initial reaction as the same talking heads (mostly Road Dogg) get teary-eyed. It's over very quickly. They show snippets from RAW is Owen, including Ken Shamrock, which is an odd choice. Ken did not wear a black Owen armband, he wrestled a straight-faced match and refused to do a vignette talking about him. Shamrock was punished afterwards by Vince afterwards, doing a couple jobs and moving down the card.
Final anecdotes: Owen never had check-in luggage, and his carry-on was the size of a shaving-kit, so he could get out of the airport immediately and get home. WWE touched on Owen wanting to be a fireman during his stint away from the company but not that he wanted to make money and retire from wrestling asap. We get more people saying generic nice things about Owen and we're done!
Overall: It's nice to spend an hour hearing about Owen, and it's fresh material (I believe this is his first ever Home Video, I wouldn't count Hart & Soul) which makes it an easy watch. Unfortunately it's very superficial and rushed, with obvious production constraints by both Martha and WWE slap-dashing it. Best parts are the B-roll of Owen, the Bret/Owen wrestling footage (spooge) and the Lex anecdote. It was €38 in WrestlingMania in Stephen's Green — absolutely not worth paying for! Owen deserves at least double this length, properly produced docu and Hall of Fame induction.