Royal Rumble 2016 & RAW Review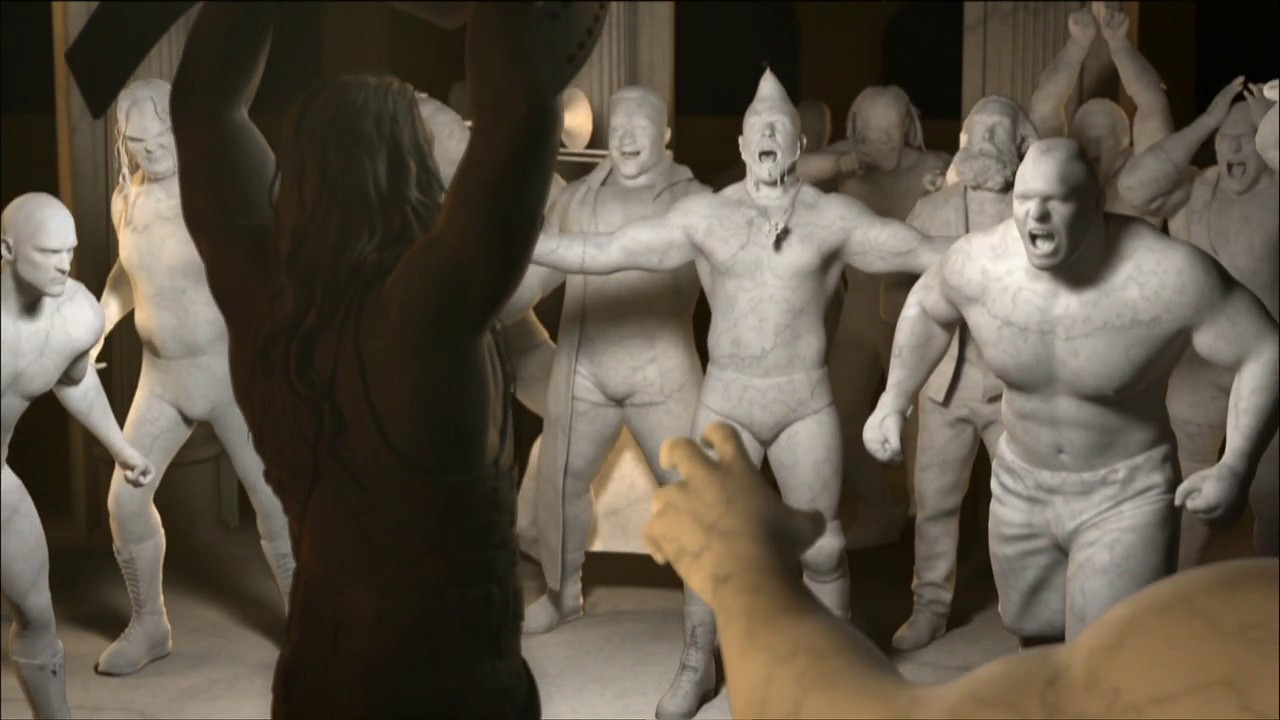 Thoughts on the Rumble:
• Before I start I have to say congratulations to the graphics department – the CG marble statues of all the wrestlers look fantastic. It will be one of the most memorable wrestling graphics for years to come, that everyone will remember!
• Pre-Show had a 4-way tag for 2 Rumble spots. (Mark Henry/Jack Swagger (?!) def. Darren Young & Damien Sandow (?!), Dudleyz, and the Ascension. Sandow got repeated chants, match was not noteworthy otherwise. Sadly Sandow didn't win, so Mark Henry & Swagger could both get eliminated immediately later on tonight.
• Well impressed with Ambrose vs Owens. Both are great wrestlers and the two took some vicious bumps. They work very well together, recommend watching. Throughout the night we got the fun booking rule that whoever sets up tables, goes through them. KO perfectly somersaulted through two tables so Dean could retain the IC belt.
• New Day def. Usos. New Day (as always!) are one of the best reasons to watch current WWE. Xavier – I'm certain he was quoting the Mortal Kombat Movie ("your brother's soul is mine! This is a taste of things to come!"). Big E with the best spot of the match, perfectly catching a mid-air splash and turning it into a Big Ending. Entertaining but forgettable.
• Kalisto def. Alberto Del Rio. Del Rio can't feud with Mysterio or Sin Cara (he injured his shoulder – hilarious he botched again!) so he's moved onto another Mexican. I was surprised how well Kalisto works as a singles. I'm a fan of his high-flying lucha stuff, as nobody else on the roster does it. They worked well apart from one big blown spot they just moved on from. Del Rio's ripped, holy shit. He's like a bulkier Orton now, he's lost a good deal of mass but gained a ton of definition. Looks awesome. No wellness testing in Mexico! His character is the same though. Kalisto got the big babyface clean win. I don't think he's portrayed as anything important, especially getting and losing the US title so quickly, hopefully they feature him as a bigger deal.
• Charlotte def. Becky Lynch. These girls had a great match on RAW recently, so it's disappointing to see them have an average match on PPV. Haven't heard anyone giving out about Ric's sexual assault, forcing himself on Becky! JBL smartly quipped he's "kiss-stealin'" – great save. The match wasn't anything special from these two, who are much better than their main roster matches would suggest. There's two factors into making a good match: great wrestlers and great booking. They're both very talented so this match was just booked to be boring, which helps nobody. Marked out seeing Sasha Banks return after the match. That's Becky done with, so Charlotte and Sasha next.
---
Royal Rumble Match: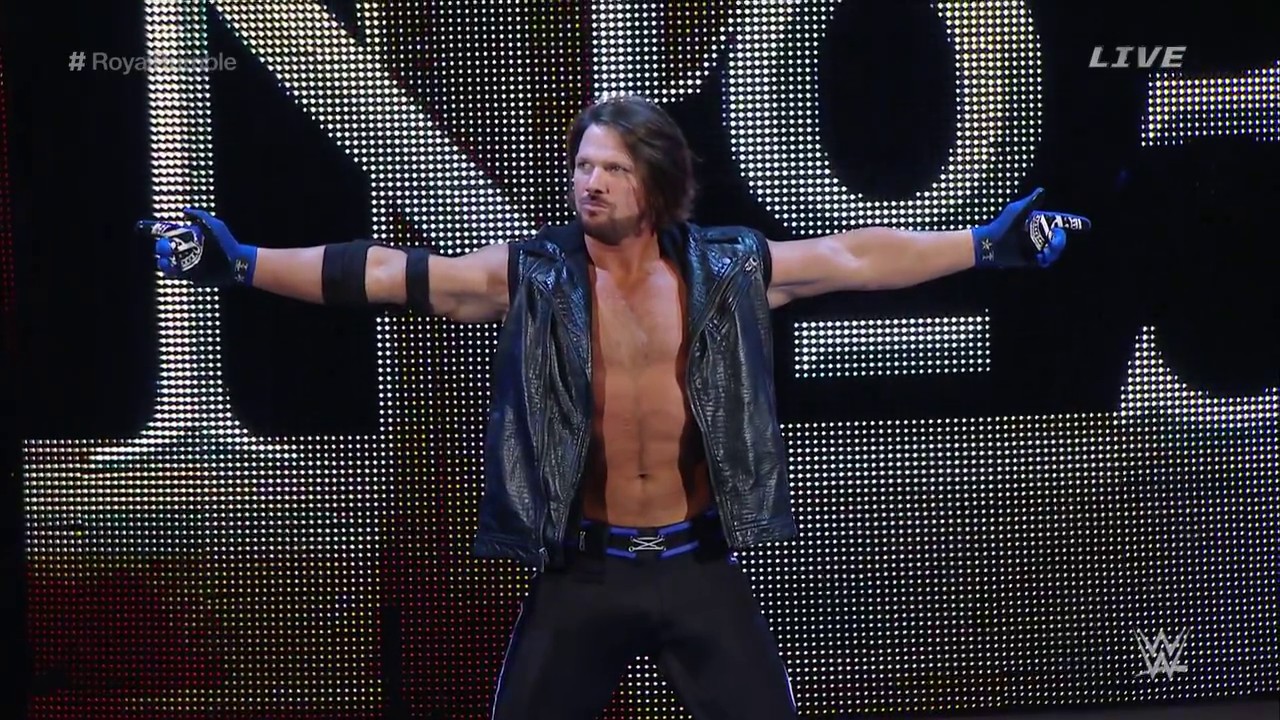 ---
• Roman Reigns – started #1, didn't have many spots — and much like Austin in the 99 Rumble, sat out most of the Rumble match. I don't know why they'd book him to go #1 (so an hour) as he's not that seasoned/talented a performer to pull that off. So the League of Nations took him out (Rusev with a big splash through the announce table) and Roman was stretchered away. Very oddly, they showed Roman walking backstage. Maybe he was supposed to look strong that he's walking out under his own power, but I thought he looked cowardly, actively walking away from the match, he's had enough, lemme come back later.
• #3 — I loved this. Holy shit. Flipped my wig. Not a fan of the song, but I loved how the music played and they kept on Roman's face (and hearing the crowd roar) so we know it's something huge. Great job. AMAZING to see AJ Styles. Holy shit. I love this guy, it's incredible to see him finally in WWE (and bypassing NXT). He got a Pele in and later a springboard flying forearm but other than that, with Roman and AJ in the ring they couldn't eliminate each other, so nothing really happened. I'm really worried about AJ, that they'll "Del Rio" him into the midcard. Please, please don't. He can be a gigantic babyface for WWE.
• Kofi's big spot was being caught on the way out, landing on Big E's shoulders, who paraded him around the ring. Was a fun spot, but less memorable than past Rumble spots. It made sense to do something with the New Day members.
• 4 Wyatt members, dominated for a bit, but most were eliminated before Bray entered. Was fun to see Brock tear it up but Suplex City didn't last very long – Wyatts beat up and eventually eliminated Brock (who had already eliminated the Wyatt boys — V1 would go nuts!). I don't think Bray can be built up enough to make a WrestleMania match with Brock a draw. His past few feuds have all been sub-par. I do like the look of Braun Strowman though. I hope he's not a useless wrestler – otherwise he'll die off after he loses his first few matches!
• R-Truth's "I thought we were in a MITB match" dumb guy spot atop a ladder was great. I wish Kane dumped him out from the top of the ladder but you can't have it all.
• Very cool to see Sami Zayn and KO go at it – I always love feuds that carry over from previous companies. Like when Austin would always attack Pillman in WWF.
• There weren't many spots, sadly….bit of Big Show, Kane, Titus, Swagger, Miz, Leaguey Weegies…
• Finally, #30 was Triple H, you could tell he booked this silent staredown spot with Reigns as he did the same with Undertaker. Crowd popped huge for Reigns getting eliminated and poor Ambrose never had a chance, he hilariously kept running at Aitch. In the end Triple H wins the Rumble and a 14th world title.
Parting thought, I'm really impressed how WWE have gotten fans in general to stop booing Reigns, despite him retaining all of his flaws. It's booking very well done. (I know it was worse at the Rumble but it's a lot better than a few months ago, where the boos were vicious.) Nobody seems to mind Reigns' character walked away from the match and sat out the bulk of it (making him unworthy if he won it). Reigns getting eliminated makes sense, he doesn't have to be pinned/submitted to lose — and can get his big win back at Mania. Aitch winning makes perfect sense as he's already the top heel on RAW – it capitalises/vindicates him spending 20 minutes doing promos each week talking down to the wrestlers. I just have no interest in seeing it!
---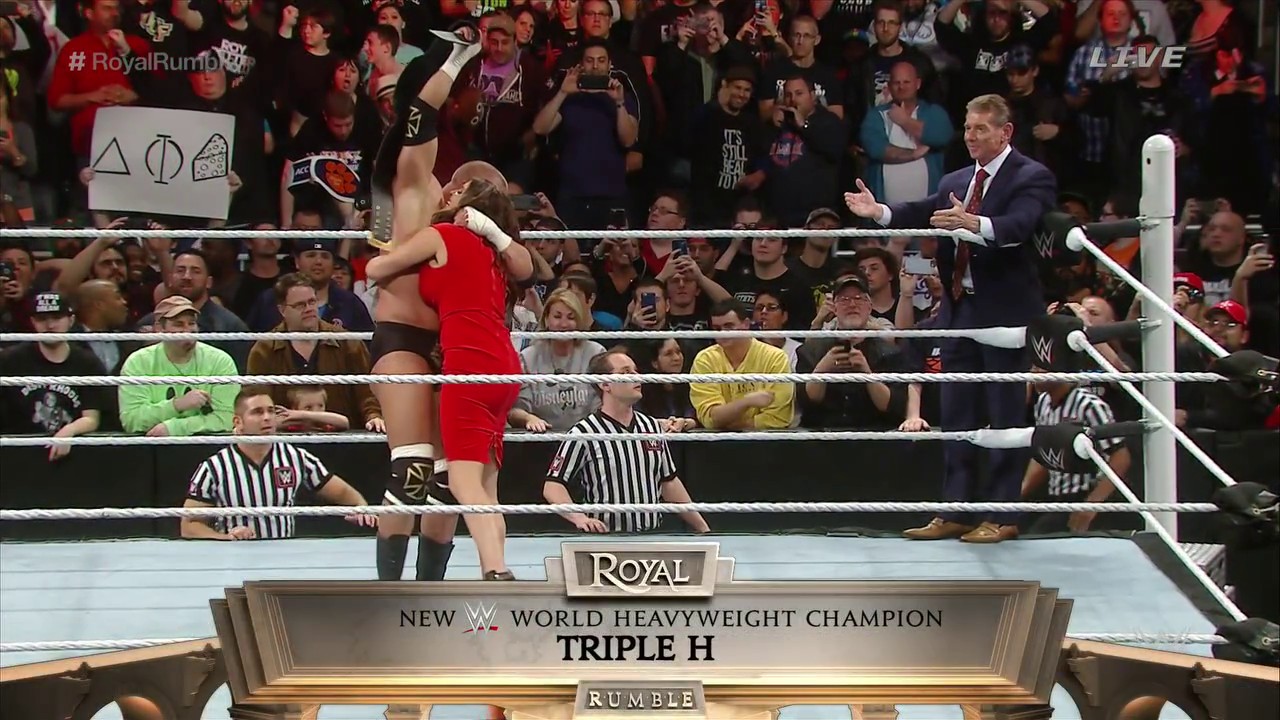 ---
Overall I thought the PPV was ok, KO/Ambrose tore it down and seeing AJ (even if he did nothing) was just amazing. The Rumble suffered from a lot of 'who cares' entries and not many spots, but the booking makes sense to build to a Roman/Aitch WM main event. Sorry to say I didn't like it.
SORRY I DIDN'T LIKE IT EARLIER! Ok that doesn't work. but I hope you enjoyed it much more than I did! What say you, thumbs up, middle or down?
---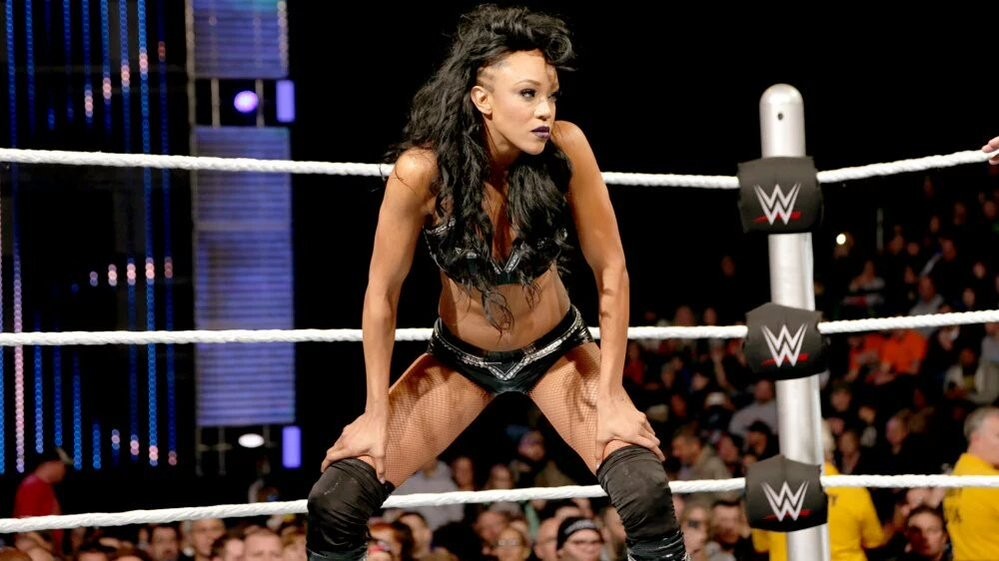 ---
RAW thoughts:
• Cole recapped the McMahon/Triple H opening 20 minute promo in 8 seconds after coming back from break. Cheers!
• Bo-Rida rap-battled Flo-Rida. Bo legit won that battle, seriously. It's so hilarious to hear his high-pitched voice breaking while rhyming.
• Styles had his first match on RAW against Jericho. The commentators kept bringing up parallels to Jericho's career, who wallowed in shit for almost his first year. A lot of "this is the big leagues, you need to prove yourself" sentiments. I saw that Jericho was very proud of his match, but I thought it was a poor showcase for AJ – as it was 90% AJ selling for slow Jericho offense. I don't think it showed the potential of AJ as an incredible talent – it wasn't spectacular, dynamic or anything memorable. I'm also concerned about the lack of reaction for his RAW entrance, despite a much bigger pop for the backstage bit. I'm a massive fan of AJ, he's one of my favourite wrestlers – I'm worried they'll Alberto Del Rio him, in that they spent a lot of money but don't have anything huge for him to do, so he'll quickly gain a mid-card title and languish around the area. Hopefully I'm wrong on it but WWE aren't treating him like a big deal. His debut RAW match didn't open or close the show.
• The Rock returned and had a massive segment, meeting Lana and Big Show, working the crowd and beating up the New Day with the Usos. He's incredible, so charismatic and captivating. You alright! He slipped in "see you at WrestleMania" so that's about that then. Loved the booty-shaking New Day rocks, perfect comic foil.
• Alicia Fox has a new do that looks like Luna/Sheeva from MK.
• Reigns (no longer in gold chest outline 'cause he's not the champ) got a shave (making him much less Gypsy) and is mooching off Ambrose again. Steph announced a triple threat at No Way Out (sorry, Faaaaaastlane!) between Ambrose, Reigns and Lesnar. So Reigns will pin Ambrose after the Wyatts take out Lesnar, so Roman goes on to face Aitch, save Lesnar for SummerSlam I guess?
Lots of fluff but the Bo-Rida, Rock and seeing Styles make the RAW definitely one to check out.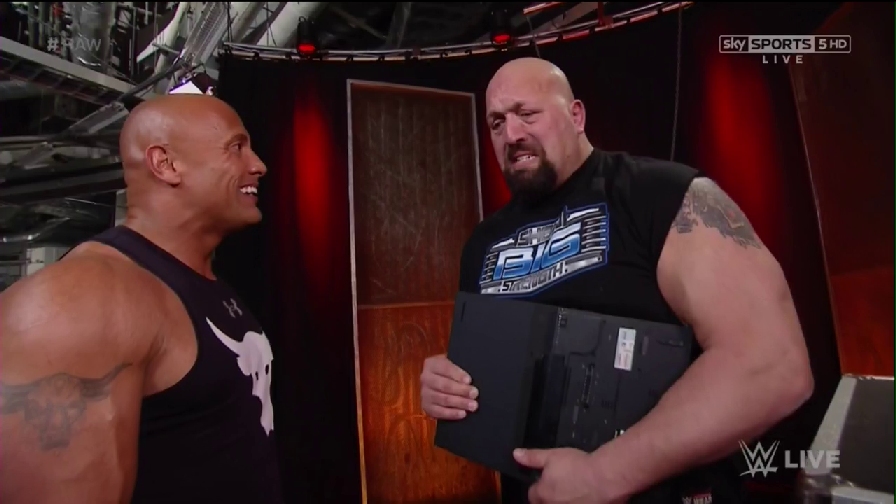 ---
New Golden Nogger voting opening tonight: Favourite Quote Award!