WWE Roadblock Review
WWE Roadblock
March 12th, 2016
Ricoh Coliseum, Toronto, Ontario, Canada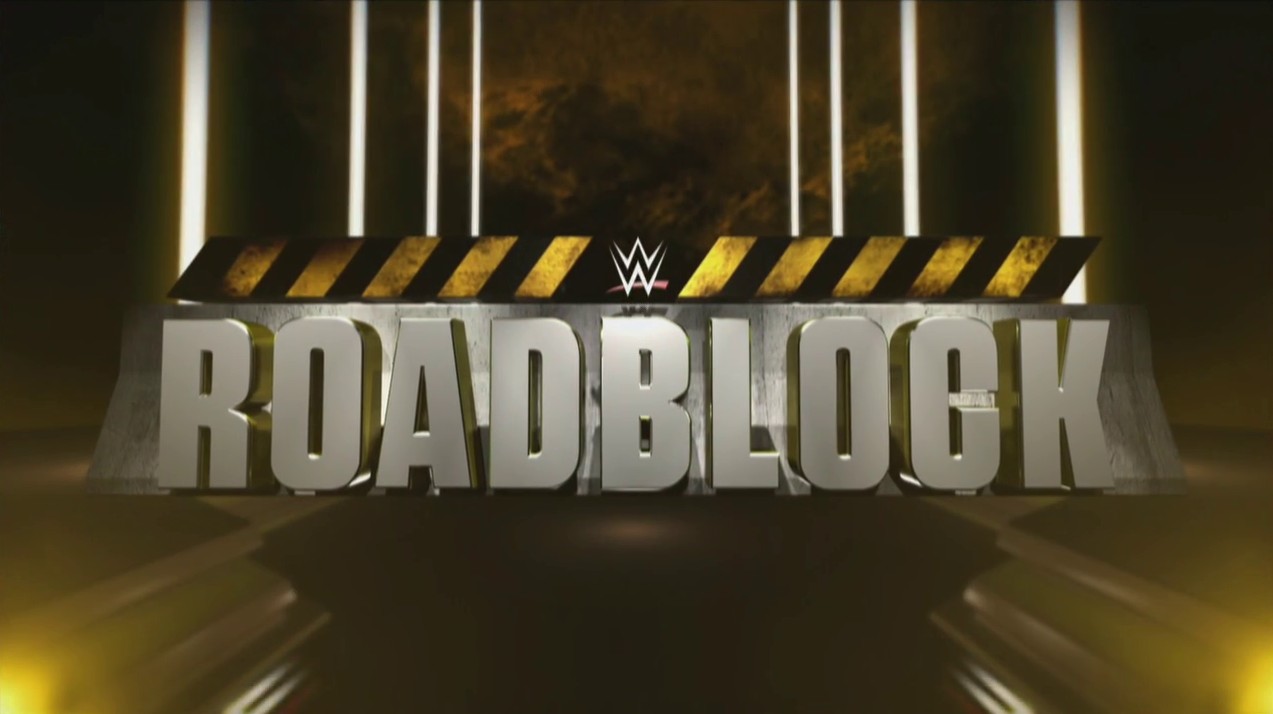 ---
Isn't it great to have a WWE live event on a Saturday? WWE decided to televise the Toronto house show, as they're looking to increase their live content on the Network (and more reasons to subscribe) as they continue to move away from traditional PPV. It also serves as a stop-gap in storylines between No Way Out (sorry, Faaaaaaaastlane!) and WrestleMania; as it was built on what looks like alternative booking plans for WrestleMania – Triple H vs Dean Ambrose, and Bray Wyatt vs Brock Lesnar. Notable by his absence is Roman Reigns – who's been gone since t-shirt-and-jeans babyface Triple H gave him a decisive beating, kayfabe putting him on the shelf for a few weeks so Reigns could actually get nose surgery for a deviated septum. Time's ticking as Mania's in 3 weeks and he isn't being missed, and right now, the 'real' main event is Shane McMahon vs The Undertaker. The show ran just short of 2.5 hours, and with the small entrance way and no pyro, it definitely felt like a house show. That's a good thing though – it didn't look like RAW or Smackdown, and was more wrestling-centred, making it an easy watch. Sadly it was the RAW commentary team of Michael Cole, JBL and Byron Saxton; so no Mauro Ranallo, who is doing a great job on smackdown, who brings much-needed credibility to the announce team.
Dark Matches: Mark Henry def. Local wrestler Randy Sharp (aka Randy Reign) and Goldust went over Viktor.
The New Day vs Sheamus & Wade Barrett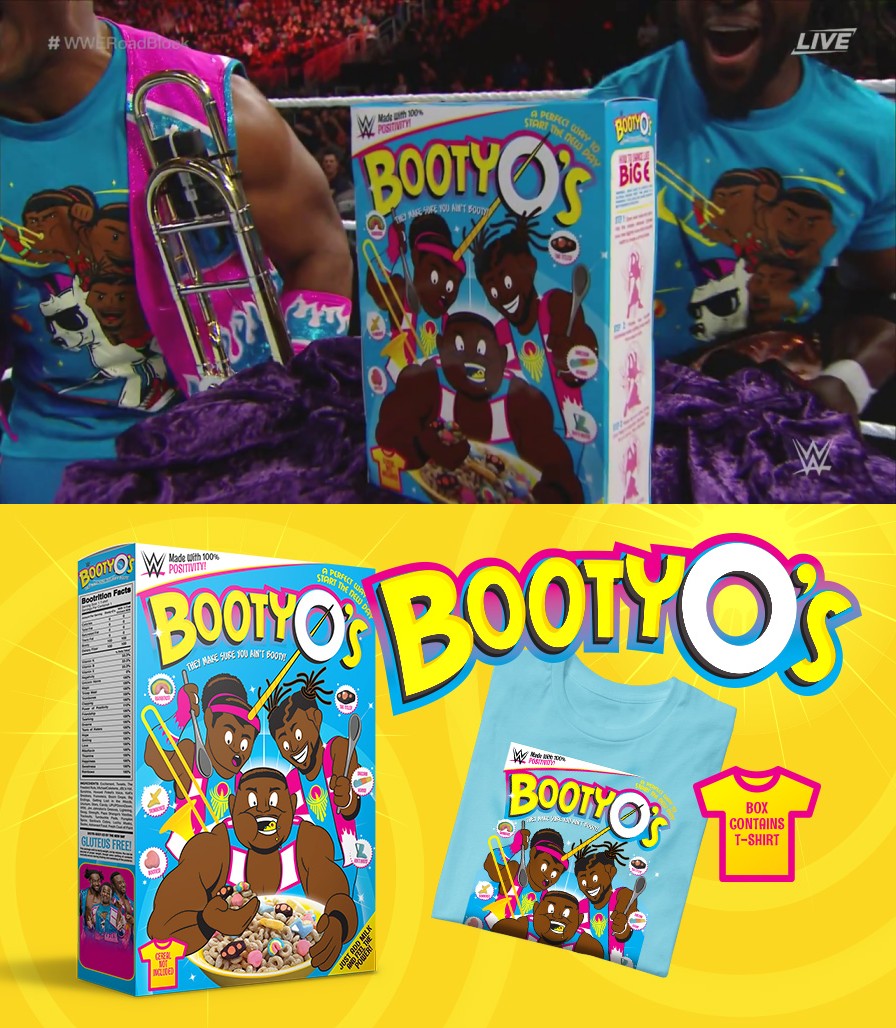 New Day pushed their Booty-Os cereal box, which is a legit box you can buy that contains their new t-shirt. Amazing — that's some really clever, inventive WWE creativity in merch that we rarely see. Also, shout-out to their WWE-championship kids sneakers! They pushed it hard and went a bit overboard with the trombone New Day Rocks chants (3 in ~5 minutes)
It's sad to see 4-time WWE/World Champion Sheamus, and equally-talented Wade Barrett being presented as comedy jobbers in the failed League of Nations faction. Originally the heels were built around WWE World Champion Sheamus, which fell apart within weeks as Reigns won the title. As they're much less entertaining and cemented as a faction than New Day, they're actually lower on the totem pole. And it showed here – they were outsmarted by 3-Man New day, as Big E delivered the Big Ending to Barrett, getting the win in 9:49. Most notable moment was Kofi doing a flying nothing off the top rope and awkwardly bowling over Sheamus!
---
Chris Jericho vs Jack Swagger
Yep, Jack Swagger! CAPTAIN…Jack Swagger. He's still employed. Jericho cut a real house-show heel promo ("Canada smells, Toronto is the anus, I moved away from Canada") cheap heat but hey, it got the desired crowd reaction. He worked in that Swagger beat him for the World title (remember that?) and Swagger's name got booed, the opposite of his intention. After slagging the "We The People" catchphrase, Swagger comes out. It must be a house show, ha! So the Pro-American who sucks is babyface vs the heel Canadian in Canada. WHAAAT?! I think Kalisto, Neville, Zayn, even Ziggler would've been a better choice (they're saving AJ for WrestleMania). Swagger's main negative is that he's known for injuring people, which means WWE won't want to risk their bigger stars working programs with him (which is why he's on Superstars/Main Event, amongst being a poor promo!). It annoys me that his world title reign precludes him from being a boy. Swagger comes out with a black t-shirt and training shorts over his attire, he looks like such a jobber! And job he does. Jericho has some nice heel touches like pulling the ref's leg to get to the ropes. He applies a Boston Crab to Swagger (there's absolutely no elevation to call it a Walls of Jericho) and gets the tap out win in 7:54.
---
Enzo & Big Cass vs The Revival (c) for the NXT tag championships
Very jarring to see an NXT match on a WWE house show, a televised first of it's kind. Enzo & Big Cass are jersey-shore guidos that have a New Age Outlaws-esque intro that the crowd can sing-along to, and they aren't great wrestlers (esp. Big Cass). They've been tagging for almost 3 years now and have never gotten the tag titles. The Revival (previously called 'The Mechanics') are said to be a throwback to the olden days, like Tully & Arn, which is a massive (and inaccurate!) complement, they're grand in the ring but have "lack of flash" i.e. they're charisma vacuuums – which make them a perfect contrast to Enzo & Cass. They do have some nice old-school tactics (eg pulling a guy out of the ring/distraction) which I do like. Big Cass used Wade Barrett's bossman slam from earlier, dammit D'lo! Oddly Cass spent a lot of time in the ring, hoofing Enzo out into their opponents. I really like The Revival's super-codebreaker called the Shatter machine (retaining in 10:17). Like most of the matches on the card, it was decent but unmemorable. There's an NXT special Mania weekend, I imagine The American Alphas will get a shot in the biggest NXT show of the year.
---