Super OSW 64 Level 10!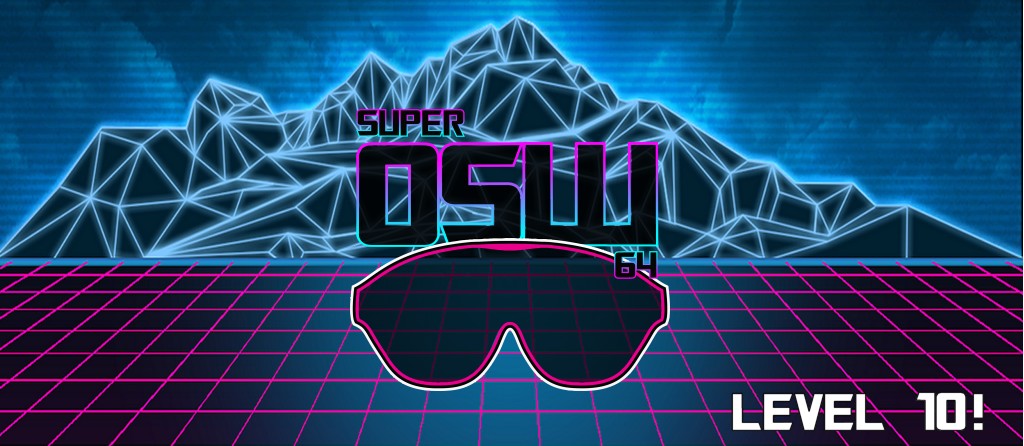 My smash hits'll leave 'em cold! Jay returns with another 2 hours of videogame musical goodness! Featuring Sam & Max, No Man's Sky (I know, right?), Shovel Knight, Bust a Groove and more!
---
iTunes: iTunes.OSWreview.com
Android: RSS.OSWreview.com
mp3 file: Download mp3 (right click to save, left click to stream)
---
Super OSW 64 Level 9 Playlist:
1. Killer Instinct (Classic) – Sabrewulf "Tooth & Claw"
2. Street Fighter III 3rd Strike Online Edition "Let's Get It On"
3. Killer Instinct S3 – Rash's Theme by Mick Gordon
4. Babymetal "Karate" (Super Mario Maker)
5. Bust a Groove I Luv Hamburgers (HAMM Theme)
6. DOOM (2016) Mick Gordon DOOM 2016 "At Doom's Gate"
7. Miracle of Sound "Hell to Pay" (Doom Song)
8. Sensible World of Soccer "Goal Scoring Superstar Hero"
9. Broforce Theme Song by Strident
10. El Shaddai "Tragic Scream"
11. Guilty Gear XX The Midnight Carnival – Ky Kiske "Holy Orders (Be Just or Be Dead)"
12. WWE SD! vs Raw 2007 "Animal I Have Become" by Three Days Grace
13. Shovel Knight "Main Theme" (Ruiner9 Stereo Mix)
14. Shovel Knight "Strike The Earth" (Ruiner9 Stereo Mix)
15. Silent Hill Theme by Synthetic Orchestra
16. Death Stranding Trailer "I'll Keep Coming" by Low Roar
17. Resident Evil 7 "Don't Tell Aunt Rhody"
18. M.U.L.E. Remix – Parody Man (Sidplayer)
19. Uncharted 4: A Thief's End "Cut to the Chase"
20. Destiny: The Taken King "Remembrance"
21. TMNT Secret of the Ooze – Title & Credits
22. No Man's Sky (65DaysOfStatic) "Debutante"
23. No Man's Sky (65DaysOfStatic) "Escape"
24. No Man's Sky (65DaysOfStatic) "Asimov"
25. No Man's Sky (65DaysOfStatic) "Supermoon"
26. Bubsy The Bobcat "Hillstream Blues"
27. Sam & Max TV Intro
28. Sam & Max Culture Shock
29. Sam & Max Opening Credits
30. Sam & Max Just You and Me (and Ted E. Bear)
31. Sam & Max Good For You (Good For Me)
32. Sam & Max World of Max
33. Music By Pedro – Super Mario "Athletic Theme" from Yoshi's Island
34. EclecticMethod – Super Mario "8BitMixtape"
35. Total Distortion "You Are Dead"
36. Persona 3 Portable Way of Life "Deep Inside My Mind (Remix)"
37. FantomenK "Neo Geo (Instrumental)"
---
REQUEST TRACKS FOR LEVEL 11 IN THE COMMENTS SECTION BELOW!
It'd really help me out if you include a youtube link to the song! Hope you enjoyed the show & see you for Level 11!
Latest OSW Update: OSWreview.com/osw-update-for-june
Listen to more Super OSW 64 episodes: OSWreview.com/tag/super-osw-64
Death in Videogames II (Jay on the radio!) OSWreview.com/death-in-videogames-2/
---
http://oswreview.com/super-osw-64-level-10/
Super OSW 64 Level 10 Playlist:
1. Killer Instinct (Classic) – Sabrewulf "Tooth & Claw"
2. Street Fighter III 3rd Strike Online Edition "Let's Get It On"
3. Killer Instinct S3 – Rash's Theme by Mick Gordon
4. Babymetal "Karate" (Super Mario Maker)
5. Bust a Groove I Luv Hamburgers (HAMM Theme)
6. DOOM (2016) Mick Gordon "DOOM"
7. Miracle of Sound "Hell to Pay" (Doom Song)
8. Sensible World of Soccer "Goal Scoring Superstar Hero"
9. Broforce Theme Song by Strident
10. El Shaddai "Tragic Scream"
11. Guilty Gear XX The Midnight Carnival – Ky Kiske "Holy Orders (Be Just or Be Dead)"
12. WWE SD! vs Raw 2007 "Animal I Have Become" by Three Days Grace
13. Shovel Knight "Main Theme" (Ruiner9 Stereo Mix)
14. Shovel Knight "Strike The Earth" (Ruiner9 Stereo Mix)
15. Silent Hill Theme by Synthetic Orchestra
16. Death Stranding Trailer "I'll Keep Coming" by Low Roar
17. Resident Evil 7 "Don't Tell Aunt Rhody"
18. M.U.L.E. Remix – Parody Man (Sidplayer)
19. Uncharted 4: A Thief's End "Cut to the Chase"
20. Destiny: The Taken King "Remembrance"
21. TMNT Secret of the Ooze – Title & Credits
22. No Man's Sky (65DaysOfStatic) "Debutante"
23. No Man's Sky (65DaysOfStatic) "Escape"
24. No Man's Sky (65DaysOfStatic) "Asimov"
25. No Man's Sky (65DaysOfStatic) "Supermoon"
26. Bubsy The Bobcat "Hillstream Blues"
27. Sam & Max TV Intro
28. Sam & Max Culture Shock
29. Sam & Max Opening Credits
30. Sam & Max Just You and Me (and Ted E. Bear)
31. Sam & Max Good For You (Good For Me)
32. Sam & Max World of Max
33. Music By Pedro – Super Mario "Athletic Theme" from Yoshi's Island
34. EclecticMethod – Super Mario "8BitMixtape"
35. Total Distortion "You Are Dead"
36. Persona 3 Portable Way of Life "Deep Inside My Mind (Remix)"
37. FantomenK "Neo Geo (Instrumental)"
Super OSW 64 Level 9 Playlist:
1. Killer Instinct S2 TJ Combo – I'm Back (to Rise!)
2. OSW Cinematic Theme
3. Killer Instinct 2: Character Select
4. Killer Instinct 2: Jago Remix
5. Killer Instinct: S2 Hisako
6. Killer Instinct: S2 Cinder
7. Soul Edge: Opening (Remastered)
8. MadWorld: Sick YG "Look Pimpin!"
9. GaMetal: Megaman X5 "X vs. Zero"
10. Robocop Versus The Terminator: Title
11. Doom: At Doom's Gate,
12. Doom 2: Waiting for Romero to Play
13. Doom 2: Running From Evil
14. Ys Oath in Felghana: Valestein Castle (Remastered)
15. The Godfather: Bad News
16. The Godfather: Aldo & Frankie
17. The Godfather: Don Aldo Trapani
18. Gears of War 3 Trailer: Sun Kil Moon "Heron Blue"
19. The Evil Within: Debussy "Clair de Lune"
20. The Evil Within: Paul Newman "Long Way Down"
21. Battlefield 3 Trailer: Johnny Cash "God's Gonna Cut You Down"
22. Robocop Versus The Terminator "Victory"
23. Life Is Strange: Mudflow "The sense of me"
24. Life Is Strange: "Chrysalis 1"
25. Life Is Strange: Jose Gonzalez "Crosses"
26. Life Is Strange Season finale Trailer: Darren Loveday, Stephen Loveday "Power To Progress"
27. Overwatch: Cinematic Intro "The World Could Always Use More Heroes"
28. ICO: Castle In The Mist
29. Uncharted 4 Trailer: The Hit House – Nathan's brain
30. Uncharted 4: A Thief's End
31. Uncharted 4: Nathan's Theme 4.0
32. Space Harrier II "Theme"
33. Metal Gear Solid: Harry Gregson-Williams "The World Needs Only One Big Boss!"
34. Metal Gear Solid 2: Carla White "Can't Say Goodbye To Yesterday"
35. Metal Gear Solid 5: Ludvig Forssell "A Phantom Pain"
36. Max Payne 3: Poets Of The Fall "Late Goodbye"
37. Shantae and the Pirate's Curse: Rottytops
38. The Warp Zone: Halo Theme
39. The Warp Zone: Castlevania Dracula's Castle
40. The Warp Zone: Donkey Kong Country Theme
41. Persona 4 Golden: True Ending Epilogue
42. Persona 4 Golden: Credits (Never More)
43. FantomenK: Neo Geo (Inst)
44. Super Smash Bros 4 Win Chime: Game & Watch
Super OSW 64 Level 8 Playlist:
1. Mortal Kombat OST: The Immortals – Techno-Syndrome 7" Mix
2. OSW Review Cinematic Theme
3. Loki – Super Mario Bros 2 Overworld Theme
4. FIFA 13 Imagine Dragons – On Top Of The World
5. FIFA 12 Naked and Famous – Punching In a Dream
6. Mortal Kombat OST (by George S. Clinton): A Taste of Things To Come
7. Mortal Kombat OST: Banquet
8. Mortal Kombat OST: Johnny Cage
9. Mortal Kombat OST: Demon Warriors/Final Combat
10. Mortal Kombat OST: Goro vs Art (Feat Buckethead)
11. Mortal Kombat OST: Fear Factory – Zero Signal
12. Clockwork Knight – Betsy's Room and Goal (Stage 1-1)
13. Dying Light – Woodkid – Run Boy Run
14. Assassin's Creed Revelations – Woodkid – Iron
15. The King of Fighters 2001 – Zero (Arranged)
16. Tekken Tag Tournament – True Ogre's theme
17. Brutal Legend: Intro + Menu Theme – Racer X – Y.R.O.
18. Brutal Legend: The Chosen Roadie
19. Brutal Legend: 11 O'clock Is a Direction
20. Brutal Legend: Killmaster (Lemmy Kilmeister) clip + Motorhead – Into the Black
21. Brutal Legend: The game finale + The Pleasure Tower
22. Brutal Legend: Kabbage Boy – Girlfriend
23. Diddy Kong Racing – Boss Challenge II
24. New Retro Wave: Accelerated – Miami Nights 1984
25. New Retro Wave: Volkor X – Tony Chew is Dead
26. New Retro Wave: Volkor X – Masked Death
27. Deus Ex Main Theme – Synthetic Orchestra
28. League of Legends: Challengers
29. League of Legends: Day Light's End
30. League of Legends: Djerv – Get Jinxed
31. Goof Troop – To the South (SNES)
32. To The Moon – Laura Shigihara – Everything's Alright
33. Final Fantasy VIII – Liberi Fatali
34. Final Fantasy X HD Remaster – Otherworld
35. Dragon Ball Z Ultimate Battle 22 – Hikari no Will Power
36. Assassin's Creed Syndicate: Austin Wintory – The Assassin Two-Step
37. Assassin's Creed Syndicate: Tripod – Jokes Jokes Jokes
38. FantomenK – Neo Geo (Instrumental)
39. Super Smash Bros Fire Emblem Win Chime
Super OSW 64 Level 7 Playlist:
1. Team Fortress 2 – Main Theme
2. OSW Review Cinematic Theme
3. Call of Duty: Ghosts TRAILER – Eminem feat. Liz Rodrigues – Survival
4. Evolve TRAILER – Lissie – Mother (Danzig Cover)
5. Far Cry 3: Blood Dragon – Intro clip + Theme
6. Far Cry 3: Blood Dragon – Long Tall Sally
7. Far Cry 3: Blood Dragon – Resurrection
8. Far Cry 3: Blood Dragon – Battle Armour Intro clip + War (Vince Dicola)
9. Far Cry 3: Blood Dragon – Power Core
10. Far Cry 3: Blood Dragon – We Saved Each Other clip + Friends Forever
11. Sly 2 – Paris Theme
12. Tales of Zestiria – Superfly – White Light
13. Guilty Gear Xrd – Jack-a-Dandy (Slayer's Theme)
14. Persona 4: Dancing All Night – Heaven
15. Batman Arkham Origins – "The Night Before Christmas"
16. Batman Arkham Origins – "Carol of the Bells (Joker's Theme)"
17. Batman Arkham Knight – "Fear Within"
18. Batman Arkham City The Album – Panic! At the Disco "Mercenary"
19. BattleBlock Theater – Secret Stage
20. God Hand – End Credits
21. Catherine – Intro clip + Yo (Shoji Meguro | Kenichi Tsuchiya/2011)
22. Catherine – Save Up clip + Chopin's Piano Sonata No. 2 Funeral March 3rd Movement
23. Catherine – Answer It clip + Pandemonium
24. Catherine – You've Gotta Climb clip + Rapunzel Game Play + Game Over
25. Catherine – That's Absurd clip + Stray Sheep
26. Catherine – Bizet – L'Arléssienne Second Suite 'Farandole'
27. Catherine – Rested clip + Good Morning, New Day
28. Catherine – Chaos Ending clip + Act On Instinct
29. StarCraft II: Heart of the Swarm – Immediate Music "The Breach"
30. Xenoblade Chronicles – You Will Know Our Names + Victory (Win SSBWiiU)
31. Full Throttle – Legacy by The Gone Jackals
32. Sunset Riders Stage 1
33. Undertale – Once Upon A Time
34. Undertale – Menu
35. Undertale – Bonetrousle
36. Undertale – Megalovania
37. Undertale – Home (Acoustic) + Dogbass
38. Undertale – Hopes & Dreams + Save The World
39. Killer Instinct 2013 – Spinal – Warlord
40. Bravely Default – He of the Name (Kare no Mono no na wa)
41. The Crew – The Glitch Mob – Warrior Concerto
42. The Warp Zone Unplugged/acoustic tracks: Megaman 2 "Title Theme"
43. The Warp Zone – Sonic 2 "Chemical Plant Zone" (Sax Cover)
44. The Warp Zone – Super Mario Land "Birabuto Kingdom"
45. Skullgirls A Return to Normalcy
46. Neo Geo (Inst) – FantomenK
Super OSW 64 Level 6 Playlist:
1. Donkey Kong Country – Intro
2. OSW Cinematic Theme
3. PepsiMan theme by James & Gang
4. Hitman Agent 47 trailer "Voodoo Child (cover)" by Brick Mortar
5. Dead Island 2 trailer "The Bomb" by Pigeon John
6. Cuphead E3 2015 Trailer
7. Jet Set Radio "Super Brothers" by Guitar Vader
8. Kirby "Green Greens" – from Kirby's Epic Yarn
9. Kirby "Green Greens" – Loki Kirby's Dreamland (Metal Cover)
10. Crash Bandicoot Orchestra – Synthetic Orchestra
11. Super Smash Brothers/WarioWare – Song of Ashley (English)
12. Donkey Kong Country – Gang-Plank Galleon
13. Killer Instinct 2013 – Orchid theme "Touch Me And I'll Break Your Face"
14. Killer Instinct 2013 – Main theme "The Instinct"
15. Killer Instinct 2013 – Jago theme "The Tiger Warrior"
16. Walking Dead main theme
17. The Wolf Among Us – Intro & Opening Credits
18. The Wolf Among Us – Main Menu
19. Super Meat Boy – Betus Blues
20. Undertale – Undertale
21. Borderlands 2 – "Short Change Hero" by The Heavy
22. WWF No Mercy "Diggity Dog"
23. Bully Main Theme
24. Assassin's Creed Unity Trailer – "Everybody Wants To Rule The World" by Lorde
25. Bioshock Infinite "Beast of America" Trailer – "Beast" by Nico Vega
26. NieR – Grandma
27. Phoenix Wright Ace Attorney Dual Destinies – Objection!
28. NHL 09 – "Apocalyptica" by Grace
29. Tom Winter – Legend of Zelda, Ocarina of Time "Gerudo Valley"
30. Tom Winter – Legend of Zelda, Ocarina of Time "Song of Storms,
31. Tom Winter – Legend of Zelda, Majora's Mask "Clock Town Theme
32. Vanquish "Georgie Dance" by Erina Niwa
33. Star Wars – The Old Republic "Revan Fight Music"
34. Star Wars – The Force Unleashed "Starkiller Theme"
35. Star Wars – Title screen (Atari/1983)
36. Skullgirls – In Just A Moment's Time
37. Super Mario 64 – File Select
38. Super Mario 64 – Power Star
39. Super Mario 64 – Inside the Castle Walls
40. Super Mario World – "Monstrous Turtles" by Zircon ("Forest of Illusion remix)
41. Super Mario Bros 2 – "Super Buck Jazz"
42. Super Mario 64 – Course Clear
43. Sonic Generations – City Escape (Classic version)
44. Neo Geo (Instrumental)
Super OSW 64 Level 5 Playlist:
1. Star Fox – Corneria
2. OSW Cinematic Theme
3. Rayman Legends – Castle Rock (Black Betty)
4. Rayman Legends – Mariachi Madness (Eye of the Tiger)
5. Rayman Legends – Grannies World Tour (Chasing a Dream)
6. Borderlands 1 Cage the Elephant – "Aint No Rest For The Wicked"
7. Borderlands 2 Raison Varner "Bandit Slaughter"
8. CastleVania Symphony of the Night "Dracula's Castle"
9. The Terminator "Taking to the Air"
10. Metroid Metal "Intro"
11. Metroid Metal "Item Collect"
12. Metroid Metal "The Theme"
13. Batman (NES) "Gotham City Streets"
14. Command & Conquer Red Alert "Hell March"
15. inFAMOUS: Second Son – Dead Sara "Heart-Shaped Box"
16. Charlie Parra "Game of Thrones, Skyrim, Pirates of the Caribbean medley" DOOM 1-2, LOZ Saria
17. Carlie Parra "Doom 1 & 2 medley"
18. Charlie Parra Legend of Zelda Ocarina of Time "Saria's Song" (includes Ocarina intro)
19. Battlefield Hardline "Main Theme"
20. Until Dawn "O Death"
21. Shadowrun Returns "Return to the Sixth World"
22. Shadowrun Returns "Runners Eternal"
23. Shadowrun Returns "Blood Hounds"
24. Shadowrun Returns "Double Cross"
25. Megaman X "Armoured Armadillo"
26. King of Fighters '99 "176th Street"
27. Assassin's Creed Unity "Rather Death Than Slavery"
28. The Order: 1886 "Agamemnon Rising"
29. The Witcher 3 "Sword of Destiny" trailer
30. Fallout 1 "Maybe" by The Ink Spots
31. Fallout 2 "A Kiss to Build a Dream On" by Louis Armstrong
32. Fallout 3 "Let's Go Sunning" by Jack Shaindlin,
33. Fallout 3 "Boogie Man" by Sid Phillips
34. Fallout 4 "It's All Over But The Crying" by The Ink Spots
35. Fallout New Vegas "Ain't That a Kick in the Head" by Frank Sinatra
36. The Revenge of Shinobi "The Shinobi"
37. Burning Rangers "Angels with Burning Hearts"
38. Burning Rangers "We Are Burning Rangers"
39. Yu-Gi-Oh! Duelist of the Roses "VS Lancastrians"
40. FIFA 2005 "Brothers" – Diece Cento Mille feat. Ranieri
41. The Curse of Monkey Island "Main Theme"
42. Shadow of the Colossus "Resurrected Power ~Fight With Colossus~"
43. Metal Gear Solid 5: Phantom Pain – Midge Ure – "The Man Who Sold The World"
44. Super Mario Galaxy "Overture"
45. Super Mario Galaxy "Stardust Festival"
46. Super Mario Galaxy "Bowser's Galaxy Generator"
47. Super Mario Galaxy "Bowser's Galaxy Reactor"
48. Super Mario Galaxy "Gusty Garden Galaxy"
49. Super Mario Galaxy "You Got A Star"
50. FantomenK – Neo Geo (Instrumental)
Super OSW 64 Level 4 Playlist:
1. Goldeneye 64 Main Theme
2. Goldeneye 64 Watch theme
3. Goldeneye 64 Mission Death
4. OSW Cinematic Theme
5. Capcom vs. SNK 2 OST – This Is True Love We Makin' (London Stage)
6. Guilty Gear Xrd -SIGN- Django Django
7 Tom Winter: F-Zero – Mute City
8 Tom Winter: Ducktales – Moon theme
9 Tom Winter: Pokemon – Lavender
10. Tom Winter: Donkey Kong Country – DK Island Swing
11. Katamari Damacy – Que Sera Sera
12. PaRappa the Rapper 2 – Sunny Music V Come a Long Way
13. Bumper Music: Sonic The Hedgehog – Labyrinth Zone
14. GTA V: Oh No – Welcome to Los Santos (Main Theme)
15. GTA V :Shine a Light by The C-90s (Did Somebody Say Yoga?)
16. GTA V: The Chain Gang on 1974 Sleepwalking (End Credits)
17 .GTA V: Favoured Nations – The Set Up (End Credits)
18. Mercenaries 2 – Oh No You Didn't.
19. Mirror's Edge – Still Alive
20. Metal Gear Solid V: The Phantom Pain (Main Theme)
21. Bumper 2: Sonic The Hedgehog – Spring Yard Zone
22. Dr Mario (RAC): Chill Ver. 2 Remix
23. Tron Evolution: The Grid
24. Tron Evolution: The Game Has Changed
25. Tron Evolution: The Son of Flynn
26. Tron Evolution: Derezzed
27. Warriors – League of Legends 2014 World Championship
28. Lucky Luke – Quiet Place
29. Final Fantasy VI – The Impresario
30. Final Fantasy IX – Chocobo Theme
31. Bumper 3: Sonic The Hedgehog – Star Light Zone
32. Crysis 2 – Epilogue Main Theme
33. Gitaroo Man – Legendary Theme
34. LA Noire: Main Theme
35. LA Noire: New Beginnings
36. LA Noire: I Always Kill The Things I love
37. Xenosaga III – Promised pain
38. Dragon Age Inquisition – Main Theme
39. Portal 2 – The National – Exile, Vilify
40. Portal 2 – Robots FTW
41. WWE Smackdown! Here Comes the Pain – Original Entrance Theme 14
42. Neo Geo (Inst.)
43. Super Smash Bros WiiU – Zelda Win Theme
Super OSW 64 Level 3 Playlist:
1. Street Fighter II (Arcade) – Guile's Theme
2. Super Street Fighter II HD Remix – Fei Long "Flying Heaven"
3. Super Street Fighter II HD Remix – Zangief "Red Cyclone"
4. Akuma "Mountain Breaker"
5. GSM Capcom – "Power of Four" (M. Bison part)
6. Sonic The Hedgehog CD – Sonic Boom
7. Buck Bumble – Main Theme
8. Marvel vs Capcom 2 – Select Your Heroes
9. Marvel vs Capcom 3 – Arthur's Theme
10. CarboHydroM – CastleVania Medley "Vampire Killer The Ending"
11. GTA San Andreas theme song
12-14. GTA IV: Trailer 1 – Things Will be Different, Theme Song, Seryoga – King Ring
15. Bumper: TMNT IV – Big Apple, 3 a.m.
16-19. Zelda Wind Waker HD – The Legendary Hero, Outset Island, The Great Sea, Staff Credits (Title Theme)
20. Snatcher – One Night In Neo Kobe City
21. Malukah – Skyrim – The Dragonborn Comes
22. Rebecca Tripp – Secret of Mana – Fear of the Heavens
23. Deadly Premonition – Life is Beautiful
24. Catherine Warwick – Earthbound – Pollyanna (I Believe In You)
25. Metal Gear Solid – The Best is Yet To Come (Aoife Ní Fhearraigh)
26. Bumper: WWF Attitude – Agent X
27. Playstation 2 Startup
28. Resident Evil 2 "Front Hall"
29. Resident Evil Code Veronica "Theme of Alexia Type 1"
30. Resident Evil 4 "The Drive/First Contact"
31. Resident Evil 4 "Serenity"
32. Resident Evil 4 "Mercenaries"
33. Resident Evil 4 "Wesker"
34. Resident Evil 2 "Credit Line of Whole Staff"
35. Tekken 5 – Antares (Cathedral)
36. PAIN – Main Theme
37. Shin Megami Tensei: Persona 4 – Reincarnation – I'll Face Myself (Battle)
38-41. Earthworm Jim 2 – Title Screen, Anything but Tangerines, Subterranean, The Ending
42. Bumper: Scott Pilgrim's Another Winter
43. The Simpsons Game – The Land of Chocolate
44. Play! A Video Game Symphony – Commodore 64 Medley (Last Ninja)
45. Professor Layton and the Unwound Future – Title Track
46. The Hobbit – Working The Mill
47. Dragon Age: Inquisition – Main Theme
48-53. Super Mario 3D World – Main Theme, Shifty Boo Mansion, World Bowser, Highway Showdown, Athletic, World Clear
54. Discworld 2 – That's Death
55. Neo Geo (Instrumental) – FantomenK
Super OSW 64 Level 2 Playlist:
1. Streets of Rage 1 Round 1 & Round Clear
2. Final Zone II – Bowie's Chance
3. Duke Nukem Theme – Megadeth
4. Final Fantasy VII – Aerith's theme
5. Final Fantasy VII: Advent Children – One Winged Angel
6. Alan Wake – The Poet & The Muse – Poets of the Fall
7. Alan Wake – Children of the Elder God – Poets of the Fall
8. Double Dragon Neon Mixtape – Song Snatch (0:24)
9. Grim Fandango – Casino Calavera
10. Grim Fandango – Smooth Hector
11. Grim Fandango – Hi-Tone Fandango
12. Grim Fandango – Hector Steps Out
13. Fallout 3 – The Ink Spots – I Don't Want To Set The World On Fire
14. Gears of War – Mad World – Michael Andrews & Gary Jules
15. Gears of War – Main Theme
16. Dead Island Teaser Trailer – Giles Lamb
17. Deus Ex Human Revolution – Icarus
18. CastleVania Medley – Super Guitar Bros
19. Dark Pit's Theme – Kid Icarus Uprising
20. Double Dragon Neon – Mission Bumper
21. Halo 1 – A Walk in the Woods
22. Halo 2 – Blow Me Away – Breaking Benjamin
23. Halo 3 – Never Forget
24. Chrono Trigger – Solo Cello Quartet
25. Bastion – Get Used to It
26. Bastion – A Proper Story
27. Bastion – In Case Of Trouble
28. Battlefield 1942 Intro
29. Donkey Kong Country 2 – Forest Interlude
30. Donkey Kong Country 2 – Stickerbrush Symphony
31. Kingdom Hearts – Dearly Beloved
32. Double Dragon Neon – Title Theme
33. Mass Effect 1 – Spectre Induction
34. Mass Effect 2 – Suicide Mission
35. Mass Effect 3 – An End Once and For All
36. Mass Effect 3 – Leaving Earth
37. Thomas Was Alone – Inertia
38. Thomas Was Alone – Where Are You
39. Wolfenstein: The New Order – Berlin Boys and Stuttgart Girls
40. Wolfenstein: The New Order – Zug nach Hamburg
41. Wolfenstein: The New Order – Ich bin überall
42. Wolfenstein: The New Order – Mond, Mond, Ja, Ja
43. Awesomenauts main theme
44. Neo Geo (Instrumental) – FantomenK
Super OSW 64 Playlist:
1. GTA Vice City Theme Song (1:18)
2. OSW Cinematic Theme – Zeomne Delinden (1:12)
3. Far Cry 3 Blood Dragon Theme (3:05)
4. Super Street Fighter 2 HD Remix – Made in U.S.A. (Ken Stage) (1:41)
5. Ducktales Remastered – Transylvania (3:16)
6. Halo 2 Theme (Mjolnir Mix) (4:11)
7. Metal Gear Solid 3 – Snake Eater (2:57)
8. Batman Arkham City Main Theme (2:47)
9. Bioshock Infinite – Welcome To Columbia (1:01)
10. Bioshock Infinite – God Only Knows (3:09)
11. Zelda 3DS – Title Screen (0:19)
12. Zelda 3DS – Lorule Field 1 (2:11)
13. Zelda 3DS – Death Mountain (2:18)
14. Zelda 3DS – Milk Bar – Thieves' Hideout (1:07)
15. Zelda Skyward Sword – File Select (Great Fairy Fountain) (1:36)
16. Zelda Twilight Princess – Midna's Theme (1:33)
17. Zelda Twilight Princess – Midna's Desperate Hour (3:09)
18. Resident Evil – Wandering About (2:04)
19. Resident Evil – A Moment of Relief (1:06)
20. Diablo II – Tristram (4:46)
21. Super Metroid – Samus Aran's Theme (2:06)
22. Super Smash Bros Wii U – Metroid Title (2:07)
23. Killer Instinct – The Instinct (2:31)
24. Donkey Kong Country – Aquatic Ambiance (3:25)
25. Shadowrun Returns – Followed (1:35)
26. Silent Hill – Not Tomorrow (Tears of Blood aka Lisa Dies) (3:05)
27. Silent Hill 2 – The Theme Of Laura (3:24)
28. Silent Hill 2 – Promise (Reprise) (1:44)
29. Journey – Austin Wintory – Nascence (1:46)
30. Assassin's Creed 2 – Ezio's Family (3:41)
31. Uncharted 3 – Nate's Theme 3.0 (1:49)
32. The Last of Us – Main Theme (3:03)
33. Red Dead Redemption – Far Away – Jose Gonzalez (4:39)
34. Red Dead Redemption, Undead Nightmare – Bad Voodoo – The Kreeps (3:41)
35. Super Mario 64 – Dire, Dire Docks (3:06)
36. Super Mario Galaxy – Rosetta's Observatory 3 (2:44)
37. Super Mario Galaxy 2 – Throwback Galaxy (Super Mario 64's "Athletic") (2:41)
38. Portal – Still Alive (2:56)
39. Portal – Want You Gone (2:21)
40. Neo Geo (Inst) – FantomenK (3:52)